Queen Elizabeth II released from hospital
updated 11:49 AM EST, Mon March 4, 2013
STORY HIGHLIGHTS
NEW: Britain's Queen Elizabeth II is now out of King Edward VII's Hospital
Gastroenteritis is an inflammation of the lining of the stomach and intestines
The illness can cause dehydration and kidney problems in the elderly, a doctor says
Elizabeth II was hospitalized "as a precautionary measure," Buckingham Palace says
(CNN) -- Britain's Queen Elizabeth II was discharged Monday from a London hospital, where she was treated for symptoms of gastroenteritis.
The 86-year-old monarch had been taken to King Edward VII's Hospital on Sunday morning "as a precautionary measure," a Buckingham Palace spokesman said, speaking with customary anonymity.
The queen smiled as she left the hospital Monday.
It was the first time the queen had been hospitalized in a decade. Her official engagements for the week were postponed or canceled Sunday.
Elizabeth had already canceled a planned trip to Wales on Saturday after showing symptoms of the illness, Buckingham Palace said.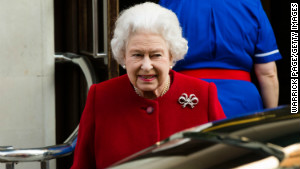 Should British princes do more?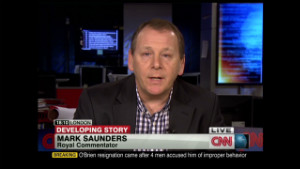 Mark Saunders discusses Queen's illness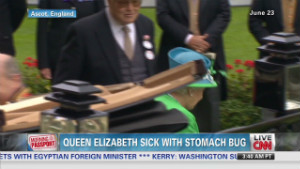 Why Queen Elizabeth will never abdicate
Five things to know about gastroenteritis
Gastroenteritis is an inflammation of the lining of the stomach and intestines. Though commonly known as "stomach flu," it is not caused by the influenza virus, according to the U.S. Centers for Disease Control and Prevention.
The illness is usually caused by a virus and passed from person to person, said Dr. Corey Siegel, a gastroenterologist and professor at Dartmouth College's Geisel School of Medicine. But it can also be caused by bacteria, either foodborne or personally transmitted, he said.
The bug usually has to run its course. But doctors often give hospitalized elderly patients intravenous fluids to prevent dehydration, which can lead to kidney problems, Siegel said.
Queen's illness: Concern behind the castle walls
Elizabeth celebrated her 60th anniversary on the throne in 2012 and turns 87 in April. She was last hospitalized in 2003 for knee surgery.
Her husband, the 92-year-old Prince Philip, was hospitalized three times between December 2011 and August 2012 -- once for treatment of a blocked coronary artery and twice for a bladder infection.
Get the latest news from CNN.com
CNN's Richard Quest, Elizabeth Cohen, Per Nyberg and Max Foster contributed to this report.

Part of complete coverage on
updated 3:14 PM EDT, Thu May 16, 2013

Boxing legend Manny Pacquiao is using his hero status to fight human trafficking in the Philippines, pushing for an anti-trafficking law.
updated 6:25 PM EDT, Thu May 16, 2013

The U.N. says 70% of rapes committed in Somalia are carried out by men in military uniform. CNN's Nima Elbagir reports.
updated 8:38 AM EDT, Fri May 17, 2013

Christiane Amanpour writes an open letter to girls of the world, saying it is time to end the discrimination against girls in education.
updated 3:12 PM EDT, Fri May 17, 2013

Fans gasped when David Beckham wore a sarong. Then there was the nail polish and tattoos. But his masculinity was never in doubt.
updated 10:54 AM EDT, Fri May 17, 2013

Albinos in Tanzania have been attacked and killed because some people believe their body parts bring good luck. But one albino is fighting back.
updated 8:50 AM EDT, Fri May 17, 2013

Terrible results for Dell mean the future seems anything but bright for the PC industry despite a flurry of attempted innovations.
updated 12:00 PM EDT, Fri May 17, 2013

Mario Balotelli has delivered his verdict on his time in the English Premier League -- the AC Milan striker couldn't be happier to have left England.
updated 7:04 AM EDT, Fri May 17, 2013

If you thought Preakness was the poor sister to Kentucky Derby, think again. CNN brings you top five facts from the prestigious horse race.
updated 7:45 PM EDT, Wed May 15, 2013

Natasha Kampusch was held for eight years in an Austrian man's basement. She talks about her road to recovery, exclusively to CNN.
updated 5:36 PM EDT, Wed May 15, 2013

From her hospital bed, Reshma tells CNN about the 17 days she spent trapped under nine stories of rubble in Bangladesh.
updated 6:12 PM EDT, Thu May 16, 2013

A room full of partygoers in San Francisco were given power over a cocktail-making robot controlled by their smartphones.
updated 11:57 AM EDT, Thu May 16, 2013

The cast of "Star Trek Into Darkness" take a break from fighting space villains to answer questions from CNN iReporters.
updated 7:48 AM EDT, Thu May 16, 2013

CNN brings you images capturing moments to remember. Look ahead to the future and chronicle our changing world.