U.S. investigates soldier shooting, car chase in South Korea
updated 1:57 AM EST, Mon March 4, 2013
STORY HIGHLIGHTS
The U.S. Army said Monday it "regrets" an incident in which a U.S. solider was shot
Yonhap: Soldier allegedly refused to stop for South Korean police and shot in shoulder
The solider and two others were involved in a late Saturday car chase through the streets of Seoul
(CNN) -- The U.S. Army said Monday it "regrets" an incident in which a U.S. solider was shot after allegedly refusing to stop for South Korean police, leading to a car chase through Seoul late Saturday night.
The 23-year-old private first class was shot in the shoulder after midnight on Saturday during the incident, according to Yonhap, a government-affiliated South Korean news agency.
South Korean police claim the soldier tried to run over a police officer on a dead-end street, according to Yonhap. The officer fired a warning shot and three shots into the car, but the car sped away and was later found near the Yongsan Garrison, home of the 8th U.S. Army in South Korea, Yonhap said.
The shooting victim -- whose name has not been released -- is in stable condition at the Brian Allgood Community Hospital in Seoul, according to the 8th U.S. Army Public Affairs office.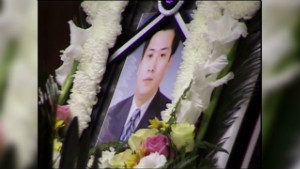 South Korean missionary dies in China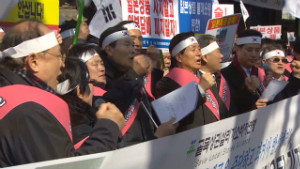 Island dispute leads to product boycott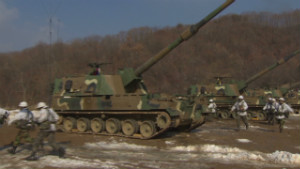 South Korea shows it's prepared for war
U.S. forces received a subpoena Monday morning for the two other individuals involved in the incident, U.S. military officials told CNN. The pair met with South Korean police later in the day, officials said.
The U.S. Criminal Investigation Command, who is responsible for investigating criminal incidents among U.S. forces anywhere in the world, are helping the Korean National Police with the investigation, the spokesperson said.
The serviceman was tested but "initial results do not indicate the presence of alcohol," the army said.
"Although the details of this incident are unclear, we take all incidents involving U.S. service members in the local community very seriously and will work closely with the Korean National Police as they continue their investigation," said Brig. Gen. Chris Gentry, Eighth Army deputy commanding general, in a news release.
The incident began when police received calls American soldiers were threatening people with an air rifle near Itaewon subway station, local police told Yonhap. The soldier, a U.S. Army staff sergeant and his wife then fled in a vehicle, beginning a high-speed pursuit with local police.
A police officer and two bystanders suffered minor injuries and four cars were damaged in the chase, Yonhap reported.
"Eighth Army's relationship with the Korean community is very important and we regret this unfortunate incident," the 8th U.S. Army Public Affairs office said in a news release. "We are thankful for the continued support to our soldiers and families by our Korean hosts as we continue to enforce the highest standards of professionalism among our service members."
There are about 28,500 U.S. soldiers in South Korea, a military ally of Washington. U.S. troops have been in the region since the Korean War, in which an armistice was signed in 1953 but a peace treaty never ratified. Tensions still flare on the Korean peninsula, as seen by the recent North Korean rocket launch and underground nuclear testing.

Part of complete coverage on
updated 3:14 PM EDT, Thu May 16, 2013

Boxing legend Manny Pacquiao is using his hero status to fight human trafficking in the Philippines, pushing for an anti-trafficking law.
updated 6:25 PM EDT, Thu May 16, 2013

The U.N. says 70% of rapes committed in Somalia are carried out by men in military uniform. CNN's Nima Elbagir reports.
updated 8:38 AM EDT, Fri May 17, 2013

Christiane Amanpour writes an open letter to girls of the world, saying it is time to end the discrimination against girls in education.
updated 3:12 PM EDT, Fri May 17, 2013

Fans gasped when David Beckham wore a sarong. Then there was the nail polish and tattoos. But his masculinity was never in doubt.
updated 10:54 AM EDT, Fri May 17, 2013

Albinos in Tanzania have been attacked and killed because some people believe their body parts bring good luck. But one albino is fighting back.
updated 8:50 AM EDT, Fri May 17, 2013

Terrible results for Dell mean the future seems anything but bright for the PC industry despite a flurry of attempted innovations.
updated 12:00 PM EDT, Fri May 17, 2013

Mario Balotelli has delivered his verdict on his time in the English Premier League -- the AC Milan striker couldn't be happier to have left England.
updated 7:04 AM EDT, Fri May 17, 2013

If you thought Preakness was the poor sister to Kentucky Derby, think again. CNN brings you top five facts from the prestigious horse race.
updated 7:45 PM EDT, Wed May 15, 2013

Natasha Kampusch was held for eight years in an Austrian man's basement. She talks about her road to recovery, exclusively to CNN.
updated 5:36 PM EDT, Wed May 15, 2013

From her hospital bed, Reshma tells CNN about the 17 days she spent trapped under nine stories of rubble in Bangladesh.
updated 6:12 PM EDT, Thu May 16, 2013

A room full of partygoers in San Francisco were given power over a cocktail-making robot controlled by their smartphones.
updated 11:57 AM EDT, Thu May 16, 2013

The cast of "Star Trek Into Darkness" take a break from fighting space villains to answer questions from CNN iReporters.
updated 7:48 AM EDT, Thu May 16, 2013

CNN brings you images capturing moments to remember. Look ahead to the future and chronicle our changing world.