No claim of responsibility yet for Pakistan bombing that killed 45
updated 6:59 AM EST, Mon March 4, 2013
STORY HIGHLIGHTS
The blast apparently targeted Shiites in Karachi, police say
Authorities say the toll could rise as rescue workers search the rubble
Shiites have been the victims of dozens of sectarian attacks in the past year
Islamabad, Pakistan (CNN) -- No group has stepped forward so far to claim responsibility for a massive car bombing in the southern Pakistani city of Karachi that killed at least 45 people over the weekend in what appeared to be the latest attack on the Shiite minority in the country.
The blast Sunday tore into nearby buildings, wounding about 150 people, and authorities warned that the death toll could rise as rescue workers continued to search for bodies amid the rubble.
Caused by a vehicle loaded with about 150 kilograms (330 lbs) of explosives set to a timer, the explosion took place in Abbas Town, an area of Karachi where many Shiite Muslims live, police said.
In recent months, a number of large-scale bomb attacks have targeted Shiites, who are overwhelmingly outnumbered by Sunni Muslims in Pakistan.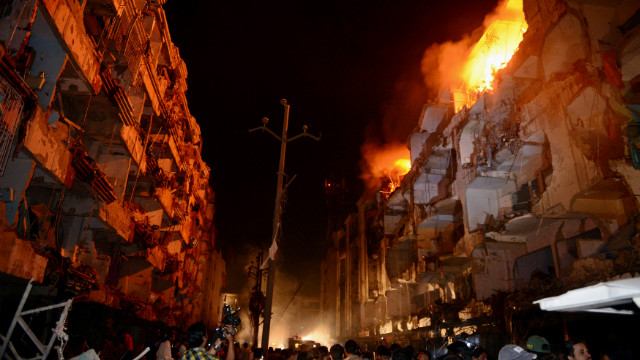 A vehicle bomb explosion in Karachi, Pakistan's largest city, killed at least 42 people and wounded at least 145 others on Sunday, March 3, police said.
Pakistani rescuers work at the blast site.
Rescuers roll an injured blast victim out on a stretcher.
A rescuer carries an injured man through the rubble.
A stretcher is pushed through the site.
Pakistani rescue workers and citizens go through the debris.
Firefighters try to extinguish the blaze.
Pakistani rescuers gather in front of the flames.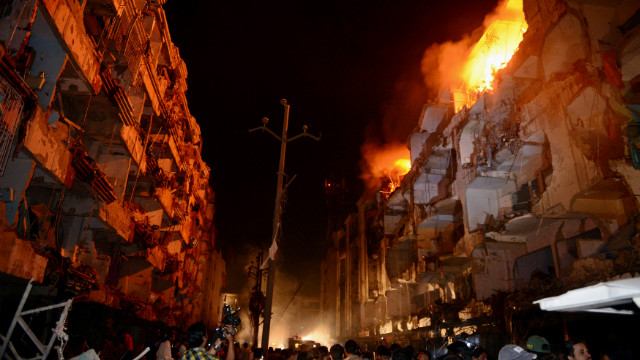 Photos: Deadly explosions hit Karachi
A huge bombing last month in a Shiite neighborhood in the city of Quetta killed about 90 people and fueled outrage about authorities' failure to stem the attacks, many of which were claimed by the Sunni militant group Lashkar-e-Jhangvi.
Pakistani security forces responded by carrying out raids in the area in which four militants were killed and others arrested. But Sunday's attack in Karachi suggested they hadn't done enough to dissuade further attacks.
Amnesty International says it has documented 92 separate attacks on Shiites across Pakistan since January 2012 that have resulted in the deaths of more than 500 people. It has criticized what it says is the lack of prosecutions of those responsible for the violence.
Pakistan's Prime Minister Raja Pervez Ashraf and President Asif Ali Zardari both condemned the bombing Sunday.
Although many of the recent attacks against Shiites in Pakistan have focused on the Hazara ethnic group in Quetta, sectarian violence has struck Karachi previously.
In February 2010, for instance, at least 18 people died in blasts that took place near a bus full of Shiite religious observers and in front of a hospital in the city.
And in late 2009, a suicide bomb attack on a Shiite procession moving through Karachi killed at least 40 people.
CNN's Nasir Habib reported from Islamabad and Jethro Mullen wrote from Hong Kong

Part of complete coverage on
updated 3:14 PM EDT, Thu May 16, 2013

Boxing legend Manny Pacquiao is using his hero status to fight human trafficking in the Philippines, pushing for an anti-trafficking law.
updated 6:25 PM EDT, Thu May 16, 2013

The U.N. says 70% of rapes committed in Somalia are carried out by men in military uniform. CNN's Nima Elbagir reports.
updated 8:38 AM EDT, Fri May 17, 2013

Christiane Amanpour writes an open letter to girls of the world, saying it is time to end the discrimination against girls in education.
updated 3:12 PM EDT, Fri May 17, 2013

Fans gasped when David Beckham wore a sarong. Then there was the nail polish and tattoos. But his masculinity was never in doubt.
updated 10:54 AM EDT, Fri May 17, 2013

Albinos in Tanzania have been attacked and killed because some people believe their body parts bring good luck. But one albino is fighting back.
updated 8:50 AM EDT, Fri May 17, 2013

Terrible results for Dell mean the future seems anything but bright for the PC industry despite a flurry of attempted innovations.
updated 12:00 PM EDT, Fri May 17, 2013

Mario Balotelli has delivered his verdict on his time in the English Premier League -- the AC Milan striker couldn't be happier to have left England.
updated 7:04 AM EDT, Fri May 17, 2013

If you thought Preakness was the poor sister to Kentucky Derby, think again. CNN brings you top five facts from the prestigious horse race.
updated 7:45 PM EDT, Wed May 15, 2013

Natasha Kampusch was held for eight years in an Austrian man's basement. She talks about her road to recovery, exclusively to CNN.
updated 5:36 PM EDT, Wed May 15, 2013

From her hospital bed, Reshma tells CNN about the 17 days she spent trapped under nine stories of rubble in Bangladesh.
updated 6:12 PM EDT, Thu May 16, 2013

A room full of partygoers in San Francisco were given power over a cocktail-making robot controlled by their smartphones.
updated 11:57 AM EDT, Thu May 16, 2013

The cast of "Star Trek Into Darkness" take a break from fighting space villains to answer questions from CNN iReporters.
updated 7:48 AM EDT, Thu May 16, 2013

CNN brings you images capturing moments to remember. Look ahead to the future and chronicle our changing world.