Country star Kellie Pickler's drummer seriously injured in Kentucky crash
updated 4:44 AM EST, Mon March 4, 2013
STORY HIGHLIGHTS
Gregg Lohman "is not just my drummer, he is family," Pickler says
Lohman suffered head and neck injuries in a Saturday crash, police say
He slowed down for an earlier crash that killed six people when he was struck
(CNN) -- A drummer for country music star Kellie Pickler was seriously injured in a pileup crash on Interstate 65 in Kentucky, officials said.
Gregg Lohman, 36, was airlifted from the crash site Saturday with head and neck injuries, Master Trooper Norman Chaffins of Kentucky State Police told CNN affiliate WAVE. Lohman was in critical but stable condition Sunday at a Louisville hospital.
Pickler confirmed the crash on her Facebook page Sunday:
"Yesterday, my drummer Gregg Lohman was in a horrific car accident and is currently in ICU," the "Red High Heels" singer wrote.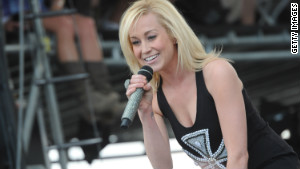 Kellie Pickler performs on Day 2 of The 2012 Arizona Country Thunder Music Festival on April 13, 2012 in Florence, Arizona.
"Gregg is not just my drummer, he is family. I believe in miracles and the power of prayer, so it would mean the world to me, my band, and Gregg's family if you would please keep him in your prayers. Thank y'all so much."
Lohman had slowed down for an earlier, fiery crash on the interstate when another driver failed to notice the slowed traffic and crashed into the back of Lohman's truck, police told WAVE. Lohman's truck then hit another vehicle, which rear-ended yet another.
Six people from the same family were killed in the initial, fiery crash, WAVE said.
Two others were injured in the pileup crash involving Lohman, but both were treated and released.
Lohman, who has also performed with Lady Antebellum and SHeDAISY, is also a percussion instructor at Tennessee State University.
CNN's Holly Yan contributed to this report.

Part of complete coverage on
updated 3:14 PM EDT, Thu May 16, 2013

Boxing legend Manny Pacquiao is using his hero status to fight human trafficking in the Philippines, pushing for an anti-trafficking law.
updated 6:25 PM EDT, Thu May 16, 2013

The U.N. says 70% of rapes committed in Somalia are carried out by men in military uniform. CNN's Nima Elbagir reports.
updated 8:38 AM EDT, Fri May 17, 2013

Christiane Amanpour writes an open letter to girls of the world, saying it is time to end the discrimination against girls in education.
updated 3:12 PM EDT, Fri May 17, 2013

Fans gasped when David Beckham wore a sarong. Then there was the nail polish and tattoos. But his masculinity was never in doubt.
updated 10:54 AM EDT, Fri May 17, 2013

Albinos in Tanzania have been attacked and killed because some people believe their body parts bring good luck. But one albino is fighting back.
updated 8:50 AM EDT, Fri May 17, 2013

Terrible results for Dell mean the future seems anything but bright for the PC industry despite a flurry of attempted innovations.
updated 12:00 PM EDT, Fri May 17, 2013

Mario Balotelli has delivered his verdict on his time in the English Premier League -- the AC Milan striker couldn't be happier to have left England.
updated 7:04 AM EDT, Fri May 17, 2013

If you thought Preakness was the poor sister to Kentucky Derby, think again. CNN brings you top five facts from the prestigious horse race.
updated 7:45 PM EDT, Wed May 15, 2013

Natasha Kampusch was held for eight years in an Austrian man's basement. She talks about her road to recovery, exclusively to CNN.
updated 5:36 PM EDT, Wed May 15, 2013

From her hospital bed, Reshma tells CNN about the 17 days she spent trapped under nine stories of rubble in Bangladesh.
updated 6:12 PM EDT, Thu May 16, 2013

A room full of partygoers in San Francisco were given power over a cocktail-making robot controlled by their smartphones.
updated 11:57 AM EDT, Thu May 16, 2013

The cast of "Star Trek Into Darkness" take a break from fighting space villains to answer questions from CNN iReporters.
updated 7:48 AM EDT, Thu May 16, 2013

CNN brings you images capturing moments to remember. Look ahead to the future and chronicle our changing world.