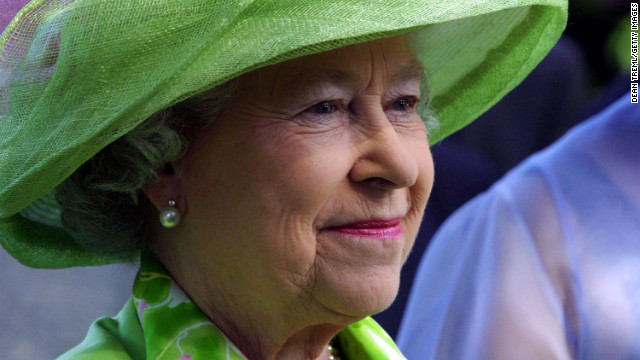 Queen Elizabeth II, now 86, has held her throne since the age of 25. Pictured, Elizabeth arrives at a garden reception at Government House in Auckland, New Zealand, in February 2002.
Princess Elizabeth Alexandra Mary, right, poses for a photo with her younger sister, Princess Margaret, in 1933.
Queen Elizabeth II arrives at King's Cross railway station in London with her four Corgis in October 1969 after vacationing at Balmoral Castle in Scotland.
Queen Elizabeth, accompanied by her husband, Prince Philip, the Duke of Edinburgh, waves to the crowd on June 2, 1953, after being crowned at Westminster Abbey in London. Her coronation was the first worldwide televised event.
Elizabeth and Philip sit in the grass with their two children, Charles, Prince of Wales, and Princess Anne, circa 1951. They later had two more children, Edward, Earl of Wessex, and Andrew, Duke of York.
Prince Richard of Gloucester, from left, the Duchess of Gloucester, the Queen Mother, Prince Bernhard of the Netherlands, Queen Elizabeth II, her husband, the Duke of Edinburgh, Queen Juliana of the Netherlands, Princess Alexandra, Lord Snowdon and his wife, Princess Margaret, Elizabeth's younger sister, pose for a family picture in April 1972 in London during a visit to Britain by the Netherlands' royal family.
Visiting Canada in 1997, Elizabeth smiles as she leaves the Alexander Graham Bell Homestead in Brantford, Ontario.
Elizabeth leaves St. George's Chapel in Windsor Castle after the wedding of Sophie Rhys-Jones and her son Prince Edward in June 1999.
Elizabeth inspects the Canadian Guard of Honour in July 1992 before taking part in Canada Day celebrations in Ottawa.
Elizabeth sits beside Philip as she gives a speech at the state opening of Parliament in the House of Lords in November 1999.
Elizabeth's coach travels through London in 2004.
Elizabeth greets veterans at the Gurdwara Sri Guru Singh Sabha, a Sikh Temple in London, in October 2004.
Elizabeth is offered a rose by a well-wisher while visiting the Princess Diana memorial fountain in London's Hyde Park in July 2004.
Elizabeth poses in Dresden during a state visit to Germany in November 2004.
Elizabeth attends a state banquet at the Philharmonic Hall in Bratislava, Slovakia, in October 2008.
Elizabeth meets actors Sanjeev Bhaskar, second left, and Meera Syal, left, after watching a performance by Nutkhut, a London-based dance company, at Buckingham Palace in October 2009.
Elizabeth gives a speech during a state banquet for the visit of Indian President Pratibha Devisingh Patil at Windsor Castle in October 2009.
Elizabeth receives flowers from a Girl Guide after attending the Christmas Day church service at St Mary's Church in Sandringham, England, in 2010.
Elizabeth visits St. George's School in Windsor, England, in May 2011.
Elizabeth looks at a horse at the Windsor Horse Show in Windsor, England, in May 2011.
U.S. President Barack Obama toasts with Elizabeth during a state banquet at Buckingham Palace in May 2011.
Queen Elizabeth, from left, Prince William, and Catherine, Duchess of Cambridge, look up from the balcony of Buckingham Palace after the service of thanksgiving at St. Paul's Cathedral in June 2012.
Elizabeth leaves No. 10 Downing Street in London in July 2012.
Queen Elizabeth II
Queen Elizabeth II
Queen Elizabeth II
Queen Elizabeth II
Queen Elizabeth II
Queen Elizabeth II
Queen Elizabeth II
Queen Elizabeth II
Queen Elizabeth II
Queen Elizabeth II
Queen Elizabeth II
Queen Elizabeth II
Queen Elizabeth II
Queen Elizabeth II
Queen Elizabeth II
Queen Elizabeth II
Queen Elizabeth II
Queen Elizabeth II
Queen Elizabeth II
Queen Elizabeth II
Queen Elizabeth II
Queen Elizabeth II
Queen Elizabeth II