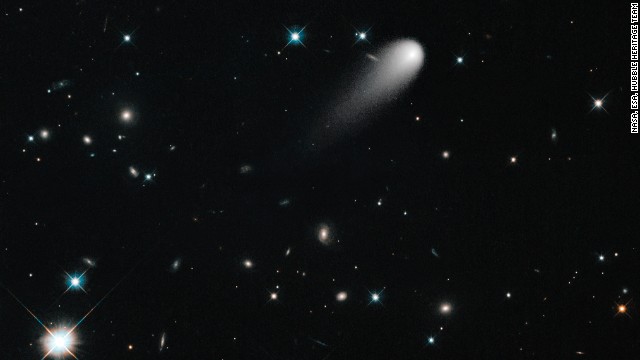 Color filters help create this vivid image of Comet ISON, captured by NASA's Hubble Space Telescope on April 30.
The Hubble Space Telescope took this picture of Comet ISON on April 10, 2013, when the comet was slightly closer than Jupiter's orbit, or about 386 million miles from our sun.
CAST Observatory
in Italy to capture this image of it on February 28.
In November, Comet ISON is expected to dive into the sun's atmosphere. Rolando Ligustri used a telescope at the
Comet PanSTARRS put on a show in both the Northern Hemisphere and Southern Hemispheres earlier this year. This image was taken by amateur astronomer Terry Lovejoy on February 12, 2013, from Brisbane, Australia. He used a QHY9 camera and an 8" telescope with 5 minutes exposure.
In 1986, the European spacecraft Giotto became one of the first spacecraft to encounter and photograph the nucleus of a comet. This photo shows Comet Halley's nucleus. The debris from the nucleus creates the trail of debris responsible for the Orionids meteor shower each October and the Eta Aquariids in May.
On July 3, 2005, NASA's Deep Impact fly-by spacecraft dropped its "impactor" probe into the path of Comet Tempel 1. There was a bright flash as the probe hit the comet. The images were beamed around the world in near real time on NASA TV and over the Internet. Orbiting telescopes watched from space and astronomers on the ground captured images, too.
NASA's Deep Impact mission's impactor probe snapped this picture 90 seconds before the probe was pummeled by Comet Tempel 1 on July 4, 2005.
Comet Wild 2's nucleus was photographed by NASA's Stardust spacecraft as it flew past in January 2004 and collected samples from the comet's coma. The spacecraft's return capsule ferried the samples back to Earth on January 15, 2006.
After returning the world's first particles from a comet, the Stardust capsule was packed up and shipped to the Smithsonian. The mission's principal investigator was surprised by the size and composition of the particles captured in the capsule's aerogel-lined collector.
This close-up view of Comet Hartley 2 was taken by NASA's EPOXI mission during a fly-by of the comet on November 4, 2010.
Comet Siding Spring looks like a red blaze in the sky in this infrared image taken on January 10, 2010, from NASA's Wide-field Infrared Survey Explorer (WISE).
This image of Comet NEAT was taken at Kitt Peak National Observatory near Tucson, Arizona, on May 7, 2004.
Comet Linear was photographed by a camera on the European Space Agency's Rosetta space probe on April 30, 2004. Rosetta is on its way to study Comet 67-P/Churyumov-Gerasimenko. On June 8, 2011, Rosetta was placed in hibernation. It will wake up when it reaches the comet in mid-2014, when it will drop a small lander onto the comet's surface.
One of the most famous comets is Hale-Bopp. It was discovered independently on July 23,1995, by Alan Hale in New Mexico and by Thomas Bopp in Arizona. It was one of the brightest comets in decades and was visible to the naked eye for several months.
Comet Lovejoy stunned scientists in December 2011 when it flew through the hot atmosphere of the sun and emerged intact. The comet was discovered by amateur astronomer Terry Lovejoy of Australia.
Up close with comets
Up close with comets
Up close with comets
Up close with comets
Up close with comets
Up close with comets
Up close with comets
Up close with comets
Up close with comets
Up close with comets
Up close with comets
Up close with comets
Up close with comets
Up close with comets
Up close with comets
STORY HIGHLIGHTS
Comet Pan-STARRS will swing into view over the Northern Hemisphere beginning March 7
It will stay close to the horizon, so you'll need to get away from trees and buildings to see it
Comet ISON will pass by this year, but scientist is skeptical of "Comet of Century" predictions
(CNN) -- First a meteor exploded over Russia, followed closely by an asteroid fly-by. Now, two comets are expected to put on a naked-eye spectacle for sky watchers in the Northern Hemisphere.
Up first is Comet Pan-STARRS, which gets its funky name from the telescope credited with discovering it in June 2001: the Panoramic Survey Telescope & Rapid Response System in Hawaii.
The comet is already visible through telescopes in the Southern Hemisphere, and it should swing into view over the Northern Hemisphere beginning around March 8.
It's hard to predict exactly how bright Pan-STARRS will be, but you should be able to see it without binoculars or telescopes, said Don Yeomans of NASA's Near-Earth Object Program. It should be about as bright as the stars in the Big Dipper.
"There is a chance that it will be a little brighter than this, but likewise, it might not get quite that bright," said Karl Battams of the Naval Research Lab.
Graphic: How to tell space rocks apart
Part of the brightness will depend on how close Pan-STARRS gets to the sun. Comets are made up of water, ice, dust and other elements and minerals, all loosely packed together, Battams said. As a comet gets closer to the sun, the sun's heat causes these elements to melt, spewing out dust and gas in a brilliant tail.
"The closer it gets, the more intense the radiation and the more elements will be melted," he said.
Pan-STARRS is expected to get fairly close to the sun. That's bad news for the comet, but it could be a boon for sky watchers if the comet is brighter and easier to see.
Pan-STARRS also could fall apart and fizzle. But if it survives its sunbath, we should be able to see it low on the horizon in the western sky for a couple of weeks, Battams said.
"About half an hour after sunset would be a good time for people take a look," he said.
Here are some key dates:
March 5: Pan-STARRS will be closest to Earth;
March 10: The comet will pass closest to the sun;
March 12 and 13: The best dates to look for Pan-STARRS; it should emerge in the western sunset sky not far from the crescent moon.
Battams has these viewing tips:
1) Safety first: Don't try to look at the comet until the sun sets. Do not look at the sun using regular binoculars or telescopes. Ever! You'll burn up your eyes.
2) Comet Pan-STARRS will stay close to the horizon, so you'll need to get away from trees and buildings.
3) Look carefully! The sky will still be bright at dusk, which can make it hard to spot comets.
4) If the skies are clear, and you are away from city light pollution, you may be able to see the comet with your bare eyes. If not, use binoculars.
5) If you can't escape the city, try using binoculars.
Second chance to catch a comet
If your quest to see the first comet doesn't pan out -- get it? (OK, that's bad) -- we might get to see a better comet later in 2013: Comet ISON.
ISON was discovered by Russian astronomers Vitali Nevski and Artyom Novichonok in September 2012. It's named after their night-sky survey program, the International Scientific Optical Network.
Some early comet prognosticators -- and reporters -- have tagged ISON "the Comet of Century." But Yeomans isn't buying it just yet. He remembers being duped by another comet with that same moniker. In 1973, Kohoutek was hyped, too, and it fizzled.
"Predicting the behavior of comets is like predicting the behavior of cats -- can't really be done," he said.
So here is the hype on ISON: On November 28, it is expected to dive into the sun's atmosphere. If it survives, it might glow as brightly as the moon and be briefly visible in daylight. Its tail might stretch far across the night sky.
Battams is optimistic, but he said we won't know until late summer what to expect from ISON.
"I'll be surprised if we don't have a bright comet this fall and/or winter, but it's still just too early to speculate," he said.
So, like Pan-STARRS, ISON's fate will be decided by the sun. It could burn brightly and earn that "Comet of the Century" title; it could melt or it could just break apart.
Scientists say neither comet poses any threat to Earth, but if both comets hold together, sky watchers will get a rare treat: two comets, both bright enough to be seen with the naked eye, in one year.
Fingers crossed!
More space and science news from CNN Light Years