STORY HIGHLIGHTS
NEW: U.S. official confirms death of Abdelhamid Abou Zeid
The al Qaeda figure was killed in French airstrike, French military sources have said
The deputy leader of al Qaeda in the Islamic Maghreb and his fighters were in northern Mali
He had a reputation for brutality
(CNN) -- One of al Qaeda's most influential figures in North Africa has been killed by French and Chadian forces, a U.S. official said Friday.
French military sources had earlier said that Abdelhamid Abou Zeid, a deputy leader of al Qaeda in the Islamic Maghreb, was killed in an airstrike in Mali late last month.
Abou Zeid was one of the group's most ruthless commanders, having seized at least a dozen foreigners for ransom. At least two have been killed; several French citizens remain captive.
"He was a senior influential member of AQIM, and his death represents a significant blow to AQIM's efforts to use West Africa, and Mali in particular, as a safe haven," the official told CNN.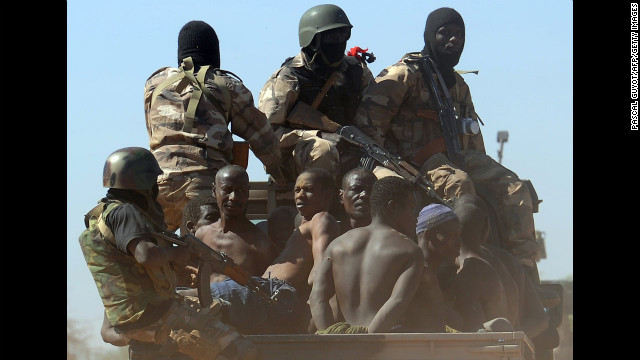 Malian soldiers transport in a pickup truck a dozen suspected Islamist rebels on Friday, February 8, after arresting them north of Gao. A suicide bomber blew himself up on February 8 near a group of Malian soldiers in the northern city, where Islamist rebels driven from the town have resorted to guerilla attacks.
Malians look at the charred motorcycle used by a suicide bomber before he blew himself up near a group of Malian soldiers on February 8. The act marked the first suicide attack in the embattled west African nation since the start of a French-led offensive to oust the Islamists from Mali's north, where they had controlled key towns for 10 months.
A convoy of French army vehicles head toward Gao on February 7. France is mulling over when to hand off its four-week-old intervention to U.N. peacekeepers.
A man searches through the ruins of a building destroyed by French airstrikes in Douentza, Mali, on Tuesday, February 5. The town was retaken by French and Malian troops in January.
A child holds up a machine gun round found in the ruins of a building destroyed by French airstrikes in Douentza, Mali, on February 5.
A child leads a donkey cart past a destroyed Malian army armored vehicle near Douentza, Mali, on February 5.
Malians welcome France's President Francois Hollande as he arrives in Timbuktu on Saturday, February 2. French-led troops are working to secure the area against Islamist militants.
A man sweeps the red carpet at Mali's Mopti airport on January 2 before the arrival of Hollande and Mali's interim President Dioncounda Traore.
French soldiers patrol next to the Djingareyber mosque, on January 31, in Timbuktu, Mali. The city was recaptured on January 28, by French-led forces in their offensive against Islamist rebels who have been occupying Mali's north since last April.
French air strikes destroyed this vehicle outside the northern Malian city of Gao.
Men play boules, a game that was forbidden under Islamist rule. on January Wednesday, 30, in Gao, Mali. Gao, once a key Islamist stronghold, was retaken on January 26 by French and Malian troops.
A Malian soldier tries to disperse looters in Timbuktu, Mali, on Tuesday, January 29. Malian and French forces have been battling Islamist militants to loosen their grip on the country. France was the colonial power in Mali until 1960.
People cheer along a road in Ansongo, a town near the northern Malian city of Gao, as troops from neighboring Niger enter the city.
A man waves a French flag as residents celebrate the arrival of Niger troops on January 29 in Ansongo.
Niger troops enter Ansongo on January 29.
Malian soldiers enter the historic city of Timbuktu on Monday, January 28.
French soldiers flying back from Timbuktu arrive at the French army base camp in Sevare on January 28.
A man prays in the recently liberated town of Douentza on January 28.
Wounded Malian soldiers rest after receiving medical care at the Polyclinique of Kati on Sunday, January 27.
Malian soldiers wait at a checkpoint near Sevare on January 27.
A French soldier walks through the bush in central Mali on January 27.
Malian soldiers wait at a checkpoint near Sevare on January 27.
A Malian soldier stands amid debris Saturday, January 26, in the key central town of Konna, which has been under French and Malian army control since last week. It was taken on January 11 by Islamist groups.
Malian soldiers walk past the bullet-riddled wall of a house in Konna on Saturday, January 26.
A Malian soldier looks at the wreckage of an Islamist rebel's armed pickup truck in Konna.
Ammunition lies on the ground in Konna.
Malian soldiers escort journalists in Konna.
Malian soldiers patrol a street of Diabaly on January 26.
Ali Ag Noh, right, stands with his family in front of his house on Friday, Janurary 25, in the village of Seribala, Mali, after his cousin and brother-in-law, Aboubakrim Ag Mohamed, and a cattle rancher, Samba Dicko, were shot dead on January 24, allegedly by the Malian Army. According to Noh, Mohamed, a Tuareg, and Dicko were shot in the head in Seribala after being accused by two Malian soldiers of being Islamists or aiding Islamists.
Members of the French army arrive at a base camp in Sevare, Mali, on January 25. French and Malian troops advanced on the key Islamist stronghold of Gao after recapturing the northern town of Hombori as the extremists bombed a strategic bridge to thwart a new front planned in the east.
Malian soldiers ride a motorcycle in a street of Merkala, on Thursday, January 24, 2013 as the first of the 6,000 troops pledged by African nations to support France started heading north.
A Malian soldier armed with a machine gun watches a herd of cattle crossing a bridge over the Niger River on January 24. Mali's military offensive against militants controlling the northern half of the country has gathered pace in the past two weeks, with backing from France and other international allies.
A French army convoy travels near Segou, in south-central Mali, is on its way to Diabaly on January 24.
A woman who fled northern Mali sits at a camp for internally displaced persons in Sevare on Wednesday, January 23. The EU announced 20 million euros of extra humanitarian aid to help Malians fleeing fighting, its second such donation in as many months.
A soldier rides on the back of a scooter outside Diabaly on January 23.
Malians walk past a destroyed truck mounted with a machine gun on Tuesday, January 22. The truck was used by militants and destroyed during airstrikes by the French air force.
Malian soldiers patrol Diabaly on January 22.
Malian soldiers walk past destroyed army barracks as they patrol in Diabaly on January 22, 2013.
A French soldier mans his post on January 22 near the city of Diabaly, Mali.
A French soldier stands guard in front of charred pickups used by Islamist rebels in Diabaly, Mali, on Monday, January 21. The Malian military says it has gained control of the town of Diabaly, a key advance in the battle against Islamist militants in the north.
A Malian soldier walks past a army building that was taken by the jihadists before being destroyed during aerial bombing in Diabaly on January 21.
A Malian soldier searches through debris after aerial bombing in the city of Diabaly on January 21.
A French soldier looks around after arriving in Diabaly on January 21.
French soldiers unload military equipment from an aircraft on January 21.
Malian youths look on as French soldiers drive through Niono on Sunday, January 20.
The French Army conducts operations in Mali on January 20.
A Malian soldier holds a machine gun on top of a jeep on the road back from the town of Mopti, Mali, on Saturday, January 19.
French soldiers of the 5th Combat Helicopter Regiment stand with their equipment in front of a helicopter on January 19 at an airbase near Bamako, Mali. French Defense Minister Jean-Yves Le Drian said on January 19 that France now had 2,000 troops on the ground in Mali as part of a drive against Islamist militants holding the north of the country.
French soldiers of the 5th Combat Helicopter Regiment relax on January 19 at the airbase near Bamako.
A French soldier from the helicopter regiment stands guard at the airbase on January 19.
Malian soldiers check the identity of passengers in a bus coming from Mopti on January 19.
French President Francois Hollande, left, speaks with soldiers who are due to leave for Mali, during a meeting in Tulle, France, on January 19.
Malian soldiers sit in a truck on their way to Niono, Mali, on Friday, January 18.
A Malian child looks out from a bus as Malian army soldiers check vehicles and passengers in the city of Niono on Friday, January 18. Malian troops, with help from France and a U.N.-mandated African force, are fighting al Qaeda-linked Islamist militants.
Malian soldiers man a checkpoint in Niono on January 18.
Togolese troops board a plane to Bamako, Mali, on Thursday, January 17, at the Lome airport in Togo. Troops from West African countries are heading to Mali as part of a U.N.-mandated African force to fight the insurgents.
Helmets belonging to soldiers of the Nigerian army are prepared to be sent to Mali at the Nigerian army peacekeeping center near Kaduna, Nigeria, on January 17.
Malian soldiers stand guard as Mali's President Dioncounda Traore speaks to French troops at an air base in Bamako, Mali, on Wednesday, January 16.
A Malian soldier adjusts his weapon as President Traore speaks to French troops at an air base in Bamako on January 16.
French army soldiers stand on armoured vehicles as they leave Bamako and start their deployment to the north of Mali as part of the Serval operation on Tuesday, January 15.
A French flag is hung on a van in Bamako as French troops start a deployment in the north of Mali on Wednesday.
French troops prepare their Sagaie armoured all terrain vehicles from the Licorne operation based in Abidjan, Ivory Coast, at the 101st military airbase near Bamako on Wednesday.
French troops from the Licorne operation based in Abidjan, Ivory Coast, arrive at the 101st military airbase near Bamako on Wednesday to reinforce the Serval operations, before their deployment in the north of Mali.
Malian police patrol in the capital of Bamako on Sunday, January 13.
Malian police patrol Bamako on Sunday.
A British army Boeing C-17 cargo plane from British Brize Norton base lands Sunday at the Evreux military base in France to take supplies to Bamako.
French soldiers prepare cargo for a British plane en route to Bamako on Sunday at the Evreux military base.
A French armored vehicle rolls onto a British army aircraft to be taken to Bamako on Sunday in Evreux.
Workers adjust chains on a vehicle load in the C-17 in Evreux on Sunday.
Internally displaced Malians from Timbuktu chat at a makeshift cafe in Bamako on Sunday.
French President Francois Hollande, right, speaks with members of Malian associations in France during a meeting at the Elysee Palace in Paris on Sunday.
Muslim men protest French military action in Mali outside the French Embassy in central London on Saturday, January 12. About 50 Muslim protesters gathered outside the embassy.
Protesters wave signs outside the French Embassy on Saturday in London.
The interim president of Mali, Dioncounda Traore, speaks after a ministerial Cabinet meeting in Bamako on Friday, January 11. Malian authorities declared a state of emergency throughout the country on Friday as the army launched a counteroffensive against Islamists who were pushing south.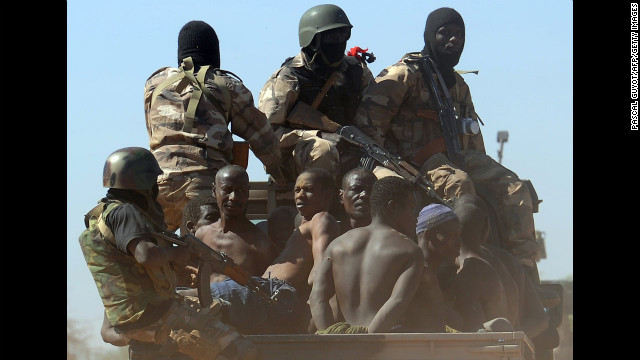 Photos: Fighting Islamists in Mali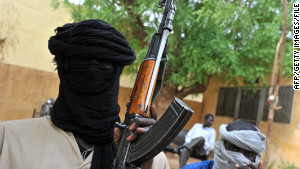 Al Qaeda in Mali behind Algeria attack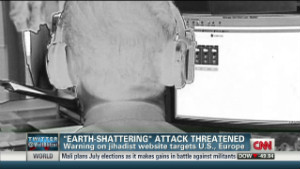 Al Qaeda threatens more attacks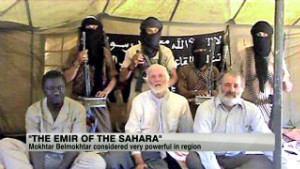 Former hostage not surprised by attack
Military sources quoted by French media say that in the past few days, Abou Zeid and a substantial number of his fighters were killed during a French bombardment near Aguelhok in northern Mali.
READ: France determined to 'eradicate' terrorism in Mali, official says
His death was first reported by an Algerian television station Ennahar.
A spokesman for the French Defense Ministry refused to comment on the reports.
The ministry did say air force operations are continuing, including in the Tessalit region, where close to 100 air sorties were carried out this week.
READ: Six reasons events in Mali matter
Aguelhok is a remote town close to mountains and the Algerian border -- in a region where many Islamist fighters had regrouped in the face of the French push toward the main cities of the north.
According to analysts, it is an area that Abou Zeid was intimately familiar with, as for years it was his main base of operations before Islamists took over much of northern Mali.
For much of the last year, a constellation of jihadist forces including Abou Zeid had controlled large parts of northern Mali after ethnic Tuareg rebels had forced the army to retreat. He spent much of his time in and around Timbuktu, partly at a luxurious mansion that had been built for Moammar Gadhafi, according to reports from the city.
At the beginning of this year, Abou Zeid joined other Islamist forces making a push southward toward the capital, Bamako. But when the Islamist advances prompted a French intervention, he moved to the area around the less accessible city of Kidal, close to the virtually impenetrable Ifoghas Mountains.
Abou Zeid had been promoted by the emir of AQIM -- and fellow Algerian -- Abdelmalek Droukdel. Droukdel saw him as a loyal counter to the growing power of a rival jihadist commander, Moktar Belmoktar, the man who ordered the hostage attack on the Algerian gas plant in January.
Abou Zeid's ruthlessness -- and his growing influence -- were confirmed three years ago when he ordered the beheading of an elderly British tourist -- Edwin Dyer -- who'd been seized by his group early in 2009. When Malian authorities rounded up a number of al Qaeda suspects in response, Abou Zeid sent a hit squad to the Timbuktu home of a senior intelligence officer, who was shot dead.
The following year, a French aid worker, 78-year old Michel Germaneau, was killed as French commandos tried to rescue him. Abou Zeid's group also staged a raid on a uranium mine in neighboring Niger -- abducting seven workers, four of whom, all French, are still being held.
One of the few Westerners to have encountered Abou Zeid was a French citizen, Pierre Camatte, who was abducted from a hotel in northern Mali in November 2009.
"Physically, there is nothing remarkable about Abou Zeid," he told Le Monde's Isabelle Mandraud after his release. "He is small, and thin. But he seems to be highly respected by members of his entourage."
"He wanted to know whether I knew of any mapping websites on the Internet, Russian websites, so that he could have real-time images."
Abou Zeid's hostage-taking provoked a trial of strength with Belmoktar, who had generated significant funds for jihad from ransom payments for foreign hostages.
By all accounts, the two were very different characters. Abou Zeid had a reputation for extreme brutality and thuggishness, while Belmoktar developed a reputation for strategic cunning. Analysts tell CNN that despite their rivarly, the two men found ways to coexist.
The fall of Gadhafi in Libya gave both men the opportunity to take their operations northward into Libya from their sub-Saharan strongholds. Sources briefed by Western intelligence told CNN that Belmoktar and Abou Zeid made trips to Libya to explore the possibility of cooperation with local Libyan jihadist groups, secure weapons supplies and scout out possible locations for training facilities.
Abou Zeid made several trips to Libya in 2011, according to one source familiar with intelligence from the area.
He was one of several al Qaeda figures in North Africa who had fought in Algeria's vicious insurgency in the 1990s, when whole villages were massacred and atrocities were committed by both Islamist militants and Algeria's counterterrorism forces.
As a child growing up in a poor region of southern Algeria, Abou Zeid had little formal schooling, but his intimate knowledge of the border with Libya made him an expert smuggler.
According to Dario Cristiani, writing in the Jamestown Foundation's Militant Leadership Monitor, he was radicalized by several run-ins with the Algerian authorities. And he was at the heart of the transformation of the Algerian insurgency into an al Qaeda affiliate.
Abou Zeid's death casts further uncertainty over the fate of the French hostages his group is still believed to hold.
In December, before the French intervention in Mali, he accused the French authorities of blocking negotiations for their safe release. Several of the hostages had appeared in videos warning against military intervention for the sake of their own safety. In one video, with masked men holding AK-47s behind them, the men look exhausted and terrified.
Andrew Lebovich, a Senegal-based analyst who recently traveled to Mali, told CNN there is concern that Abou Zeid transported a number of Western hostages with him after he left Timbuktu.
If Abou Zeid was indeed killed, the expectation is his group will retaliate.
"According to available accounts, he was somebody who generated fierce respect and loyalty in his men, so unless his fighting force has been severely degraded, there's a chance his group may lash out to avenge his death in the days and weeks ahead," Lebovich said.
READ: Mali: The long, troubled desert road ahead