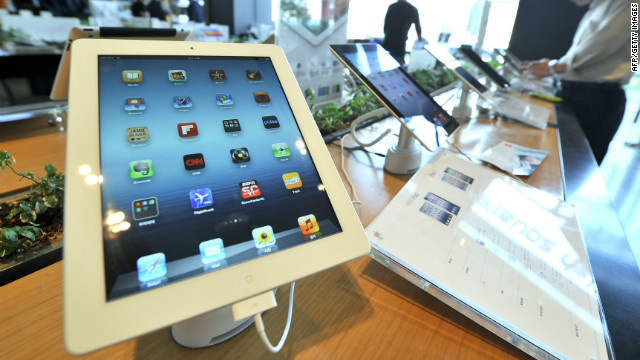 There were tablets before the iPad, but Apple's tab introduced the concept to millions who had never heard of one. More than 84 million have been sold, dwarfing the competition. With its high-definition "retina display" screen, dual cameras and extensive app catalogue, it's the standard by which other tablets are measured. They start at $499 and run up to $829 for a 64GB version with 3G connectivity.
Apple promises the Mini, unveiled on October 23, will offer the positives of its bigger tablet in a smaller, more portable package. At 7.9 inches when measured diagonally, its screen is bigger than its rivals in the "small tablet" category and has the same proportions as its bigger cousin. Its price begins at $329, which is more expensive than other similar tablets.
With the Kindle Fire, Amazon made a small dent in the iPad's dominance by going smaller and cheaper, with a $199 price tag for the 7-inch tablet. The second-generation HD bears the same price, adds a camera and high-resolution screen, and includes a bigger 8.9-inch model for an extra $100. The a souped-up version of the first-generation Fire can now be had for $159. Amazon CEO Jeff Bezos said the goal isn't to win by going cheap, but to make "the best tablet at any price." Most critics say they're not there yet, but celebrate the competition.
Computing giant Microsoft took its time getting into the tablet game. But the Microsoft Surface, announced in June, promises to take the space in a different direction. It comes with a "Touch Cover" keyboard and a display screen an inch bigger than the iPad's. It could be key in Microsoft's plans for a single operating system for all devices. The tablet starts at an iPad-like $499, with a more powerful Windows RT version for $599, or $699 with the touch cover.
Android tablets designed to compete feature-for-feature with the iPad have struggled. But critics have given mostly high marks to the Samsung Galaxy Tab 2 10.1. It's lighter and thinner than the iPad 2 and sports a fast, powerful processor. A 16-GB version now sells for $329, or a little less at some retailers.
Google's first tablet took a page from the Amazon playbook -- going small with a price that starts at $199. It features a Tegra 3 quad-core processor, runs the latest version of Google's Android operating system and has been greeted with largely positive reviews.
Amazon has expanded its line of industry-leading e-readers. They now range from the basic Kindle, which costs $69, to the new Kindle Paperwhite, which features 62% more pixels than the Kindle Touch and a fiber-optic lighting system that was four years in the works.
In April, Microsoft sank $300 million into a partnership with Barnes & Noble on the Nook line of e-readers and tablets. The line has a smaller market share than Amazon, but readers like the Nook Simple Touch with GlowLight (the first straight reader to solve the read-in-the-dark problem), which has been reviewed highly.
Kobo isn't as popular in the United States as it is in Canada and some other countries. But the Toronto-based company provides an alternative to the "big two" e-readers at comparable prices. Wired magazine's editors caled the Kobo Touch "the most natural e-ink reader we've ever used." The simpler Kobo Mini sells for $79, just $10 more than a basic Kindle with ads.
Tablets and e-readers: iPad
iPad Mini
Kindle Fire HD
Microsoft Surface
Samsung Galaxy Tab 2 10.1
Google Nexus 7
Kindle Paperwhite
Nook
Kobo Touch
STORY HIGHLIGHTS
Report on how tablets are hurting the e-reader market got CNN readers talking
Tablets are booming, but many remain loyal to Nooks, Kindles and the like
Tablets still haven't caught up for a pure reading experience, some commenters say
Many have found a place in their digital arsenal for both devices
(CNN) -- From the responses to our story Thursday on how tablets are paving a rough road for the future of dedicated e-readers, one thing was clear: We still love our E Ink.
Hundreds weighed in with comments, and the overwhelming majority argued that while tablets offer a range of nifty features, they still haven't caught up with Kindles, Nooks, Kobos or Sony Readers for curling up with a good e-book.
Many folks said they've found a spot in their digital lives for both types of devices.
"I have a tablet and an e-reader. They both have their place," wrote a commenter called Ken. "I wouldn't give up my e-reader because for one, the battery life is amazing. And two, its e-ink makes it almost look like paper." (E Ink is a proprietary type of electronic paper that's found in most e-readers.)
Seventy-six of you voted up the comment. Ken's clearly onto something.
"My Kobo is so small and light that I can hold it and click on it to turn the page with one hand," wrote the ominously monikered Sharkmann. "And the battery lasts about 1 week even if I use it a lot. For reading a book, e-ink is best, for web browsing and video, a bigger tablet is much better. Trying to make one device for everything leads to a device that does nothing well."
Experts quoted in our report painted a rosier picture for tablets. While the devices haven't yet matched the easy-on-the-eyes look of E Ink, most of the new ones have high-definition screens, and it may only be a matter of time before they catch up.
For now, it's the glare from a tablet's screen that's keeping some folks from spending hours on the devices, streaming Spotify and looking up definitions of big words while wading through, say, the bloody "Game of Thrones" book series.
"Don't forget that some of us are light sensitive. If I sat down for a long reading session on a tablet, I would get a headache," commenter Otorman said. "For this reason, my e-reader is great. I really do fear that tablets will kill off both paper and e-ink and will diminish the pleasantness of the reading experience."
Still, some folks agreed with what the analysts quoted in the report were saying.
"I can go to any of a dozen sites and order a cheap tablet from China for $50 to $75 (including delivery) that does everything a reader does plus hundreds of things a reader can't do," wrote Kevin Walker. "So why waste money on a inferior product just because of the brand name?"
Added lasertekk, "It's only a matter of time before an e-ink screen gets combined with a LCD, giving you both devices in one package."
And some of the biggest fans of the readers noted that, in a way, they're victims of their own success.
ZJM555: "Nice thing about an e-reader is you don't have to get the latest and greatest one every six months."
And Amber Hielckert: "I agree. The real problem with e-readers is that they last (nearly) forever, that people don't need to replace or upgrade every few years or so. I still have the Kindle with the keyboard, and it still works great."
So is there much hope for e-reader fans' beloved devices? Some of you seem to think so.
Writing with the screen name guiwhiz, one commenter echoed a scenario voiced by analyst James McQuivey.
"Schools. This is where they are going to be relevant," he wrote. "Giving young teenage children tablets is a big investment not just in hardware, but in all kinds of other costs/headaches as well. Give a kid an e-reader with the textbooks pre-loaded, the 'limited browser' locked down to the school websites/proxy server and then you have a potential replacement for textbooks.
"Just my two cents of course, but boy that is where I would be focusing my (research and development) money if I was Nook."
That, and several suggestions about improving Web browsing and other features, might keep tablets from killing electronic readers. "Maybe not kill," wrote Nodack. "But put on life support maybe."