Judge orders Fort Hood shooter to stand trial in 3 months
updated 5:36 PM EST, Fri March 1, 2013
STORY HIGHLIGHTS
Army Maj. Nidal Hasan is accused of killing 13 people at Fort Hood in 2009
A military judge ordered court martial proceedings to begin May 29
Testimony in the case will begin July 1, the judge ruled
Hasan, 42, faces a possible death penalty, if convicted
(CNN) -- An Army psychiatrist accused of opening fire and killing 13 people at Fort Hood, Texas, will begin trial proceedings in three months, a military judge ruled.
Maj. Nidal Hasan is charged with 13 counts of premeditated murder and 32 counts of attempted murder in connection with a 2009 attack at the post's processing center, where soldiers were preparing to deploy to Afghanistan and Iraq.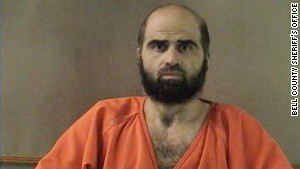 Maj. Nidal Hasan is accused of killing 13 people and wounding 32 others.
The judge, Col. Tara Osborn, ordered Hasan's court -martial to begin May 29 with jury selection and testimony to begin on July 1.
The start of Hasan's court-martial has been repeatedly delayed since it was initially set to begin in March of 2012, most notably after an appeals court delayed the case over the question of whether the Army major's beard could be forcibly shaved.
Army regulations prevent soldiers from wearing facial hair while in uniform. Hasan, who is still considered a soldier, is a practicing Muslim and maintains he has the right to wear the beard under U.S. laws protecting religious freedoms.
The case resumed after a higher court dismissed the order that Hasan be shaved and replaced the judge in the case.
On Thursday, Hasan's attorney requested a change of venue, telling the court that his client could not get a fair court-martial. Osborn did not immediately issue a ruling.
Fort Hood shooting victims want rampage labeled as terrorism
If convicted, Hasan faces a possible death penalty.
The November 5, 2009, attack left 13 dead and 32 people wounded in what has been described as the worst mass shooting on a U.S. military instillation. Hasan was paralyzed from the waist down after police exchanged fire with him.
A U.S.-born citizen of Palestinian descent, he was a licensed psychiatrist who joined the Army in 1997.
He had been scheduled to deploy to Afghanistan before the killings, but had been telling his family since 2001 that he wanted to get out of the military.
Hasan had told his family he had been taunted after the terrorist attacks of September 11, 2001.
Investigations tied to the Fort Hood shootings found he had been communicating via e-mail with Anwar al-Awlaki, a prominent radical Yemeni-American cleric killed by a U.S. drone attack in 2011.
The list: Despite emotions, little happens legislatively after mass shootings

Part of complete coverage on
updated 3:14 PM EDT, Thu May 16, 2013

Boxing legend Manny Pacquiao is using his hero status to fight human trafficking in the Philippines, pushing for an anti-trafficking law.
updated 6:25 PM EDT, Thu May 16, 2013

The U.N. says 70% of rapes committed in Somalia are carried out by men in military uniform. CNN's Nima Elbagir reports.
updated 8:38 AM EDT, Fri May 17, 2013

Christiane Amanpour writes an open letter to girls of the world, saying it is time to end the discrimination against girls in education.
updated 3:12 PM EDT, Fri May 17, 2013

Fans gasped when David Beckham wore a sarong. Then there was the nail polish and tattoos. But his masculinity was never in doubt.
updated 10:54 AM EDT, Fri May 17, 2013

Albinos in Tanzania have been attacked and killed because some people believe their body parts bring good luck. But one albino is fighting back.
updated 8:50 AM EDT, Fri May 17, 2013

Terrible results for Dell mean the future seems anything but bright for the PC industry despite a flurry of attempted innovations.
updated 12:00 PM EDT, Fri May 17, 2013

Mario Balotelli has delivered his verdict on his time in the English Premier League -- the AC Milan striker couldn't be happier to have left England.
updated 7:04 AM EDT, Fri May 17, 2013

If you thought Preakness was the poor sister to Kentucky Derby, think again. CNN brings you top five facts from the prestigious horse race.
updated 7:45 PM EDT, Wed May 15, 2013

Natasha Kampusch was held for eight years in an Austrian man's basement. She talks about her road to recovery, exclusively to CNN.
updated 5:36 PM EDT, Wed May 15, 2013

From her hospital bed, Reshma tells CNN about the 17 days she spent trapped under nine stories of rubble in Bangladesh.
updated 6:12 PM EDT, Thu May 16, 2013

A room full of partygoers in San Francisco were given power over a cocktail-making robot controlled by their smartphones.
updated 11:57 AM EDT, Thu May 16, 2013

The cast of "Star Trek Into Darkness" take a break from fighting space villains to answer questions from CNN iReporters.
updated 7:48 AM EDT, Thu May 16, 2013

CNN brings you images capturing moments to remember. Look ahead to the future and chronicle our changing world.