Woman no longer 'person of interest' in Las Vegas shooting
updated 3:05 AM EST, Thu February 28, 2013
STORY HIGHLIGHTS
Police no longer want to talk to Tineesha Howard, aka Yenesis Alfonso
She was inside a black Range Rover at the time shots were fired, they say
The fatal shooting and crash left three people dead
(CNN) -- Police are no longer looking for a woman in connection with a fatal shooting and crash that left three people dead on the Las Vegas Strip.
"Yenesis Alfonso, also known as Tineesha Howard, is no longer considered to be a missing person and is no longer a person of interest" in the homicide investigation, Las Vegas police said in a statement late Wednesday.
The 22-year-old was never named as a suspect, but detectives wanted to talk to her in connection with the case. The police statement says the investigation is ongoing.
Police didn't say why she was no longer considered a person of interest.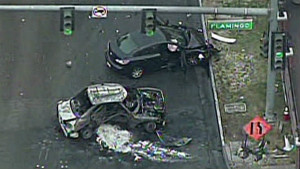 Shooting on the Las Vegas strip
Authorities had previously identified Ammar Asim Faruq Harris, 26, as a suspect in the shooting. He is at large, though a black Range Rover police say he was driving during the early-morning shooting has been impounded.
Police consider Harris to be armed and dangerous, and say he has an extensive criminal history, CNN affiliate KLAS reported. He has several tattoos, including a small heart -shaped one below his right eye and a large one of an owl that covers his neck and part of his chest.
A woman who said she is Howard's mother told CNN that her daughter and Harris have dated for about a year.
Miladys Garcia said she recognized Harris from an image that police issued, but that she knew him by a different name.
In the shooting and crash, Kenneth Cherry, an aspiring rapper known as Kenny Clutch, was driving his Maserati around 4:20 a.m. Thursday when someone in a Range Rover shot at his car as it headed north on Las Vegas Boulevard. Cherry, who was shot in the chest and arm, later died at a hospital.
The Maserati continued into the intersection with Flamingo Road and collided with a taxi, which caught fire, killing cab driver Michael Boldon, CNN affiliate KVVU said.
A passenger in the taxi -- identified by the Clark County coroner's office as Sandra Sutton-Wasmund, 48, of Maple Valley, Washington -- also died. All the deaths have been ruled homicides, according to the coroner's office.
The fire closed a block and a half of the Strip near some of its biggest draws: Caesars Palace, the Bellagio, Bally's and the Flamingo. Police collected surveillance video from the casinos.
CNN's Tina Burnside and Greg Botelho contributed to this report.

Part of complete coverage on
updated 3:14 PM EDT, Thu May 16, 2013

Boxing legend Manny Pacquiao is using his hero status to fight human trafficking in the Philippines, pushing for an anti-trafficking law.
updated 6:25 PM EDT, Thu May 16, 2013

The U.N. says 70% of rapes committed in Somalia are carried out by men in military uniform. CNN's Nima Elbagir reports.
updated 8:38 AM EDT, Fri May 17, 2013

Christiane Amanpour writes an open letter to girls of the world, saying it is time to end the discrimination against girls in education.
updated 3:12 PM EDT, Fri May 17, 2013

Fans gasped when David Beckham wore a sarong. Then there was the nail polish and tattoos. But his masculinity was never in doubt.
updated 10:54 AM EDT, Fri May 17, 2013

Albinos in Tanzania have been attacked and killed because some people believe their body parts bring good luck. But one albino is fighting back.
updated 8:50 AM EDT, Fri May 17, 2013

Terrible results for Dell mean the future seems anything but bright for the PC industry despite a flurry of attempted innovations.
updated 12:00 PM EDT, Fri May 17, 2013

Mario Balotelli has delivered his verdict on his time in the English Premier League -- the AC Milan striker couldn't be happier to have left England.
updated 7:04 AM EDT, Fri May 17, 2013

If you thought Preakness was the poor sister to Kentucky Derby, think again. CNN brings you top five facts from the prestigious horse race.
updated 7:45 PM EDT, Wed May 15, 2013

Natasha Kampusch was held for eight years in an Austrian man's basement. She talks about her road to recovery, exclusively to CNN.
updated 5:36 PM EDT, Wed May 15, 2013

From her hospital bed, Reshma tells CNN about the 17 days she spent trapped under nine stories of rubble in Bangladesh.
updated 6:12 PM EDT, Thu May 16, 2013

A room full of partygoers in San Francisco were given power over a cocktail-making robot controlled by their smartphones.
updated 11:57 AM EDT, Thu May 16, 2013

The cast of "Star Trek Into Darkness" take a break from fighting space villains to answer questions from CNN iReporters.
updated 7:48 AM EDT, Thu May 16, 2013

CNN brings you images capturing moments to remember. Look ahead to the future and chronicle our changing world.