Woman no longer 'person of interest' in Las Vegas shooting
updated 3:05 AM EST, Thu February 28, 2013
STORY HIGHLIGHTS
Police no longer want to talk to Tineesha Howard, aka Yenesis Alfonso
She was inside a black Range Rover at the time shots were fired, they say
The fatal shooting and crash left three people dead
(CNN) -- Police are no longer looking for a woman in connection with a fatal shooting and crash that left three people dead on the Las Vegas Strip.
"Yenesis Alfonso, also known as Tineesha Howard, is no longer considered to be a missing person and is no longer a person of interest" in the homicide investigation, Las Vegas police said in a statement late Wednesday.
The 22-year-old was never named as a suspect, but detectives wanted to talk to her in connection with the case. The police statement says the investigation is ongoing.
Police didn't say why she was no longer considered a person of interest.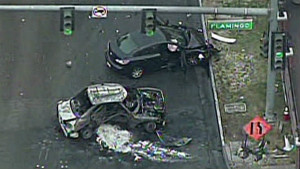 Shooting on the Las Vegas strip
Authorities had previously identified Ammar Asim Faruq Harris, 26, as a suspect in the shooting. He is at large, though a black Range Rover police say he was driving during the early-morning shooting has been impounded.
Police consider Harris to be armed and dangerous, and say he has an extensive criminal history, CNN affiliate KLAS reported. He has several tattoos, including a small heart -shaped one below his right eye and a large one of an owl that covers his neck and part of his chest.
A woman who said she is Howard's mother told CNN that her daughter and Harris have dated for about a year.
Miladys Garcia said she recognized Harris from an image that police issued, but that she knew him by a different name.
In the shooting and crash, Kenneth Cherry, an aspiring rapper known as Kenny Clutch, was driving his Maserati around 4:20 a.m. Thursday when someone in a Range Rover shot at his car as it headed north on Las Vegas Boulevard. Cherry, who was shot in the chest and arm, later died at a hospital.
The Maserati continued into the intersection with Flamingo Road and collided with a taxi, which caught fire, killing cab driver Michael Boldon, CNN affiliate KVVU said.
A passenger in the taxi -- identified by the Clark County coroner's office as Sandra Sutton-Wasmund, 48, of Maple Valley, Washington -- also died. All the deaths have been ruled homicides, according to the coroner's office.
The fire closed a block and a half of the Strip near some of its biggest draws: Caesars Palace, the Bellagio, Bally's and the Flamingo. Police collected surveillance video from the casinos.
CNN's Tina Burnside and Greg Botelho contributed to this report.

Part of complete coverage on
updated 7:24 AM EDT, Thu May 23, 2013

Terror analyst: There's a track record of Islamist extremists targeting Western soldiers West, such as a 2007 plot to murder a Muslim British soldier.

One woman's never-ending battle against sex slavery in the Philippines, with a warrior ally in her corner. Watch the compelling documentary here.
updated 6:43 AM EDT, Thu May 23, 2013

Ai Weiwei, the controversial Chinese artist-activist, has released a music single and video inspired by his harrowing detention by the government.
updated 1:22 AM EDT, Thu May 23, 2013

CNN's Christiane Amanpour and Nic Robertson give their insight on the brutal murder of a man in broad daylight.
updated 8:42 AM EDT, Wed May 22, 2013

President Obama is to speak on the CIA drone program and plans for the Guantanamo Bay prison camp. Here are common counterterrorism myths.
updated 2:04 AM EDT, Thu May 23, 2013

1,400 members of the Boy Scouts of America's national council are expected to vote on whether to end the 103-year-old group's ban on gay youths.
updated 1:14 PM EDT, Tue May 21, 2013

Did you know that hurricanes can also produce tornadoes? Read facts you didn't know about destructive twisters.
updated 9:01 AM EDT, Wed May 22, 2013

The petite frame of 19-year-old Zoe Smith should fool nobody -- she's a weightlifting warrior who has fought stereotypes and broken a British record.
updated 10:55 AM EDT, Wed May 22, 2013

According to the United Nations' mission in Iraq, 712 Iraqis were violently killed in April 2013. This is both normal and extraordinary.
updated 7:19 AM EDT, Thu May 23, 2013

The World Economic Forum has declared Egypt one of the most dangerous places for tourists, above Yemen and Pakistan in terms of risks for visitors.
updated 5:03 PM EDT, Wed May 22, 2013

Doctors used an experimental technique never before tried on a human to save the life of a six-week-old baby from a rare lung condition.
updated 5:26 PM EDT, Wed May 22, 2013

Since hitting the Web in 2007, the hit blogs among the 105 million hosted on Tumblr have tended to be silly, snarky or both.

Five years after the 2008 Olympics construction boom, new Beijing hotels keep right on coming.