Joan Rivers not apologizing for Holocaust joke
updated 7:03 AM EST, Fri March 1, 2013
STORY HIGHLIGHTS
Rivers made the quip Monday on a show about Oscar fashion
She said she uses humor to remind people about the Holocaust
Anti-Defamation League says remark was "vulgar and hideous"
(CNN) -- Comedian Joan Rivers isn't about to apologize for a joke she made about the Holocaust.
Rivers, while appearing Monday on "Fashion Police" on E!, talked about the dress model Heidi Klum wore to the Academy Awards
"The last time a German looked this hot was when they were pushing Jews into the ovens," Rivers said.
The Anti-Defamation League called the remark "vulgar and hideous," but Rivers, who is Jewish, said it is her way of getting people to talk.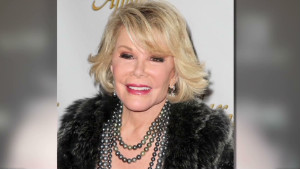 Joan Rivers' Holocaust joke criticized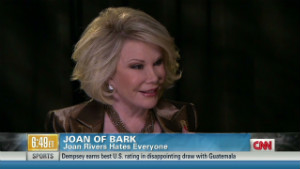 2012: Joan Rivers on staying relevant
"It's a joke No. 1. No. 2 it is about the Holocaust. This is the way I remind people about the Holocaust. I do it through humor," she told HLN's "Showbiz Tonight."
When asked by host A.J. Hammer why she won't apologize, Rivers said, "For what?" She also said critics should focus on people who have anti-Semitic views and not someone whose late husband lost his entire family during the Holocaust.
"Of all people, Joan Rivers should know better," Abraham H. Foxman, ADL national director, said in a statement posted on the organization's website. "There are certain things about the Holocaust that should be taboo. This is especially true for Jews, for whom the Holocaust is still a deeply painful memory."
The website said Foxman is a Holocaust survivor.

Part of complete coverage on
updated 3:14 PM EDT, Thu May 16, 2013

Boxing legend Manny Pacquiao is using his hero status to fight human trafficking in the Philippines, pushing for an anti-trafficking law.
updated 6:25 PM EDT, Thu May 16, 2013

The U.N. says 70% of rapes committed in Somalia are carried out by men in military uniform. CNN's Nima Elbagir reports.
updated 8:38 AM EDT, Fri May 17, 2013

Christiane Amanpour writes an open letter to girls of the world, saying it is time to end the discrimination against girls in education.
updated 3:12 PM EDT, Fri May 17, 2013

Fans gasped when David Beckham wore a sarong. Then there was the nail polish and tattoos. But his masculinity was never in doubt.
updated 10:54 AM EDT, Fri May 17, 2013

Albinos in Tanzania have been attacked and killed because some people believe their body parts bring good luck. But one albino is fighting back.
updated 8:50 AM EDT, Fri May 17, 2013

Terrible results for Dell mean the future seems anything but bright for the PC industry despite a flurry of attempted innovations.
updated 12:00 PM EDT, Fri May 17, 2013

Mario Balotelli has delivered his verdict on his time in the English Premier League -- the AC Milan striker couldn't be happier to have left England.
updated 7:04 AM EDT, Fri May 17, 2013

If you thought Preakness was the poor sister to Kentucky Derby, think again. CNN brings you top five facts from the prestigious horse race.
updated 7:45 PM EDT, Wed May 15, 2013

Natasha Kampusch was held for eight years in an Austrian man's basement. She talks about her road to recovery, exclusively to CNN.
updated 5:36 PM EDT, Wed May 15, 2013

From her hospital bed, Reshma tells CNN about the 17 days she spent trapped under nine stories of rubble in Bangladesh.
updated 6:12 PM EDT, Thu May 16, 2013

A room full of partygoers in San Francisco were given power over a cocktail-making robot controlled by their smartphones.
updated 11:57 AM EDT, Thu May 16, 2013

The cast of "Star Trek Into Darkness" take a break from fighting space villains to answer questions from CNN iReporters.
updated 7:48 AM EDT, Thu May 16, 2013

CNN brings you images capturing moments to remember. Look ahead to the future and chronicle our changing world.