Frostbite forces Ranulph Fiennes to quit Antarctic expedition
updated 9:28 AM EST, Tue February 26, 2013
STORY HIGHLIGHTS
Ranulph Fiennes pulls out of attempt to cross the Antarctic in winter
British adventurer suffers frostbite after trying to fix a ski binding
The expedition viewed as last great polar challenge
Rest of team will continue on 4,000 km journey without Fiennes
(CNN) -- Frostbite has forced British adventurer Ranulph Fiennes to quit his attempt to cross the Antarctic in winter -- a challenge his team regarded as the coldest journey on earth.
Tony Medniuk, the chairman of the expedition, said Fiennes' hand was frostbitten when he had to fix a loose ski binding with his bare hands in temperatures of around minus 30 degrees Celsius (minus 22 degrees Fahrenheit).
"It is the last remaining great polar challenge," Medniuk told CNN.
"He was going to be on skis, in specially adapted clothing to withstand the temperatures, so that he would be the first person to actually ski across the Antarctic in winter."
Fiennes' evacuation has been delayed by a blizzard but he is expected to be transported by skidoo to the Princess Elisabeth Station about 70 kilometers (44 miles) away from his current position. From there he will be flown to Novo to get a connecting flight to Cape Town.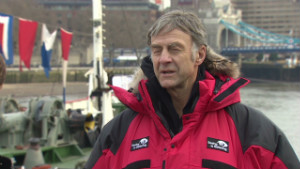 Ranulph Fiennes on Antarctic adventure
The other five members of the expedition will continue the journey without Fiennes as their leader, Medniuk said.
Read: Veteran explorer sets off on "The Coldest Journey."
They plan to travel almost 4,000 kilometers (2,485 miles) through icy wilderness mostly in complete darkness and in temperatures as low as minus 90 degrees Celsius. The journey is expected to take six months.
A Norwegian team recently completed a winter crossing of the Arctic but this is the first attempt to traverse the Antarctic.
Fiennes has previously been the first person to reach both the North and South Poles by land and the first to cross Antarctica on foot.
The team set sail from London in December and were building a base camp and supply depot inland from Crown Bay when Fiennes developed the case of frostbite. They are due to begin the polar crossing as scheduled on March 21.
Before his latest adventure, 68-year-old Fiennes described polar exploration as a drug or addiction.
"Once you get bitten by polar records, you keep going for it," he told CNN.
First woman to cross Antarctic solo: I've never felt so alone
Fiennes, who lost five fingers to frostbite on a previous expedition and also suffered heart problems during an attempt to climb Mt Everest, was sanguine about the risks of this adventure.
"I don't think about not coming back, because I mean, more people get killed on the roads here [London] than they do in Antarctica. I mean, I had a massive heart attack reading a magazine on an airplane. You don't need to go to Antarctica to pop it."
The expedition also aims to collect data on how climate change is affecting the Antarctic icecap in winter and raise $10 million for the blindness charity Seeing is Believing.
Adventurers recreate 'greatest survival story' of the Antarctic
CNN's Becky Anderson and journalist Tom Levitt in London contributed to this report

Part of complete coverage on
updated 11:45 AM EDT, Fri May 24, 2013

When the former teacher Ingrid Loyau-Kennett saw the bloodied man wielding a knife, she tried to engage him in a conversation to distract him.
updated 6:53 AM EDT, Fri May 24, 2013

A man dressed up as a woman to expose sexual harassment in Egypt -- and says he can't imagine how women put up with the daily abuse.
updated 6:29 AM EDT, Fri May 24, 2013

The breakdown of the education system, growing youth unemployment and insecurity swelled Boko Haram, 'Funmi Olonisakin writes.
updated 8:51 AM EDT, Fri May 24, 2013

"It's always the one we feared, the lone wolf that can come from nowhere and not be on our radar," said ex-London police chief John Yates.
updated 2:13 AM EDT, Fri May 24, 2013

Christiane Amanpour and Nic Robertson give their insight on the brutal murder of a man in broad daylight. What's behind the horrific attack?
updated 6:54 AM EDT, Fri May 24, 2013

In India, a child goes missing every eight minutes. What is behind this devastating statistic felt most by the parents left searching?

Learn about one woman's tireless battle against sex slavery in the Philippines, with Manny Pacquiao in her corner. Watch the full version here.
updated 6:43 AM EDT, Thu May 23, 2013

Ai Weiwei, the controversial Chinese artist-activist, has released a music single and video inspired by his harrowing detention by the government.
updated 7:56 AM EDT, Fri May 24, 2013

Meet Ugandan Ruganzu Bruno who uses recycled materials to create functional pieces of art, raising environmental awareness through his art.
updated 8:27 AM EDT, Fri May 24, 2013

The Germans are coming, this time in the form of the first all-German Champions League football final -- and this time, London cannot wait.
updated 7:06 AM EDT, Thu May 23, 2013

Bayern Munich's super fan Boris Becker takes a tour of London ahead of the 2013 Champions League final. What are his favorite spots?
updated 10:15 AM EDT, Thu May 23, 2013

Imagine if you could paint a working light switch directly onto your wall, without any need for sockets, cables or wiring. Well, now you can.