Frostbite forces Ranulph Fiennes to quit Antarctic expedition
updated 9:28 AM EST, Tue February 26, 2013
STORY HIGHLIGHTS
Ranulph Fiennes pulls out of attempt to cross the Antarctic in winter
British adventurer suffers frostbite after trying to fix a ski binding
The expedition viewed as last great polar challenge
Rest of team will continue on 4,000 km journey without Fiennes
(CNN) -- Frostbite has forced British adventurer Ranulph Fiennes to quit his attempt to cross the Antarctic in winter -- a challenge his team regarded as the coldest journey on earth.
Tony Medniuk, the chairman of the expedition, said Fiennes' hand was frostbitten when he had to fix a loose ski binding with his bare hands in temperatures of around minus 30 degrees Celsius (minus 22 degrees Fahrenheit).
"It is the last remaining great polar challenge," Medniuk told CNN.
"He was going to be on skis, in specially adapted clothing to withstand the temperatures, so that he would be the first person to actually ski across the Antarctic in winter."
Fiennes' evacuation has been delayed by a blizzard but he is expected to be transported by skidoo to the Princess Elisabeth Station about 70 kilometers (44 miles) away from his current position. From there he will be flown to Novo to get a connecting flight to Cape Town.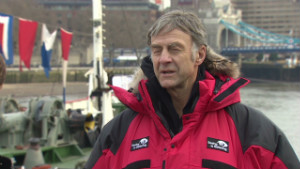 Ranulph Fiennes on Antarctic adventure
The other five members of the expedition will continue the journey without Fiennes as their leader, Medniuk said.
Read: Veteran explorer sets off on "The Coldest Journey."
They plan to travel almost 4,000 kilometers (2,485 miles) through icy wilderness mostly in complete darkness and in temperatures as low as minus 90 degrees Celsius. The journey is expected to take six months.
A Norwegian team recently completed a winter crossing of the Arctic but this is the first attempt to traverse the Antarctic.
Fiennes has previously been the first person to reach both the North and South Poles by land and the first to cross Antarctica on foot.
The team set sail from London in December and were building a base camp and supply depot inland from Crown Bay when Fiennes developed the case of frostbite. They are due to begin the polar crossing as scheduled on March 21.
Before his latest adventure, 68-year-old Fiennes described polar exploration as a drug or addiction.
"Once you get bitten by polar records, you keep going for it," he told CNN.
First woman to cross Antarctic solo: I've never felt so alone
Fiennes, who lost five fingers to frostbite on a previous expedition and also suffered heart problems during an attempt to climb Mt Everest, was sanguine about the risks of this adventure.
"I don't think about not coming back, because I mean, more people get killed on the roads here [London] than they do in Antarctica. I mean, I had a massive heart attack reading a magazine on an airplane. You don't need to go to Antarctica to pop it."
The expedition also aims to collect data on how climate change is affecting the Antarctic icecap in winter and raise $10 million for the blindness charity Seeing is Believing.
Adventurers recreate 'greatest survival story' of the Antarctic
CNN's Becky Anderson and journalist Tom Levitt in London contributed to this report

Part of complete coverage on
updated 3:14 PM EDT, Thu May 16, 2013

Boxing legend Manny Pacquiao is using his hero status to fight human trafficking in the Philippines, pushing for an anti-trafficking law.
updated 6:25 PM EDT, Thu May 16, 2013

The U.N. says 70% of rapes committed in Somalia are carried out by men in military uniform. CNN's Nima Elbagir reports.
updated 8:38 AM EDT, Fri May 17, 2013

Christiane Amanpour writes an open letter to girls of the world, saying it is time to end the discrimination against girls in education.
updated 3:12 PM EDT, Fri May 17, 2013

Fans gasped when David Beckham wore a sarong. Then there was the nail polish and tattoos. But his masculinity was never in doubt.
updated 10:54 AM EDT, Fri May 17, 2013

Albinos in Tanzania have been attacked and killed because some people believe their body parts bring good luck. But one albino is fighting back.
updated 8:50 AM EDT, Fri May 17, 2013

Terrible results for Dell mean the future seems anything but bright for the PC industry despite a flurry of attempted innovations.
updated 12:00 PM EDT, Fri May 17, 2013

Mario Balotelli has delivered his verdict on his time in the English Premier League -- the AC Milan striker couldn't be happier to have left England.
updated 7:04 AM EDT, Fri May 17, 2013

If you thought Preakness was the poor sister to Kentucky Derby, think again. CNN brings you top five facts from the prestigious horse race.
updated 7:45 PM EDT, Wed May 15, 2013

Natasha Kampusch was held for eight years in an Austrian man's basement. She talks about her road to recovery, exclusively to CNN.
updated 5:36 PM EDT, Wed May 15, 2013

From her hospital bed, Reshma tells CNN about the 17 days she spent trapped under nine stories of rubble in Bangladesh.
updated 6:12 PM EDT, Thu May 16, 2013

A room full of partygoers in San Francisco were given power over a cocktail-making robot controlled by their smartphones.
updated 11:57 AM EDT, Thu May 16, 2013

The cast of "Star Trek Into Darkness" take a break from fighting space villains to answer questions from CNN iReporters.
updated 7:48 AM EDT, Thu May 16, 2013

CNN brings you images capturing moments to remember. Look ahead to the future and chronicle our changing world.