Dennis Rodman to North Korea: 'I come in peace'
updated 11:56 AM EST, Wed February 27, 2013
STORY HIGHLIGHTS
The United States and North Korea are at odds over North Korea's nuclear ambitions
Former NBA star Dennis Rodman tweets he's "looking forward to sitting down with Kim Jung Un"
The North Korean leader is known to be a huge basketball fan
The trip was arranged by the producers of the HBO show "Vice"
(CNN) -- Flamboyant former NBA star Dennis Rodman and three members of the famed Harlem Globetrotters arrived in North Korea Tuesday to "entertain and inspire" with their basketball skills while they film a TV show.
"I come in peace. I love the people of North Korea!" Rodman, 51, said on Twitter Tuesday.
The weeklong visit comes at a time of heightened tension between the United States and North Korea, a result of Pyongyang's pursuit of a nuclear program. Just days ago, North Korea threatened "miserable destruction" in response to routine military exercises planned between South Korea and the United States.
North Korea provoked Western condemnation earlier this month with an underground nuclear test that was preceded by the launch of a long-range missile capable of transporting a warhead in December.
Could Rodman's visit, which a statement from the Harlem Globetrotters calls "ambassadorial," help cool down this international hot spot?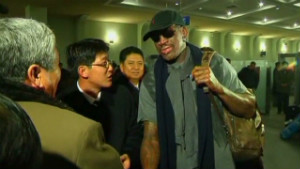 Dennis Rodman visits North Korea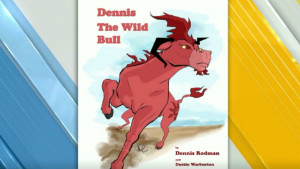 2012: Rodman a children's author?
Rodman tweeted that he was "looking forward to sitting down with Kim Jung Un," known to have been a huge basketball fan when he was a teenage student in Switzerland.
"The whole world for him was just basketball all the time," a former classmate of North Korea's supreme leader told CNN after he assumed power after the death of his father, Kim Jong Il, in late 2011. He is believed to be about 29 years old.
Rodman, whose nickname is "Worm," said he was "honored to represent The United States of America."
"I'm not a politician. Kim Jung Un & North Korean people are basketball fans. I love everyone. Period. End of story," he tweeted.
His knowledge of geography and geopolitics may be a little off, though, judging from one message.
"Maybe I'll run into the Gangnam Style dude while I'm here," he said. Psy, the artist who made the smash hit song and video, is from South Korea.
"Our aim is to entertain and inspire children everywhere," Globetrotters CEO Kurt Schneider said. "Every child deserves that opportunity."
It was unclear whether Rodman, who is accompanied by Globetrotters Bull Bullard, Buckets Blakes and Moose Weekes, will be taken to North Korea's countryside, where aid groups say malnutrition is rampant. According to Human Rights Watch, hundreds of thousands of people remain enslaved in prison camps, which are "notorious for horrific living conditions and abuse."
The trip was arranged by the producers of an HBO show that premieres in April, the team said. The documentary series is hosted by Vice magazine founder Shane Smith and executive produced by HBO commentator Bill Maher.
When Rodman finishes his North Korean mission, he'll travel to New York to work with a reality TV supreme leader, Donald Trump, for a season of "All-Star Celebrity Apprentice."

Part of complete coverage on
updated 4:33 PM EDT, Wed May 22, 2013

Details are still emerging of the London attack, but in recent years previous Islamist plots have targeted British soldiers on home soil.
updated 6:17 PM EDT, Tue May 21, 2013

The image of the Gaza boy and his father under a hail of Israeli bullets became a powerful symbol. Now Israel insists its military is not to blame.
updated 2:31 PM EDT, Wed May 22, 2013

The tornado that ripped through Oklahoma saw teachers rise to be surrogate parents, protectors and heroes, according to LZ Granderson.
updated 1:14 PM EDT, Tue May 21, 2013

Did you know that hurricanes can also produce tornadoes? Read facts you didn't know about destructive twisters.
updated 9:01 AM EDT, Wed May 22, 2013

The petite frame of 19-year-old Zoe Smith should fool nobody -- she's a weightlifting warrior who has fought stereotypes and broken a British record.
updated 12:41 AM EDT, Wed May 22, 2013

Prime Minister Shinzo Abe calls women "Japan's most underutilized resource," yet traditions have been hard to overcome.
updated 10:55 AM EDT, Wed May 22, 2013

According to the United Nations' mission in Iraq, 712 Iraqis were violently killed in April 2013. This is both normal and extraordinary.
updated 7:21 AM EDT, Wed May 22, 2013

Myanmar's Muslims have generally coexisted with the Buddhist majority. But ethnic fault lines are exposed as it emerges from military rule.
updated 8:09 AM EDT, Wed May 22, 2013

Actresses Carey Mulligan, Isla Fisher and Elizabeth Debicki tell CNN who gave them inspiration for their characters.
updated 1:21 AM EDT, Wed May 22, 2013

A quarter century after his death, American pop artist Andy Warhol has popped up in China again after his first and only trip to the country in 1982.
updated 10:39 AM EDT, Wed May 22, 2013

Revolutionary "bionic exoskeletons," like the metal suit worn by comic book hero Tony Stark, may be closer than you think.
updated 3:51 PM EDT, Tue May 21, 2013

Photos: From Sharon Stone to Matt Damon, browse through the best from the Cannes red carpet this year.

Damnit we have work to do ... but not before we have another go at this annoyingly difficult web-based game.