Dennis Rodman to North Korea: 'I come in peace'
updated 11:56 AM EST, Wed February 27, 2013
STORY HIGHLIGHTS
The United States and North Korea are at odds over North Korea's nuclear ambitions
Former NBA star Dennis Rodman tweets he's "looking forward to sitting down with Kim Jung Un"
The North Korean leader is known to be a huge basketball fan
The trip was arranged by the producers of the HBO show "Vice"
(CNN) -- Flamboyant former NBA star Dennis Rodman and three members of the famed Harlem Globetrotters arrived in North Korea Tuesday to "entertain and inspire" with their basketball skills while they film a TV show.
"I come in peace. I love the people of North Korea!" Rodman, 51, said on Twitter Tuesday.
The weeklong visit comes at a time of heightened tension between the United States and North Korea, a result of Pyongyang's pursuit of a nuclear program. Just days ago, North Korea threatened "miserable destruction" in response to routine military exercises planned between South Korea and the United States.
North Korea provoked Western condemnation earlier this month with an underground nuclear test that was preceded by the launch of a long-range missile capable of transporting a warhead in December.
Could Rodman's visit, which a statement from the Harlem Globetrotters calls "ambassadorial," help cool down this international hot spot?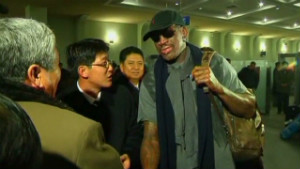 Dennis Rodman visits North Korea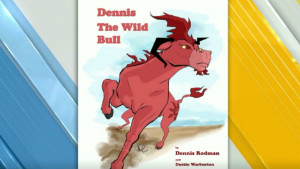 2012: Rodman a children's author?
Rodman tweeted that he was "looking forward to sitting down with Kim Jung Un," known to have been a huge basketball fan when he was a teenage student in Switzerland.
"The whole world for him was just basketball all the time," a former classmate of North Korea's supreme leader told CNN after he assumed power after the death of his father, Kim Jong Il, in late 2011. He is believed to be about 29 years old.
Rodman, whose nickname is "Worm," said he was "honored to represent The United States of America."
"I'm not a politician. Kim Jung Un & North Korean people are basketball fans. I love everyone. Period. End of story," he tweeted.
His knowledge of geography and geopolitics may be a little off, though, judging from one message.
"Maybe I'll run into the Gangnam Style dude while I'm here," he said. Psy, the artist who made the smash hit song and video, is from South Korea.
"Our aim is to entertain and inspire children everywhere," Globetrotters CEO Kurt Schneider said. "Every child deserves that opportunity."
It was unclear whether Rodman, who is accompanied by Globetrotters Bull Bullard, Buckets Blakes and Moose Weekes, will be taken to North Korea's countryside, where aid groups say malnutrition is rampant. According to Human Rights Watch, hundreds of thousands of people remain enslaved in prison camps, which are "notorious for horrific living conditions and abuse."
The trip was arranged by the producers of an HBO show that premieres in April, the team said. The documentary series is hosted by Vice magazine founder Shane Smith and executive produced by HBO commentator Bill Maher.
When Rodman finishes his North Korean mission, he'll travel to New York to work with a reality TV supreme leader, Donald Trump, for a season of "All-Star Celebrity Apprentice."

Part of complete coverage on
updated 3:14 PM EDT, Thu May 16, 2013

Boxing legend Manny Pacquiao is using his hero status to fight human trafficking in the Philippines, pushing for an anti-trafficking law.
updated 6:25 PM EDT, Thu May 16, 2013

The U.N. says 70% of rapes committed in Somalia are carried out by men in military uniform. CNN's Nima Elbagir reports.
updated 8:38 AM EDT, Fri May 17, 2013

Christiane Amanpour writes an open letter to girls of the world, saying it is time to end the discrimination against girls in education.
updated 3:12 PM EDT, Fri May 17, 2013

Fans gasped when David Beckham wore a sarong. Then there was the nail polish and tattoos. But his masculinity was never in doubt.
updated 10:54 AM EDT, Fri May 17, 2013

Albinos in Tanzania have been attacked and killed because some people believe their body parts bring good luck. But one albino is fighting back.
updated 8:50 AM EDT, Fri May 17, 2013

Terrible results for Dell mean the future seems anything but bright for the PC industry despite a flurry of attempted innovations.
updated 12:00 PM EDT, Fri May 17, 2013

Mario Balotelli has delivered his verdict on his time in the English Premier League -- the AC Milan striker couldn't be happier to have left England.
updated 7:04 AM EDT, Fri May 17, 2013

If you thought Preakness was the poor sister to Kentucky Derby, think again. CNN brings you top five facts from the prestigious horse race.
updated 7:45 PM EDT, Wed May 15, 2013

Natasha Kampusch was held for eight years in an Austrian man's basement. She talks about her road to recovery, exclusively to CNN.
updated 5:36 PM EDT, Wed May 15, 2013

From her hospital bed, Reshma tells CNN about the 17 days she spent trapped under nine stories of rubble in Bangladesh.
updated 6:12 PM EDT, Thu May 16, 2013

A room full of partygoers in San Francisco were given power over a cocktail-making robot controlled by their smartphones.
updated 11:57 AM EDT, Thu May 16, 2013

The cast of "Star Trek Into Darkness" take a break from fighting space villains to answer questions from CNN iReporters.
updated 7:48 AM EDT, Thu May 16, 2013

CNN brings you images capturing moments to remember. Look ahead to the future and chronicle our changing world.