'Turbaned tornado', world's oldest marathon runner, retires
updated 3:13 AM EST, Mon February 25, 2013
STORY HIGHLIGHTS
Fauja Singh, 101, completes final race in Hong Kong
The great, great grandfather has run 9 marathons
Took up long-distance running after death of son
Attributes success to love of the sport
Hong Kong (CNN) -- Not your average great-great grandfather, Fauja Singh has completed nine 26-mile (42-kilometer) marathons since taking up long-distance running just over a decade ago.
On Sunday, the 101-year-old Sikh finished his final competitive race in Hong Kong, putting an end to a sporting career that has raised thousands of dollars for charity and been an inspiration to many around the world.
Nicknamed "Turbaned Tornado" by fans for his distinctive traditional headwear, Singh said he began long-distance running in an attempt to lift the depression that engulfed him after he witnessed the death of his son.
"I suffered a tragic incident in my life, a traumatic experience; I took up running as a new focus in life. And then marathon running developed from there," he told CNN at a training session before Sunday's race.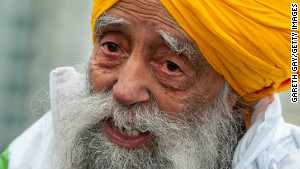 Fauja Singh smiles after completing the 10-kilometer run during the 2013 Hong Kong Marathon on Sunday.
He completed the 10-kilometer route that wound its way along Hong Kong's harborfront in one hour 32 minutes and 28 seconds -- four minutes faster than his time last year despite a small stumble.
"Five or six kilometers into the race, I really decided to go for it," he said. "I had lots of power today because I was very happy. "
Singh moved to the UK from India following the death of his son and entered his first marathon in London in 2000 aged 89.
In 2011, Singh became the first centenarian on record to complete a marathon after finishing the Toronto Waterfront Marathon in 2011 in eight hours and 11 minutes and six seconds.
He was also a torchbearer for the 2012 Olympics and was featured in Adidas' "Impossible is nothing" advertising campaign.
"He's focused, determined and single minded ... he's never set out to break records," said his trainer Harmander Singh, who has been coaching him for 13 years.
Although the Hong Kong event was Singh's last competitive race, his coach said the centenarian will still run for pleasure.
"He's my best student, I would say, which is ironic because he's twice my age."
As he hangs up his running shoes, Singh told CNN he had no secret diet or training regimen. He attributed his success to a simple love of the sport.
"It's because of the happiness I get out of it. If something makes you happy, you'll do it well."
CNN's Aloke Devichand, Elizabeth Joseph and Diego Laje contributed reporting in Hong Kong.

Part of complete coverage on
updated 11:45 AM EDT, Fri May 24, 2013

When the former teacher Ingrid Loyau-Kennett saw the bloodied man wielding a knife, she tried to engage him in a conversation to distract him.
updated 6:53 AM EDT, Fri May 24, 2013

A man dressed up as a woman to expose sexual harassment in Egypt -- and says he can't imagine how women put up with the daily abuse.
updated 6:29 AM EDT, Fri May 24, 2013

The breakdown of the education system, growing youth unemployment and insecurity swelled Boko Haram, 'Funmi Olonisakin writes.
updated 8:51 AM EDT, Fri May 24, 2013

"It's always the one we feared, the lone wolf that can come from nowhere and not be on our radar," said ex-London police chief John Yates.
updated 2:13 AM EDT, Fri May 24, 2013

Christiane Amanpour and Nic Robertson give their insight on the brutal murder of a man in broad daylight. What's behind the horrific attack?
updated 6:54 AM EDT, Fri May 24, 2013

In India, a child goes missing every eight minutes. What is behind this devastating statistic felt most by the parents left searching?

Learn about one woman's tireless battle against sex slavery in the Philippines, with Manny Pacquiao in her corner. Watch the full version here.
updated 6:43 AM EDT, Thu May 23, 2013

Ai Weiwei, the controversial Chinese artist-activist, has released a music single and video inspired by his harrowing detention by the government.
updated 7:56 AM EDT, Fri May 24, 2013

Meet Ugandan Ruganzu Bruno who uses recycled materials to create functional pieces of art, raising environmental awareness through his art.
updated 8:27 AM EDT, Fri May 24, 2013

The Germans are coming, this time in the form of the first all-German Champions League football final -- and this time, London cannot wait.
updated 7:06 AM EDT, Thu May 23, 2013

Bayern Munich's super fan Boris Becker takes a tour of London ahead of the 2013 Champions League final. What are his favorite spots?
updated 10:15 AM EDT, Thu May 23, 2013

Imagine if you could paint a working light switch directly onto your wall, without any need for sockets, cables or wiring. Well, now you can.