France blasts 'cruelty' as Boko Haram displays kidnapped family
updated 11:05 PM EST, Mon February 25, 2013
STORY HIGHLIGHTS
Nigerian Islamist rebels show video of kidnapped family
France denounces the scene as "cruelty without limits"
Boko Haram wants jailed members and their wives released
A masked spokesman says France has declared war in Islam
(CNN) -- Islamist rebels in Nigeria on Monday released video of a French family kidnapped in neighboring Cameroon last week, leading France to blast the scene as one of "cruelty without limits."
The seven-member family was flanked by armed fighters from the Boko Haram movement in the brief video. One of the captive men reads a statement demanding that Nigeria and Cameroon free jailed members of Boko Haram, which is battling to establish Islamic rule in northern Nigeria, and their families.
"Meet all the demands we have mentioned, and if you leave out one of them, we will kill these hostages," the masked man says.
The family -- a couple, their four children and an uncle -- were seized in a national park in remote northern Cameroon on February 19. Authorities in Cameroon said they were quickly spirited across the border into Nigeria.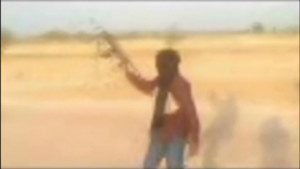 Obasanjo: Boko Haram undermine security
French Foreign Minister Laurent Fabius denounced the video, saying, "All of the state services are mobilized to free our countrymen."
"For all of us, these images are terribly shocking. They demonstrate cruelty without limits," Fabius said in a statement released Monday afternoon.
The kidnapping has raised fears of Westerners being targeted by Islamist militant groups in Africa in the wake of the French military intervention against other Islamist rebels in Mali. The masked man in the video says French President Francois Hollande "started war against Islam, and we must fight him everywhere."
"He also should learn that we have spread everywhere to save our oppressed brothers," the masked man adds.
The father works for the French company GDF Suez and is based in Yaounde, the capital in southern Cameroon. GDF Suez, which is developing a natural gas liquefaction project in Cameroon, said it was working closely with the French Foreign Ministry.

Part of complete coverage on
updated 3:14 PM EDT, Thu May 16, 2013

Boxing legend Manny Pacquiao is using his hero status to fight human trafficking in the Philippines, pushing for an anti-trafficking law.
updated 6:25 PM EDT, Thu May 16, 2013

The U.N. says 70% of rapes committed in Somalia are carried out by men in military uniform. CNN's Nima Elbagir reports.
updated 8:38 AM EDT, Fri May 17, 2013

Christiane Amanpour writes an open letter to girls of the world, saying it is time to end the discrimination against girls in education.
updated 3:12 PM EDT, Fri May 17, 2013

Fans gasped when David Beckham wore a sarong. Then there was the nail polish and tattoos. But his masculinity was never in doubt.
updated 10:54 AM EDT, Fri May 17, 2013

Albinos in Tanzania have been attacked and killed because some people believe their body parts bring good luck. But one albino is fighting back.
updated 8:50 AM EDT, Fri May 17, 2013

Terrible results for Dell mean the future seems anything but bright for the PC industry despite a flurry of attempted innovations.
updated 12:00 PM EDT, Fri May 17, 2013

Mario Balotelli has delivered his verdict on his time in the English Premier League -- the AC Milan striker couldn't be happier to have left England.
updated 7:04 AM EDT, Fri May 17, 2013

If you thought Preakness was the poor sister to Kentucky Derby, think again. CNN brings you top five facts from the prestigious horse race.
updated 7:45 PM EDT, Wed May 15, 2013

Natasha Kampusch was held for eight years in an Austrian man's basement. She talks about her road to recovery, exclusively to CNN.
updated 5:36 PM EDT, Wed May 15, 2013

From her hospital bed, Reshma tells CNN about the 17 days she spent trapped under nine stories of rubble in Bangladesh.
updated 6:12 PM EDT, Thu May 16, 2013

A room full of partygoers in San Francisco were given power over a cocktail-making robot controlled by their smartphones.
updated 11:57 AM EDT, Thu May 16, 2013

The cast of "Star Trek Into Darkness" take a break from fighting space villains to answer questions from CNN iReporters.
updated 7:48 AM EDT, Thu May 16, 2013

CNN brings you images capturing moments to remember. Look ahead to the future and chronicle our changing world.