'This is the Charm Blow, we are abandoning ship'
updated 4:47 AM EST, Tue February 26, 2013
STORY HIGHLIGHTS
NEW: Coast Guard will continue search into Tuesday, spokeswoman says
Coast Guard appeals to the public for help in identifying the missing family
A couple, their 4-year-old child and a cousin are missing, the Coast Guard says
The boat was taking on water, the Coast Guard says
(CNN) -- "This is the Charm Blow, we are abandoning ship."
With that message -- delivered at 4:20 p.m. Sunday -- radio communication between the boat and the Coast Guard went dead.
Since then, searchers have been scouring the waters off San Francisco for the reported occupants of a 29-foot sailboat -- a couple, their 4-year-old child and the child's cousin, who the Coast Guard said is younger than 8.
Coast Guard spokeswoman Pamela Boehland said the search will continue through the night.
The man had called the Coast Guard an hour earlier to say that the boat had begun taking on water and its electronics were failing, the Coast Guard said. At that time, the boat was some 65 miles (105 kilometers) off Pillar Point, south of San Francisco.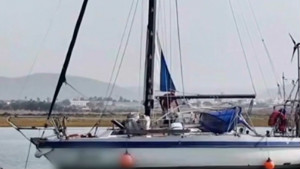 Family: 'We are abandoning ship'
The four might have boarded a life raft, said the Coast Guard, which appealed to the public for help Monday in identifying the missing seafarers.
"We don't have a lot of information to go on," Boehland told CNN. "All we know is that there were those four people on board and the two young children, and we're hoping that there is still time to save them."
The focus of the search was 60 to 65 miles off Monterey Bay, said Lt. Heather Lampert, a Coast Guard spokeswoman.
Several aircraft and vessels have joined the search.
Asked about the possibility that the report could be a hoax, given that no one has come forward to identify a family as missing, the Coast Guard said that it operates under the assumption that such reports are legitimate.
If the boat did not have a life raft, the chances of survival are slim, said Mario Vittone, a recently retired Coast Guard helicopter rescue swimmer and a marine safety specialist. "They're not going to live long, even in life jackets," he said. "That's cold water out there."
According to the National Oceanographic Data Center, the water temperature off San Francisco was 49.3 degrees Fahrenheit (9.6 C).
Marine accidents in waters below 50 degrees F are five times more likely to end in death, Vittone said.
Computer models will factor in currents, weather and wind to create search patterns to focus searchers' efforts, he said.
The search will continue until the four are found or until the limits of survivability have passed, he said.
Three years later, no sign of missing family

Part of complete coverage on
updated 4:33 PM EDT, Wed May 22, 2013

Details are still emerging of the London attack, but in recent years previous Islamist plots have targeted British soldiers on home soil.
updated 6:17 PM EDT, Tue May 21, 2013

The image of the Gaza boy and his father under a hail of Israeli bullets became a powerful symbol. Now Israel insists its military is not to blame.
updated 2:31 PM EDT, Wed May 22, 2013

The tornado that ripped through Oklahoma saw teachers rise to be surrogate parents, protectors and heroes, according to LZ Granderson.
updated 1:14 PM EDT, Tue May 21, 2013

Did you know that hurricanes can also produce tornadoes? Read facts you didn't know about destructive twisters.
updated 9:01 AM EDT, Wed May 22, 2013

The petite frame of 19-year-old Zoe Smith should fool nobody -- she's a weightlifting warrior who has fought stereotypes and broken a British record.
updated 12:41 AM EDT, Wed May 22, 2013

Prime Minister Shinzo Abe calls women "Japan's most underutilized resource," yet traditions have been hard to overcome.
updated 10:55 AM EDT, Wed May 22, 2013

According to the United Nations' mission in Iraq, 712 Iraqis were violently killed in April 2013. This is both normal and extraordinary.
updated 7:21 AM EDT, Wed May 22, 2013

Myanmar's Muslims have generally coexisted with the Buddhist majority. But ethnic fault lines are exposed as it emerges from military rule.
updated 8:09 AM EDT, Wed May 22, 2013

Actresses Carey Mulligan, Isla Fisher and Elizabeth Debicki tell CNN who gave them inspiration for their characters.
updated 1:21 AM EDT, Wed May 22, 2013

A quarter century after his death, American pop artist Andy Warhol has popped up in China again after his first and only trip to the country in 1982.
updated 10:39 AM EDT, Wed May 22, 2013

Revolutionary "bionic exoskeletons," like the metal suit worn by comic book hero Tony Stark, may be closer than you think.
updated 3:51 PM EDT, Tue May 21, 2013

Photos: From Sharon Stone to Matt Damon, browse through the best from the Cannes red carpet this year.

Damnit we have work to do ... but not before we have another go at this annoyingly difficult web-based game.