'This is the Charm Blow, we are abandoning ship'
updated 4:47 AM EST, Tue February 26, 2013
STORY HIGHLIGHTS
NEW: Coast Guard will continue search into Tuesday, spokeswoman says
Coast Guard appeals to the public for help in identifying the missing family
A couple, their 4-year-old child and a cousin are missing, the Coast Guard says
The boat was taking on water, the Coast Guard says
(CNN) -- "This is the Charm Blow, we are abandoning ship."
With that message -- delivered at 4:20 p.m. Sunday -- radio communication between the boat and the Coast Guard went dead.
Since then, searchers have been scouring the waters off San Francisco for the reported occupants of a 29-foot sailboat -- a couple, their 4-year-old child and the child's cousin, who the Coast Guard said is younger than 8.
Coast Guard spokeswoman Pamela Boehland said the search will continue through the night.
The man had called the Coast Guard an hour earlier to say that the boat had begun taking on water and its electronics were failing, the Coast Guard said. At that time, the boat was some 65 miles (105 kilometers) off Pillar Point, south of San Francisco.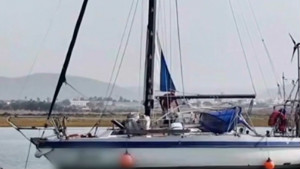 Family: 'We are abandoning ship'
The four might have boarded a life raft, said the Coast Guard, which appealed to the public for help Monday in identifying the missing seafarers.
"We don't have a lot of information to go on," Boehland told CNN. "All we know is that there were those four people on board and the two young children, and we're hoping that there is still time to save them."
The focus of the search was 60 to 65 miles off Monterey Bay, said Lt. Heather Lampert, a Coast Guard spokeswoman.
Several aircraft and vessels have joined the search.
Asked about the possibility that the report could be a hoax, given that no one has come forward to identify a family as missing, the Coast Guard said that it operates under the assumption that such reports are legitimate.
If the boat did not have a life raft, the chances of survival are slim, said Mario Vittone, a recently retired Coast Guard helicopter rescue swimmer and a marine safety specialist. "They're not going to live long, even in life jackets," he said. "That's cold water out there."
According to the National Oceanographic Data Center, the water temperature off San Francisco was 49.3 degrees Fahrenheit (9.6 C).
Marine accidents in waters below 50 degrees F are five times more likely to end in death, Vittone said.
Computer models will factor in currents, weather and wind to create search patterns to focus searchers' efforts, he said.
The search will continue until the four are found or until the limits of survivability have passed, he said.
Three years later, no sign of missing family

Part of complete coverage on
updated 3:14 PM EDT, Thu May 16, 2013

Boxing legend Manny Pacquiao is using his hero status to fight human trafficking in the Philippines, pushing for an anti-trafficking law.
updated 6:25 PM EDT, Thu May 16, 2013

The U.N. says 70% of rapes committed in Somalia are carried out by men in military uniform. CNN's Nima Elbagir reports.
updated 8:38 AM EDT, Fri May 17, 2013

Christiane Amanpour writes an open letter to girls of the world, saying it is time to end the discrimination against girls in education.
updated 3:12 PM EDT, Fri May 17, 2013

Fans gasped when David Beckham wore a sarong. Then there was the nail polish and tattoos. But his masculinity was never in doubt.
updated 10:54 AM EDT, Fri May 17, 2013

Albinos in Tanzania have been attacked and killed because some people believe their body parts bring good luck. But one albino is fighting back.
updated 8:50 AM EDT, Fri May 17, 2013

Terrible results for Dell mean the future seems anything but bright for the PC industry despite a flurry of attempted innovations.
updated 12:00 PM EDT, Fri May 17, 2013

Mario Balotelli has delivered his verdict on his time in the English Premier League -- the AC Milan striker couldn't be happier to have left England.
updated 7:04 AM EDT, Fri May 17, 2013

If you thought Preakness was the poor sister to Kentucky Derby, think again. CNN brings you top five facts from the prestigious horse race.
updated 7:45 PM EDT, Wed May 15, 2013

Natasha Kampusch was held for eight years in an Austrian man's basement. She talks about her road to recovery, exclusively to CNN.
updated 5:36 PM EDT, Wed May 15, 2013

From her hospital bed, Reshma tells CNN about the 17 days she spent trapped under nine stories of rubble in Bangladesh.
updated 6:12 PM EDT, Thu May 16, 2013

A room full of partygoers in San Francisco were given power over a cocktail-making robot controlled by their smartphones.
updated 11:57 AM EDT, Thu May 16, 2013

The cast of "Star Trek Into Darkness" take a break from fighting space villains to answer questions from CNN iReporters.
updated 7:48 AM EDT, Thu May 16, 2013

CNN brings you images capturing moments to remember. Look ahead to the future and chronicle our changing world.