'This is the Charm Blow, we are abandoning ship'
updated 4:47 AM EST, Tue February 26, 2013
STORY HIGHLIGHTS
NEW: Coast Guard will continue search into Tuesday, spokeswoman says
Coast Guard appeals to the public for help in identifying the missing family
A couple, their 4-year-old child and a cousin are missing, the Coast Guard says
The boat was taking on water, the Coast Guard says
(CNN) -- "This is the Charm Blow, we are abandoning ship."
With that message -- delivered at 4:20 p.m. Sunday -- radio communication between the boat and the Coast Guard went dead.
Since then, searchers have been scouring the waters off San Francisco for the reported occupants of a 29-foot sailboat -- a couple, their 4-year-old child and the child's cousin, who the Coast Guard said is younger than 8.
Coast Guard spokeswoman Pamela Boehland said the search will continue through the night.
The man had called the Coast Guard an hour earlier to say that the boat had begun taking on water and its electronics were failing, the Coast Guard said. At that time, the boat was some 65 miles (105 kilometers) off Pillar Point, south of San Francisco.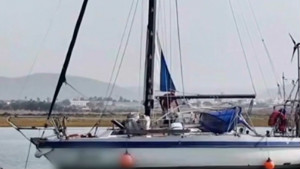 Family: 'We are abandoning ship'
The four might have boarded a life raft, said the Coast Guard, which appealed to the public for help Monday in identifying the missing seafarers.
"We don't have a lot of information to go on," Boehland told CNN. "All we know is that there were those four people on board and the two young children, and we're hoping that there is still time to save them."
The focus of the search was 60 to 65 miles off Monterey Bay, said Lt. Heather Lampert, a Coast Guard spokeswoman.
Several aircraft and vessels have joined the search.
Asked about the possibility that the report could be a hoax, given that no one has come forward to identify a family as missing, the Coast Guard said that it operates under the assumption that such reports are legitimate.
If the boat did not have a life raft, the chances of survival are slim, said Mario Vittone, a recently retired Coast Guard helicopter rescue swimmer and a marine safety specialist. "They're not going to live long, even in life jackets," he said. "That's cold water out there."
According to the National Oceanographic Data Center, the water temperature off San Francisco was 49.3 degrees Fahrenheit (9.6 C).
Marine accidents in waters below 50 degrees F are five times more likely to end in death, Vittone said.
Computer models will factor in currents, weather and wind to create search patterns to focus searchers' efforts, he said.
The search will continue until the four are found or until the limits of survivability have passed, he said.
Three years later, no sign of missing family

Part of complete coverage on
updated 7:24 AM EDT, Thu May 23, 2013

Terror analyst: There's a track record of Islamist extremists targeting Western soldiers West, such as a 2007 plot to murder a Muslim British soldier.

One woman's never-ending battle against sex slavery in the Philippines, with a warrior ally in her corner. Watch the compelling documentary here.
updated 6:43 AM EDT, Thu May 23, 2013

Ai Weiwei, the controversial Chinese artist-activist, has released a music single and video inspired by his harrowing detention by the government.
updated 1:22 AM EDT, Thu May 23, 2013

CNN's Christiane Amanpour and Nic Robertson give their insight on the brutal murder of a man in broad daylight.
updated 8:42 AM EDT, Wed May 22, 2013

President Obama is to speak on the CIA drone program and plans for the Guantanamo Bay prison camp. Here are common counterterrorism myths.
updated 2:04 AM EDT, Thu May 23, 2013

1,400 members of the Boy Scouts of America's national council are expected to vote on whether to end the 103-year-old group's ban on gay youths.
updated 1:14 PM EDT, Tue May 21, 2013

Did you know that hurricanes can also produce tornadoes? Read facts you didn't know about destructive twisters.
updated 9:01 AM EDT, Wed May 22, 2013

The petite frame of 19-year-old Zoe Smith should fool nobody -- she's a weightlifting warrior who has fought stereotypes and broken a British record.
updated 10:55 AM EDT, Wed May 22, 2013

According to the United Nations' mission in Iraq, 712 Iraqis were violently killed in April 2013. This is both normal and extraordinary.
updated 7:19 AM EDT, Thu May 23, 2013

The World Economic Forum has declared Egypt one of the most dangerous places for tourists, above Yemen and Pakistan in terms of risks for visitors.
updated 5:03 PM EDT, Wed May 22, 2013

Doctors used an experimental technique never before tried on a human to save the life of a six-week-old baby from a rare lung condition.
updated 5:26 PM EDT, Wed May 22, 2013

Since hitting the Web in 2007, the hit blogs among the 105 million hosted on Tumblr have tended to be silly, snarky or both.

Five years after the 2008 Olympics construction boom, new Beijing hotels keep right on coming.