Greatest photos of the American West
updated 11:18 PM EST, Mon February 25, 2013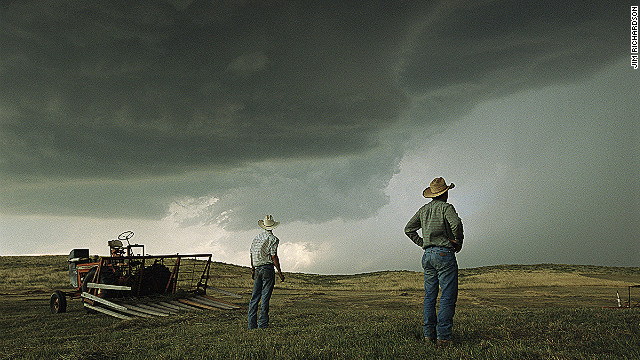 The "Greatest Photographs of the American West" exhibit is currently touring the United States. Here, workers in Nebraska halt haying to watch as afternoon thunderheads fill the sky.
An enduring symbol of the American West, the mighty bison roams freely through another national icon -- Yellowstone National Park's Lion Geyser.
Called "King Bend," by locals, the U-shaped meander of the Colorado River known to the world as Horseshoe Bend flows 1,000 feet below the overlook.
Buckaroo Stan Kendall alone in Mountain City, Nevada.
Photographing the minnows of the muddy Powder River in a clear, thermal- glass aquarium creatively reveals the aquatic life that would suffer from natural gas drilling.
Back-lit against a painted sky, Yellowstone's Great Fountain Geyser shoots above the terraced reflective pools around its vent.
A shaft of light bisects the distinctive Navajo Sandstone shapes of Antelope Canyon, a slot canyon near Page formed by millennia of flash flooding.
Silhouetted at sunset against a radiant cumulus cloud, spectators take in the action at Nebraska's Big Rodeo, held annually in Burwell since 1921.
Symbolically rising from primordial mist, a bull elk stands in the early morning smoke of the Yellowstone National Park fires.
Emancipating Abraham Lincoln from the granite of Mount Rushmore suggests we share the same petroglyphic impulses as ancient civilizations.
Sand Hills, Nebraska, 2004
Yellowstone National Park, Wyoming, 1999
Colorado River, Arizona, 2010
Mountain City, Nevada
Powder River, Wyoming, 2005
Yellowstone National Park, 2008
Antelope Canyon, Arizona, 2007
Big Rodeo, Nebraska, 1995
Yellowstone National Park, Wyoming, 1988
Mount Rushmore, South Dakota, 1938
STORY HIGHLIGHTS
From National Geographic archives, "American West" photo exhibit is on display around the United States
Exhibit includes 185 photos from 1800s to present
Stunning collection is curated by James McNutt of the National Museum of Wildlife Art
Award-winning companion book includes 75 images
(CNN) -- When discussing his favorite images from the "Greatest Photographs of the American West" traveling photography exhibit, National Museum of Wildlife Art president James McNutt, who curated the exhibit, starts with the oldest: William Henry Jackson's "Mountain of the Holy Cross."
Taken in Colorado on August 24, 1873, the photograph would become as legendary as the mountain itself -- not for the effort it took to get the picture, but for what it signified to a country healing from the Civil War and pushing ever westward.
Hauling hundreds of pounds of photo equipment up to a vantage point on an opposite ridge to capture snow-filled crevasses that created a perfect vertical cross on the mountain face, Jackson produced an image that, according to McNutt's introduction in the exhibit's companion book, came to symbolize "the union of America, Nature and God that fulfilled a romantic destiny."
Jackson's famous shot became one of the country's favorite photographs of the 19th century and effectively introduced photography in the West.
It's just one of the thousands McNutt and his curatorial team of Rich Clarkson, Adam Harris and Kate Brainerd considered from the National Geographic archives when putting together a landmark exhibition that's currently on display at select museums around the country (see below).
The final cut -- winnowed to 185 images for the show and 75 for the award-winning book -- shows the West's myriad faces thematically grouped into Legends, Encounters, Boundaries and Visions, corralling into categories an epic visual record of almost a century and a half of exploration of the American West with the camera.
There are cowboys and debutantes, Northern spotted owls and bison, cityscapes and pueblos, mesas and dams, gathering storms and controlled burns.
From early documentary efforts like Edward S. Curtis' celebrated North American Indian portraits to David Alan Harvey's contemporary impressions of modern Native life, from the pristine glories of awe-inspiring landscapes to the gritty exploitation of the region's resource wealth, McNutt's opus is both a loving gaze at the magnificence that attracts so many to the West, and an unblinking eye on the pressing challenges of keeping the romance alive.
"Greatest Photographs of the American West" 2013 exhibition dates
Booth Western Art Museum, Cartersville, Ga.; through March 10
Buffalo Bill Historical Center, Cody, Wyo.; through August 11
National Museum of Wildlife Art, Jackson Hole, Wyo.; through August 11
Rockwell Museum of Western Art, Corning, N.Y.; through September 15
At the end of summer, the exhibition begins traveling again.
For more information visit www.photographsofthewest.org.
To see the exhibition online visit www.photographsofhewest.org/exhibit.
All "Greatest Photographs of the American West" images above used courtesy of the National Geographic Society.

Part of complete coverage on
updated 9:36 AM EDT, Mon April 29, 2013

You heard of the two guys who recently opted in to a two-year, $1.5 million holiday? These are some of the sights they'll be privy to.

From sedate village areas to coastal havens, these four off-the-path spots provide a big, lazy dollop of calm and intrigue.

The old country of conflict and cartels has largely disappeared, replaced by a rejuvenated capital and a resilient culture.
updated 9:24 PM EDT, Tue April 16, 2013

With new wing and engine designs, the latest version of the legendary jet is the longest commercial plane in the skies. Here's what else is new.

Because even people who enjoy memorizing train timetables -- yes, they exist too! -- need a place to relax.

After three years at the top Rene Redzepi's Noma falls a place and three Spanish restaurants make the top 10.
updated 3:59 AM EDT, Mon May 6, 2013

Some of Italy's lesser known towns and villages are equally, or more, impressive as the bigger drawcards. Here are our favorites.
updated 2:11 AM EDT, Fri April 12, 2013

It might be the biggest phenomenon to hit the global travel industry since the invention of commercial flight -- Chinese tourism.

Vanity, thy name is bird poo ... and beer baths ... and anything else that makes us look and feel good.
updated 8:25 AM EDT, Thu May 2, 2013

Hong Kong's busy harbor is never short of action, but the great big yellow duck that floated into town on Thursday turned everybody's heads.

Sharks, hot springs, mountain vistas, water elevators -- all without having to leave room service delivery range.
updated 1:05 AM EDT, Fri April 26, 2013

Listen up, Big Travel! These fixes would make travel more pleasant for us and save you money