STORY HIGHLIGHTS
The PGA Tour opposes the proposed ban of anchored putting in golf
The USGA and R & A plan to outlaw the technique by 2016
PGA Tour says there is no evidence that using the "belly putter" offers an advantage
Matt Kuchar beats compatriot Hunter Mahan to win the WGC match play at Dove Mountain
(CNN) -- To belly putt or not to belly putt, that is the question.
Golf's governing bodies could be on a collision course after the PGA Tour announced it is opposed to the banning of anchored putting by the sport's lawmakers.
The controversial technique, which involves anchoring the club to a part of the body, is favored by major winners Keegan Bradley, Webb Simpson and Ernie Els.
The Royal & Ancient (R & A) and the United States Golf Association (USGA) put forward proposed rule changes in November which would effectively outlaw use of the controversial "belly putter" by 2016.
The R & A is the rule-making authority throughout the world of golf, excluding the U.S. and Mexico where the USGA runs the sport.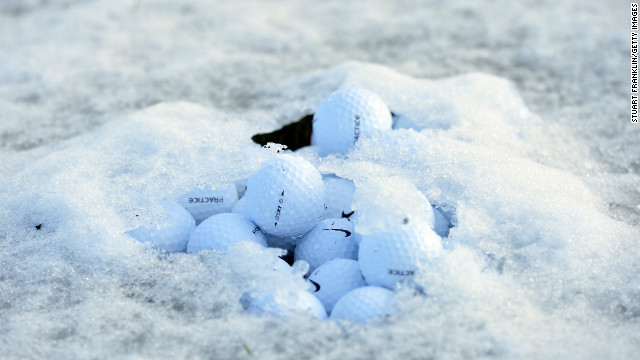 While forecasts hinted at a morning frost, few expected a deluge of snow at the World Golf Championships which is being played at 2,800 feet above sea level. Over two inches of snow fell in under 24 hours, leaving conditions unplayable.
This cactus must feel confused after being covered in snow. Used to living in extreme heat in the desert, this cactus is left with more than a smattering of the white stuff.
It's not just on the course where the snow caused havoc. Organizers were forced to get their scrapers out to make sure fans could sit down and enjoy a drink or two.
Just over three-and-a-half hours of golf was possible on Wednesday because of driving rain, sleet and then snow after 23 of the 32 matches had started with none finishing. Play eventually got back underway on Thursday after a four-and-a-half-hour delay.
Fancy a putting session on the ninth green? This was the scene Thursday as the players were forced to wait for the snow to melt and weather to clear.
"Frosty the Snowman" keeps cool while the players get back to work in Arizona. Frosty is modeling a new hat too.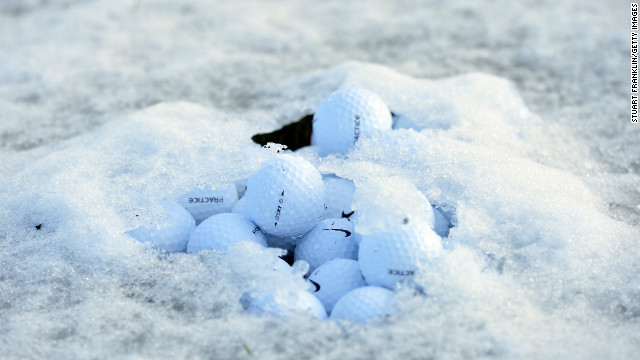 It's snow joke as desert gets a dusting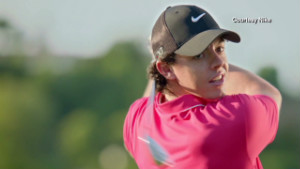 Inside McIlroy's mega deal with Nike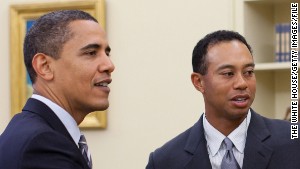 Obama catches flak for lack of access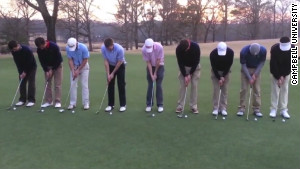 Watch a 'putting conga line'
The U.S.-based PGA Tour rejects the suggested law change saying there is no evidence the technique offers a "competitive advantage" over more traditional putting methods.
Read: Obama, Tiger round irks press
"Essentially where the PGA Tour came down was that they did not think that banning anchoring was in the best interest of golf or the PGA Tour," the circuit's commissioner Tim Finchem told a press conference at the World Golf Championship event at Dove Mountain.
Finchem insisted the PGA Tour is yet to consider the course of action it would take if the ban was implemented and whether it would rally against the USGA.
"Our regulations provide that we will follow the rules as promulgated by the USGA provided, however, we retain the right not to in certain instances if we see fit," he added.
"But we have not even begun that discussion. All we've done is done what we were asked to do, which is to give them our best input and advice on that particular initiative.
"That's a different question, and it would be speculative for me to guess where that might come out."
Meanwhile, Matt Kuchar beat fellow American Hunter Mahan to clinch his first title of 2013 at the match play event.
The world No. 8 has won 14 of his last 16 matches at the Arizona course, with Kuchar's dominance such that none of his matches made it to the 18th hole.
Kuchar held off a stern challenge from Mahan over the back nine to seal a 2 and 1 win.
"I'm not sure I can explain how excited I am to have won this tournament," Kuchar told the PGA Tour's official website.
"Match play I find to be such an amazing, unique format, so much fun to play and so much pressure. It seems like each hole there's so much momentum riding and so much pressure on every hole.
"To come out on top after six matches of playing guys, the top 64 guys in the world, it's an incredible feeling."