Slaying highlights violence at Mexican tourist hotspot
updated 6:46 AM EST, Mon February 25, 2013
STORY HIGHLIGHTS
Violence in Acapulco made headlines recently when hooded men allegedly raped six tourists
Early Saturday, a Belgian national died of a gunshot wound to the chest
The state of Guerrero is one of the most dangerous places in Mexico
Overall, violence in Mexico appears to be on the decline
Acapulco, Mexico (CNN) -- A Belgian national has become the latest casualty in a popular Mexican tourist destination plagued by violence.
Jan KM Sarens, 59, died from a gunshot wound to the chest at a shopping center in Acapulco before dawn Saturday, prosecutors say.
A high-profile rape case three weeks ago cast a spotlight on the resort city in Guerrero state. Hooded gunmen allegedly burst into a beach bungalow and accosted six women from Spain after tying up their male companions.
For years, Guerrero has ranked among the Mexican states with the highest homicide rates. Last year, it had more reported gun murders than any other state in Mexico: more than 1,600, according to a federal government tally released last month.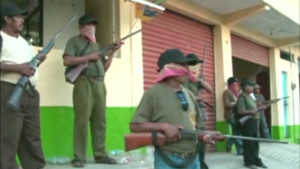 Community police take on Mexican cartels
Major drug cartels are part of a deep-seated security problem in the region, said Alejandro Hope, a security analyst at the Mexican Institute for Competitiveness think tank. Large cartels have fragmented, and the resulting smaller gangs are battling each other over turf in the Pacific port city and the surrounding state.
Sarens had temporary resident status in the country and worked in Mexico City, the Guerrero attorney general's office said in a statement.
At the time of his killing, the Mexican army, navy, and federal and state police were patrolling the area to beef up security for the Mexican Open professional tennis tournament.
Nationwide, official figures indicate violence in Mexico may be declining. In 2012, there were 20,568 intentional homicides across the country, an 8.5% decrease from 2011.
CNN's Ben Brumfield contributed to this report.

Part of complete coverage on
updated 7:48 AM EDT, Mon May 20, 2013

No solutions to the violence and total confusion is no longer just news, but a terrifying daily reality. Has Nigeria descended into civil war?
updated 4:17 AM EDT, Mon May 20, 2013

On the eve of the French Open, attention turns to the illness that has struck down several players. Why is it hitting tennis so hard?
updated 10:09 AM EDT, Mon May 20, 2013

Daycare, hour-long lunch breaks, free medicine? Not all of Bangladesh's factories are sweatshops, but many fear the crisis will hit them hard.
updated 9:15 AM EDT, Mon May 20, 2013

Chinese Premier is meeting India's leaders just weeks after raising the stakes in one of Asia's least understood and longest running disputes.
updated 7:15 AM EDT, Mon May 20, 2013

Despite unemployment being close to 12%, Italians are snubbing traditional jobs no longer viewed as attractive -- like pizza-making.
updated 7:06 AM EDT, Mon May 20, 2013

The woman behind the Chelsea Flower Show talks with CNN about the preparations and the 100th anniversary of the iconic horticultural gathering.
updated 7:38 PM EDT, Sun May 19, 2013

CNN's Dan Rivers reports on the influx of companies into Myanmar after the country opened up to foreign business.
updated 3:14 PM EDT, Thu May 16, 2013

Boxing legend Manny Pacquiao is using his hero status to fight human trafficking in the Philippines, pushing for an anti-trafficking law.
updated 7:48 AM EDT, Mon May 20, 2013

On Wednesday, NASA officials announced a serious problem with the Kepler satellite, the world's most successful planet-finding machine.
updated 9:54 AM EDT, Fri May 17, 2013

Anthony Bourdain discovers a American style, fast-food chicken restaurant that opened in Libya after the revolution -- and became a hit instantly.
updated 8:42 AM EDT, Mon May 20, 2013

As we mark 140 years since blue jeans were invented, we want to see the best and worst ways you've worn denim through the years.