Slaying highlights violence at Mexican tourist hotspot
updated 6:46 AM EST, Mon February 25, 2013
STORY HIGHLIGHTS
Violence in Acapulco made headlines recently when hooded men allegedly raped six tourists
Early Saturday, a Belgian national died of a gunshot wound to the chest
The state of Guerrero is one of the most dangerous places in Mexico
Overall, violence in Mexico appears to be on the decline
Acapulco, Mexico (CNN) -- A Belgian national has become the latest casualty in a popular Mexican tourist destination plagued by violence.
Jan KM Sarens, 59, died from a gunshot wound to the chest at a shopping center in Acapulco before dawn Saturday, prosecutors say.
A high-profile rape case three weeks ago cast a spotlight on the resort city in Guerrero state. Hooded gunmen allegedly burst into a beach bungalow and accosted six women from Spain after tying up their male companions.
For years, Guerrero has ranked among the Mexican states with the highest homicide rates. Last year, it had more reported gun murders than any other state in Mexico: more than 1,600, according to a federal government tally released last month.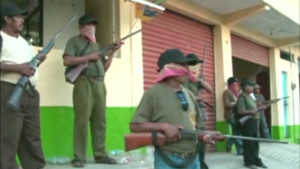 Community police take on Mexican cartels
Major drug cartels are part of a deep-seated security problem in the region, said Alejandro Hope, a security analyst at the Mexican Institute for Competitiveness think tank. Large cartels have fragmented, and the resulting smaller gangs are battling each other over turf in the Pacific port city and the surrounding state.
Sarens had temporary resident status in the country and worked in Mexico City, the Guerrero attorney general's office said in a statement.
At the time of his killing, the Mexican army, navy, and federal and state police were patrolling the area to beef up security for the Mexican Open professional tennis tournament.
Nationwide, official figures indicate violence in Mexico may be declining. In 2012, there were 20,568 intentional homicides across the country, an 8.5% decrease from 2011.
CNN's Ben Brumfield contributed to this report.

Part of complete coverage on
updated 10:27 PM EDT, Wed May 22, 2013

The nature of the London attack is not unprecedented, says one terror analyst. There's a track record of Islamist extremists targeting soldiers in the West.
updated 6:17 PM EDT, Tue May 21, 2013

The image of the Gaza boy and his father under a hail of Israeli bullets became a powerful symbol. Now Israel insists its military is not to blame.
updated 2:31 PM EDT, Wed May 22, 2013

The tornado that ripped through Oklahoma saw teachers rise to be surrogate parents, protectors and heroes, according to LZ Granderson.
updated 1:14 PM EDT, Tue May 21, 2013

Did you know that hurricanes can also produce tornadoes? Read facts you didn't know about destructive twisters.
updated 9:01 AM EDT, Wed May 22, 2013

The petite frame of 19-year-old Zoe Smith should fool nobody -- she's a weightlifting warrior who has fought stereotypes and broken a British record.
updated 12:41 AM EDT, Wed May 22, 2013

Prime Minister Shinzo Abe calls women "Japan's most underutilized resource," yet traditions have been hard to overcome.
updated 10:55 AM EDT, Wed May 22, 2013

According to the United Nations' mission in Iraq, 712 Iraqis were violently killed in April 2013. This is both normal and extraordinary.
updated 7:21 AM EDT, Wed May 22, 2013

Myanmar's Muslims have generally coexisted with the Buddhist majority. But ethnic fault lines are exposed as it emerges from military rule.
updated 10:21 PM EDT, Wed May 22, 2013

A quarter century after his death, American pop artist Andy Warhol has popped up in China again after his first and only trip to the country in 1982.
updated 10:39 AM EDT, Wed May 22, 2013

Revolutionary bionic exoskeletons like the metal suit worn by comic book hero Tony Stark may be closer than you think.