Slaying highlights violence at Mexican tourist hotspot
updated 6:46 AM EST, Mon February 25, 2013
STORY HIGHLIGHTS
Violence in Acapulco made headlines recently when hooded men allegedly raped six tourists
Early Saturday, a Belgian national died of a gunshot wound to the chest
The state of Guerrero is one of the most dangerous places in Mexico
Overall, violence in Mexico appears to be on the decline
Acapulco, Mexico (CNN) -- A Belgian national has become the latest casualty in a popular Mexican tourist destination plagued by violence.
Jan KM Sarens, 59, died from a gunshot wound to the chest at a shopping center in Acapulco before dawn Saturday, prosecutors say.
A high-profile rape case three weeks ago cast a spotlight on the resort city in Guerrero state. Hooded gunmen allegedly burst into a beach bungalow and accosted six women from Spain after tying up their male companions.
For years, Guerrero has ranked among the Mexican states with the highest homicide rates. Last year, it had more reported gun murders than any other state in Mexico: more than 1,600, according to a federal government tally released last month.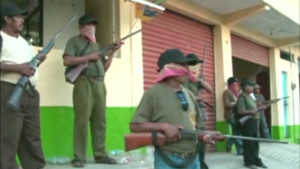 Community police take on Mexican cartels
Major drug cartels are part of a deep-seated security problem in the region, said Alejandro Hope, a security analyst at the Mexican Institute for Competitiveness think tank. Large cartels have fragmented, and the resulting smaller gangs are battling each other over turf in the Pacific port city and the surrounding state.
Sarens had temporary resident status in the country and worked in Mexico City, the Guerrero attorney general's office said in a statement.
At the time of his killing, the Mexican army, navy, and federal and state police were patrolling the area to beef up security for the Mexican Open professional tennis tournament.
Nationwide, official figures indicate violence in Mexico may be declining. In 2012, there were 20,568 intentional homicides across the country, an 8.5% decrease from 2011.
CNN's Ben Brumfield contributed to this report.

Part of complete coverage on
updated 3:14 PM EDT, Thu May 16, 2013

Boxing legend Manny Pacquiao is using his hero status to fight human trafficking in the Philippines, pushing for an anti-trafficking law.
updated 6:25 PM EDT, Thu May 16, 2013

The U.N. says 70% of rapes committed in Somalia are carried out by men in military uniform. CNN's Nima Elbagir reports.
updated 8:38 AM EDT, Fri May 17, 2013

Christiane Amanpour writes an open letter to girls of the world, saying it is time to end the discrimination against girls in education.
updated 3:12 PM EDT, Fri May 17, 2013

Fans gasped when David Beckham wore a sarong. Then there was the nail polish and tattoos. But his masculinity was never in doubt.
updated 10:54 AM EDT, Fri May 17, 2013

Albinos in Tanzania have been attacked and killed because some people believe their body parts bring good luck. But one albino is fighting back.
updated 8:50 AM EDT, Fri May 17, 2013

Terrible results for Dell mean the future seems anything but bright for the PC industry despite a flurry of attempted innovations.
updated 12:00 PM EDT, Fri May 17, 2013

Mario Balotelli has delivered his verdict on his time in the English Premier League -- the AC Milan striker couldn't be happier to have left England.
updated 7:04 AM EDT, Fri May 17, 2013

If you thought Preakness was the poor sister to Kentucky Derby, think again. CNN brings you top five facts from the prestigious horse race.
updated 7:45 PM EDT, Wed May 15, 2013

Natasha Kampusch was held for eight years in an Austrian man's basement. She talks about her road to recovery, exclusively to CNN.
updated 5:36 PM EDT, Wed May 15, 2013

From her hospital bed, Reshma tells CNN about the 17 days she spent trapped under nine stories of rubble in Bangladesh.
updated 6:12 PM EDT, Thu May 16, 2013

A room full of partygoers in San Francisco were given power over a cocktail-making robot controlled by their smartphones.
updated 11:57 AM EDT, Thu May 16, 2013

The cast of "Star Trek Into Darkness" take a break from fighting space villains to answer questions from CNN iReporters.
updated 6:47 AM EDT, Mon May 20, 2013

CNN brings you images capturing moments to remember. Look ahead to the future and chronicle our changing world.