African leaders sign Congo peace deal
updated 10:31 AM EST, Mon February 25, 2013
STORY HIGHLIGHTS
NEW: U.N.-backed deal could get Democratic Republic of Congo out of "current morass"
Leaders from several African countries sign the deal
It is meant to stabilize the nation's restive eastern region
Congo's army is fighting the M23 rebel group
(CNN) -- African leaders signed a U.N.-backed deal on Sunday meant to bring stability to the Democratic Republic of Congo.
Government forces are battling the M23 rebel group in the eastern part of that country.
"It is my earnest hope that the framework will lead to an era of peace and stability for the peoples of the Democratic Republic of the Congo and the Great Lakes region," U.N. Secretary-General Ban Ki-moon said in a statement.
Opinion: How Obama can end Congo conflict
The agreement calls for cooperation among nations to "preserve and protect the territorial sovereignty" of the Democratic Republic of Congo, he said.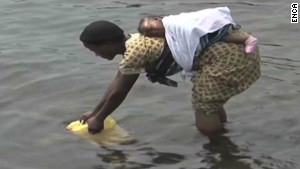 Life in Goma amid crisis
Ban praised the framework but stressed that it marks just the beginning of a "comprehensive approach that will require sustained engagement."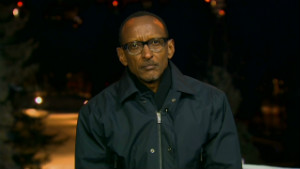 Rwanda's president discusses DR Congo
The deal was signed in the Ethiopian capital of Addis Ababa by envoys of several African nations, including Uganda and Rwanda. Representatives from the rebel group were not involved.
Ban said that a U.N. special envoy would be appointed to support the deal's implementation.
South African President Jacob Zuma said the agreement represents an opportunity.
Opinion: Hope for an end to world's deadliest war
"This framework in itself does not provide all the answers, it is an instrument that points the Government of the DRC, its immediate neighbors and the international community in a direction that will take this country out of the current morass," Zuma said at the signing ceremony. The possible deployment of an intervention brigade of U.N. troops has been mentioned as a way of stabilizing the nation's restive eastern region.
The agreement had been expected to be signed last month, but was delayed because of what Ban described as "procedural issues."
The M23 group was named for a peace deal of March 23, 2009, which it accuses the government of violating. The soldiers, mostly Tutsis, became part of the national army through that accord.
However, they broke away from the Congolese army in April, complaining they weren't being promoted as promised and because of a lack of pay and poor conditions.
Fighting between the M23 and the army has displaced close to a million people in North Kivu province and more than 300,000 in the southeastern province of Katanga, according to the United Nations.
The unrest continues a cycle of misery in eastern Congo, a mineral-rich region at the epicenter of political and ethnic conflict involving its neighbors to the east, Uganda and Rwanda.
The area has been embroiled in violence since 1994, when Hutu forces crossed the border from Rwanda fearing reprisals after the genocide in that country.
CNN's Joseph Netto and Nana Karikari-apau contributed to this report.

Part of complete coverage on
updated 3:14 PM EDT, Thu May 16, 2013

Boxing legend Manny Pacquiao is using his hero status to fight human trafficking in the Philippines, pushing for an anti-trafficking law.
updated 6:25 PM EDT, Thu May 16, 2013

The U.N. says 70% of rapes committed in Somalia are carried out by men in military uniform. CNN's Nima Elbagir reports.
updated 8:38 AM EDT, Fri May 17, 2013

Christiane Amanpour writes an open letter to girls of the world, saying it is time to end the discrimination against girls in education.
updated 3:12 PM EDT, Fri May 17, 2013

Fans gasped when David Beckham wore a sarong. Then there was the nail polish and tattoos. But his masculinity was never in doubt.
updated 10:54 AM EDT, Fri May 17, 2013

Albinos in Tanzania have been attacked and killed because some people believe their body parts bring good luck. But one albino is fighting back.
updated 8:50 AM EDT, Fri May 17, 2013

Terrible results for Dell mean the future seems anything but bright for the PC industry despite a flurry of attempted innovations.
updated 12:00 PM EDT, Fri May 17, 2013

Mario Balotelli has delivered his verdict on his time in the English Premier League -- the AC Milan striker couldn't be happier to have left England.
updated 7:04 AM EDT, Fri May 17, 2013

If you thought Preakness was the poor sister to Kentucky Derby, think again. CNN brings you top five facts from the prestigious horse race.
updated 7:45 PM EDT, Wed May 15, 2013

Natasha Kampusch was held for eight years in an Austrian man's basement. She talks about her road to recovery, exclusively to CNN.
updated 5:36 PM EDT, Wed May 15, 2013

From her hospital bed, Reshma tells CNN about the 17 days she spent trapped under nine stories of rubble in Bangladesh.
updated 6:12 PM EDT, Thu May 16, 2013

A room full of partygoers in San Francisco were given power over a cocktail-making robot controlled by their smartphones.
updated 11:57 AM EDT, Thu May 16, 2013

The cast of "Star Trek Into Darkness" take a break from fighting space villains to answer questions from CNN iReporters.
updated 7:48 AM EDT, Thu May 16, 2013

CNN brings you images capturing moments to remember. Look ahead to the future and chronicle our changing world.