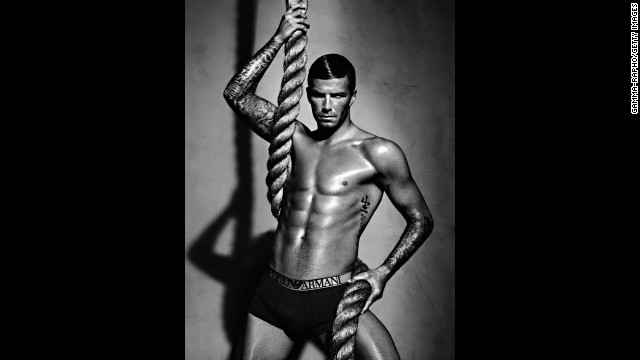 David Beckham is a man of many talents. Not only is he one of the most famous names in sports, but he's also one heck of a model. Tommy Hilfiger has now recognized the 38-year-old former soccer player
as the No. 1 underwear model of the century
. It's just one of several career highs for Beckham, seen here modeling Emporio Armani underwear in a 2009-2010 ad campaign.
Beckham makes his England debut at a World Cup qualifying match against Moldova in 1996.
Beckham celebrates his goal against Colombia in the 1998 World Cup.
As a player on Manchester United, Beckham cools down during the FA Charity Shield match against Arsenal in 1998.
At the 1998 World Cup, in a second-round match against Argentina, Beckham was sent off for kicking out at Diego Simeone. England lost the match on penalties and was eliminated, with Beckham becoming a hate figure for some fans.
Beckham poses after a news conference in Awaji-shima Island, Japan, in 2002.
Beckham poses with Beyonce, left, and Jennifer Lopez in Madrid during a presentation of the new Pepsi "Samourai" in 2004.
Beckham acts as England's captain during the 2004 European Championships in Portugal.
Beckham waves after a La Liga match between Real Madrid and Deportivo La Coruna in 2007.
The midfielder celebrates with his sons in 2007 after Real Madrid won the Spanish League title by beating Mallorca.
Beckham makes an appearance to promote his fragrance "David Beckham Intimately Night" in Sydney in 2007.
Beckham reveals his new No. 32 jersey after his loan move to AC Milan in 2008.
Beckham controls the ball during a 2010 World Cup qualifier.
Beckham, during his time with the Los Angeles Galaxy, walks toward the line judge to have a chat during Game 1 of the MLS Western Conference semifinals in 2009.
Beckham arrives at Sydney International Airport in 2010.
David and his wife, Victoria, arrive at the wedding of Prince William and Kate Middleton at Westminster Abbey in 2011.
The Beckhams attend the Vanity Fair Oscar Party in West Hollywood, California, in 2012.
Beckham celebrated his second MLS Cup in December 2012 when he decided to leave with a year left on his contract and seek one final challenge in Europe.
Beckham passes under London's Tower Bridge in a speedboat carrying the Olympic Torch in 2012.
Beckham poses with Paris Saint-Germain President Nasser Al-Khelaifi, left, and PSG sports director Leonardo during a news conference announcing his new gig in January 2013.
Beckham waves after PSG played Brest in
Beckham and his daughter, Harper, make their way through a crowd in New York in February. Harper, Beckham's fourth child, was born in 2011.
Since retiring from soccer, Beckham has tried his hand at acting. It was announced in March that
David Beckham through the years
David Beckham through the years
David Beckham through the years
David Beckham through the years
David Beckham through the years
David Beckham through the years
David Beckham through the years
A name brand
David Beckham through the years
David Beckham through the years
David Beckham through the years
David Beckham through the years
David Beckham through the years
David Beckham through the years
David Beckham through the years
David Beckham through the years
David Beckham through the years
David Beckham through the years
David Beckham through the years
David Beckham through the years
David Beckham through the years
David Beckham through the years
David Beckham through the years