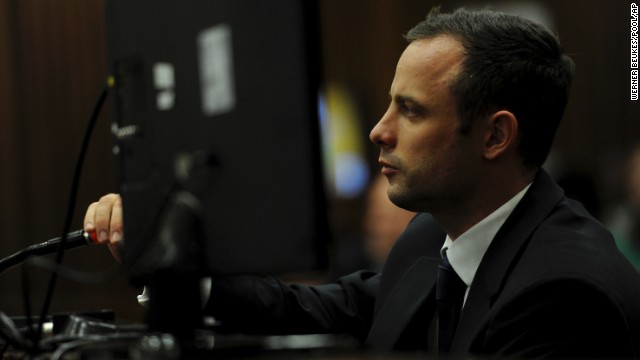 Oscar Pistorius listens to questions during his trial in Pretoria, South Africa, on Wednesday, March 12. Pistorius, the first amputee to compete in the Olympics, is accused of murdering his girlfriend, Reeva Steenkamp, on February 14, 2013.
A police officer takes part in the reconstruction of the hitting of the door with the cricket bat on March 12.
Pistorius sits in the dock as he listens to cross-questioning on Monday, March 10.
Friends of Steenkamp's family watch Pistorius during his trial on March 7.
Pistorius covers his ears on Thursday, March 6, as a witness speaks about the morning Steenkamp was shot and killed.
Pistorius' sister, Aimee, right, speaks with members of Steenkamp's family in Pretoria on March 6.
Pistorius sits in court on the third day of his trial in Pretoria on Wednesday, March 5.
Pistorius appears on the second day of his trial on Tuesday, March 4.
Members of the media work during a break in proceedings at the court on March 4.
Pistorius talks with his attorney, Barry Roux, inside the court on March 4.
Pistorius speaks with his legal representatives on March 4.
Pistorius is escorted out of the court after the first day of his murder trial in Pretoria on Monday, March 3.
People try to get a glimpse of Pistorius as he leaves the court building on March 3.
Pistorius is seen shortly after arriving for his trial on March 3.
Pistorius walks into the courtroom on March 3.
Pistorius takes a drink of water March 3 during his trial.
The case has captivated South Africa. Here, Lauren Wentzel watches the proceedings from her home outside Cape Town on March 3.
Steenkamp's mother, June, arrives at the court building for the start of the trial March 3.
Pistorius' relatives wait inside the courtroom on March 3.
People at the court building wait for Pistorius' arrival on March 3.
Oscar Pistorius murder trial
Oscar Pistorius murder trial
Oscar Pistorius murder trial
Oscar Pistorius murder trial
Oscar Pistorius murder trial
Oscar Pistorius murder trial
Oscar Pistorius murder trial
Oscar Pistorius murder trial
Oscar Pistorius murder trial
Oscar Pistorius murder trial
Oscar Pistorius murder trial
Oscar Pistorius murder trial
Oscar Pistorius murder trial
Oscar Pistorius murder trial
Oscar Pistorius murder trial
Oscar Pistorius murder trial
Oscar Pistorius murder trial
Oscar Pistorius murder trial
Oscar Pistorius murder trial
Oscar Pistorius murder trial
STORY HIGHLIGHTS
Pistorius is accused of deliberately shooting his girlfriend Reeva Steenkamp
He says he shot Steenkamp accidentally in his bathroom, mistaking her for an intruder
The Olympic runner stands trial for premeditated murder in Pretoria on March 3
If convicted of the charge of premeditated murder, he could be jailed for 25 years
Editor's note: South African Olympian Oscar Pistorius has been charged with murdering his girlfriend, model Reeva Steenkamp, at his Pretoria home. CNN spoke to James Grant, Ph.D. in criminal law and senior lecturer in criminal law and evidence at South Africa's University of the Witwatersrand, about what might happen next.
(CNN) -- What is Oscar Pistorius charged with?
The Paralympic sprinter stands accused of the premeditated murder of Reeva Steenkamp in his home on February 14, 2013. He also faces a gun charge related to the killing, along with two additional gun-related charges for two separate instances of firing a gun in a public space before the killing.
Why will Pistorius face a judge rather than a jury trial?
South Africa abolished jury trials in 1969, while the country was under apartheid, due to fears of racial prejudice by white jurors. Pistorius will be tried in a high court in Pretoria by Thokozile Matilda Masipa -- the second black woman appointed to the bench since apartheid ended.
What are the sentencing guidelines for premeditated murder?
For premeditated murder, the mandatory sentence in South Africa is a life sentence, which in practice is 25 years unless someone can prove extraordinary circumstances.
Extraordinary circumstances could include a combination of number of factors: for example, that it was a first offense, the age of the person and in Pistorius' case, his disability and the impact this could have had on his actions.
READ MORE: Who is "Blade Runner" Oscar Pistorius?
However, legal expert James Grant said if the court accepted the prosecution's case -- that Pistorius chased Steenkamp into the bathroom and "hunted" her down -- the track star's defense team would be hard-pressed to convince the court that there should be any considerations that should override the repugnance that should be felt.
What happens if Pistorius is found not guilty of premeditated murder?
If Pistorius is found not guilty, he would face a "competent verdict" or lesser charge of culpable homicide, which is based on negligence.
Pistorius is not claiming self-defense; he is claiming to have been mistaken about his need for self-defense. He is denying that he intentionally unlawfully killed Steenkamp.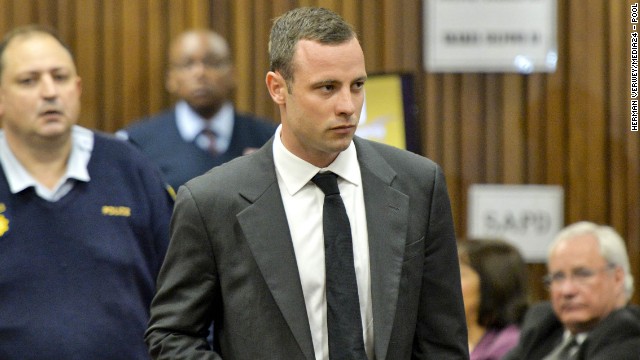 Oscar Pistorius appears in the North Gauteng High Court in Pretoria on Monday, March 3. South Africa's double amputee track star is accused of the murder of his girlfriend Reeva Steenkamp on February 14, 2013.
Pistorius won gold for the first time at the 2004 Athens Paralympics. He won the 200-meter final and set a new world record. The South African sprinter has been called the "Blade Runner" because of his carbon-fiber prosthetic legs.
Prosthetic legs stand on the ground as Pistorius coaches children in Manchester, England, in April 2006.
Pistorius competes in a 400-meter race in Berlin in June 2008.
Pistorius is seen in Rome during a race in July 2008.
Pistorius wins gold ahead of Americans Jerome Singleton, left, and Marlon Shirley, right, in the 100-meter T44 during the 2008 Beijing Paralympic Games.
Pistorius poses with his medals from the IPC Athletics World Championships in January 2011. He won three world titles there but lost the 100-meter T44 final to Singleton. It was his first loss in a race over 100 meters since the 2004 Paralympic Games.
Pistorius passes the baton to Ofentse Mogawane in a 4x400-meter relay race during the IAAF World Athletics Championships in Daegu, South Korea, in September 2011. Pistorius was the first double amputee athlete to compete at the World Athletics Championships.
Pistorius races in the men's 400 meters during the 2012 Olympic Games in London.
Pistorius competes in the London Olympics.
Pistorius carries the South African flag during the opening ceremony of the 2012 Paralympics in London.
Pistorius competes in a men's 400-meter T44 heat at the 2012 Paralympic Games.
Pistorius poses on the podium with his gold medal after winning the men's 400-meter T44 final at the 2012 Paralympic Games.
Pistorius receives his honorary doctorate from Strathclyde University in Glasgow, Scotland, in November 2012.
A picture taken on January 26, 2013, shows Pistorius and Steenkamp at Melrose Arch in Johannesburg.
Pistorius leaves the Boshkop police station with his face covered on February 14, 2013.
Pistorius, swamped by the press, leaves a Pretoria courtroom in June.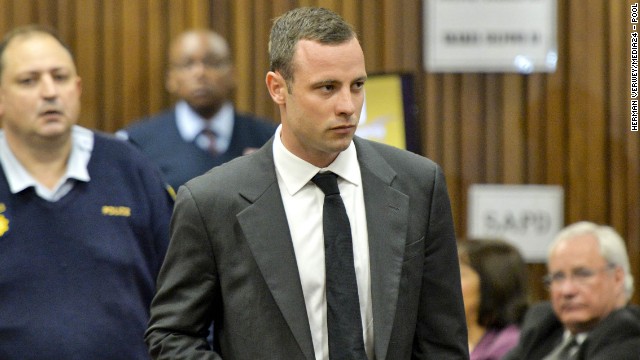 Photos: 'Blade Runner' Oscar Pistorius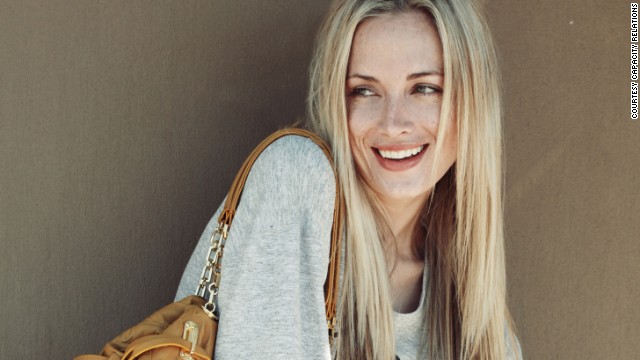 South African model Reeva Steenkamp died in February 2013 after she was shot at the home of her boyfriend, Olympic sprinter Oscar Pistorius. She was 29. Pistorius has been charged with murder.
Before she started dating Pistorius, Steenkamp was famous in her own right. She was a law school graduate with a vibrant personality and a slew of modeling gigs under her belt.
A 21-year-old Steenkamp poses on a beach in Port Elizabeth, South Africa, where she grew up. Steenkamp's friend Kerry Smith photographed the aspiring model when she was a law student.
Steenkamp poses for another photo taken by Smith. Steenkamp was born in Cape Town, but she moved to Johannesburg to pursue modeling.
Pistorius admitted to shooting Steenkamp, but he says it was an accident. Prosecutors argue he intentionally killed her after an argument.
Steenkamp appears as a contestant on a South African reality show, "Tropika Island of Treasure." Her pre-recorded episode aired two days after her death.
Steenkamp served as a presenter for FashionTV in South Africa. She was also an FHM cover girl and the face of cosmetics company Avon.
Steenkamp "was the kindest, sweetest human being; an angel on Earth," said Capacity Relations, the agency that represented her.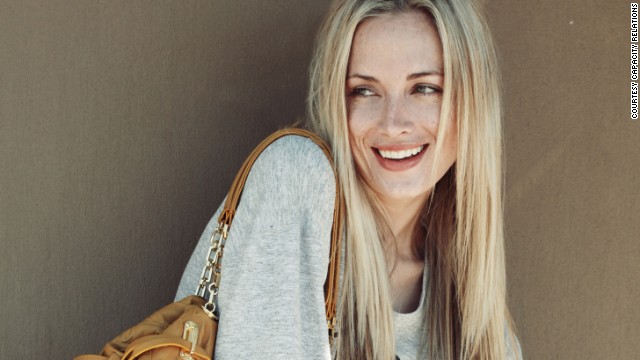 Reeva Steenkamp: From law student to cover girl
Grant said the defense boiled down to Pistorius saying "I made a mistake."
If the court were to rule that the mistake was unreasonable -- based on what an objective, ordinary South African would do in the circumstances of the accused -- he would be found guilty of culpable homicide.
Grant said he would expect a court to probably conclude that it is unreasonable to fire at anybody through a closed door regardless of whether they were an intruder, because of the value of human life.
"I'm expecting that if he beats the murder charge, he is in very grave jeopardy of being convicted of culpable homicide," he said.
What would the sentence be if Pistorius were convicted of the lesser charge of culpable homicide?
If Pistorius is convicted of culpable homicide, no minimum sentencing legislation would be triggered. "Courts are able to exercise their complete and ordinary discretion," Grant said.
This means, theoretically, Pistorius could get a non-custodial sentence if convicted of culpable homicide. Grant said there had been examples of people killing a loved one accidentally where they had avoided jail.
If, however, the court took a view that Pistorius had been grossly negligent, Grant said, he would guess the runner could be jailed for up to 15 years.
What about appeals?
If Pistorius is convicted, he could potentially appeal to the supreme court and even eventually to South Africa's constitutional court.
If the initial court did not give him leave to appeal, he could petition South Africa's chief justice for permission.
The right to appeal depends on whether, based on the facts of the case, the initial judge or magistrate believes a different court could possibly reach a different verdict.
South Africa's highest court, the constitutional court, used to be only for cases regarding constitutional matters, but a recent act of parliament broadened its remit.
How long will the trial last?
In South Africa, courtrooms are booked in tranches of a few weeks at a time, so the first phase of Pistorius's trial will last three weeks beginning on March 3. Asking how long the trial will take "is akin to asking how long a piece of string is," legal expert Kelly Phelps said. "The chance of this being argued out over three weeks would be a small miracle."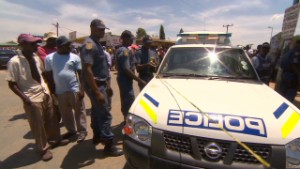 Violence in South Africa also on trial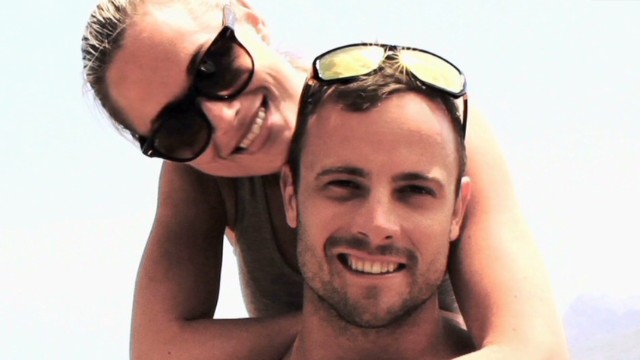 Last photos of Pistorius and lover
If the trial follows an ordinary course, James Grant said, he would expect it to last four to six months -- but that would depend on how aggressively the defense challenged the prosecution's case.
READ MORE: Reeva Steenkamp, from model to law graduate
"They could dispute everything, in which case there could be 'trials within trials,' " he said.
But he said the defense would have to balance that "against not appearing to challenge things for the sake of it" and alienating the court.
Are there restrictions on reporting any aspects of the trial?
Yes. In South Africa anyone can be found guilty of contempt of court if for impugning the dignity of judicial proceedings, interfering with the accused's right to a fair trial, or scandalizing the criminal justice system, according to Phelps.
Phelps said one big difference when it comes to contempt of court is the fact a single judge will be presiding over the case, rather than a jury. "It's believed that judges are cloaked in the letter of the law and have an ethical and professional responsibility to apply the law in a fair and impartial manner, and that means this risk of reporting influencing a trial is less in this system than in a jury system."
But unlike in a jury system, where juries often only have to issue a verdict -- and not declare the reasons for their decision -- the judge is required by law to issue clear reasons for the verdict. "If it were apparent in those reasons that there did appear to be a lack of impartiality due to media influence, there's recourse to an accused person," said Phelps.
Would Pistorius be given special treatment in prison if he was convicted and jailed?
CNN's team in Johannesburg understands the double amputee would not receive special treatment, with even blind prisoners being placed with sighted prisoners in South Africa.
But, ahead of his release on bail last year, the African National Congress Women's League said the athlete had in fact benefited from special privileges, adding that his family could visit him outside visiting hours, unlike relatives of other inmates.
"A strong message must be sent out that wealth and celebrity cannot give you an advantage over the law," the group said in a statement at the time.
What is the reputation of South Africa's legal system?
Grant said that South Africa was proud of its constitution and had a well-respected judiciary and that its substantive criminal law was "similarly advanced and progressive and very well considered."
"The problems that we're facing are more of a systemic procedural nature.
"We have an incredibly strained police force that's not particularly well-trained -- they're massively overloaded -- and we're struggling with issues of corruption within the police force and possibly even within the prosecution service," he said.
Grant said that, regrettably, wealthier South Africans had access to better legal resources than most of their compatriots.
"Unfortunately, most South Africans don't have that extent of resources available to them. They wouldn't have available to them the best possible defense lawyers, but in a strange sense, this is not a problem unique to South Africa. Money buys for you a degree of protection. That's of course a universal problem."
In March of last year, the South African government's midterm report noted that "The effectiveness and ability of the criminal justice system to serve as a deterrent against crime is unfortunately still under threat of being undermined by the actions of a small number of those who serve in it."
It continued: "Since 2009, investigations have uncovered 1,529 persons in the criminal justice system who were possibly involved in corruption-related crime.
"For the year April to September 2011, 192 officials were criminally charged regarding corruption, resulting in 86 officials being convicted, while a further 296 officials were departmentally charged."
What are conditions like in South African jails?
South Africa's jails were put under the spotlight during the extradition hearing of Shrien Dewani, the Briton who stands accused of ordering a hitman to murder his new wife in 2010.
One of the defense's arguments -- not upheld -- against extradition was that Dewani would not be safe in South African custody.
His lawyer quoted figures from a South African report suggesting that almost half of prisoners believed sexual abuse was a feature of life in South African jails. But Dewani's request for Britain to block his extradition was declined in January of this year, and he has now appealed the decision to Britain's highest court.
READ MORE: What life's like in a South African prison
Nooshin Erfani-Ghadimi, project coordinator for the Johannesburg-based Wits Justice Project, told CNN that South Africa's constitution and its bill of rights with regards to prisoners' rights were among the best in the world.
However, she said, overcrowding meant "unfortunately that doesn't necessarily translate into practice."
"A legacy of apartheid is that prison cells are still unfortunately a place where prisoners can be abused," Erfani-Ghadimi said.
South African public broadcaster SABC cited the Correctional Services Department as saying prisoners with disabilities were treated with dignity and enjoyed the same rights as able-bodied inmates.
However, a "statement of agreed factual findings" in the case of inmate Dudley Lee -- who contracted tuberculosis while imprisoned -- may point to a different reality. Lee said he "begged, bullied and bribed" to get the medication he needed.
READ MORE: Case highlights South African gun culture
READ MORE: Oscar Pistorius' affidavit to court in full
CNN's Brian Walker and Richard Greene contributed to this report.