Mississippi politician urges gunmakers in Connecticut, elsewhere to relocate
updated 1:02 AM EST, Sat February 23, 2013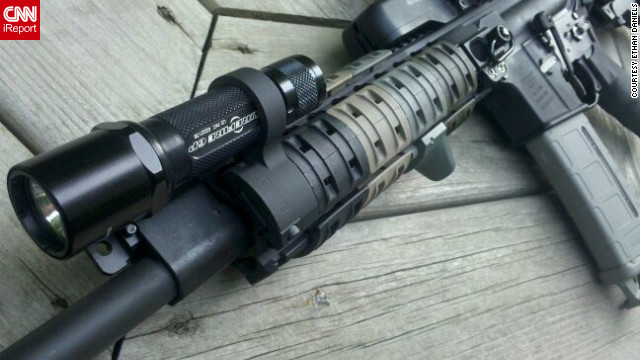 A 1994 federal ban on certain types and configurations of guns included 19 kinds of military-style rifles and handguns. That ban expired in 2004. But the shooting deaths of 20 children and six adults at a Connecticut school has sparked new calls to ban such weapons. Click through this gallery to learn why military-style guns are important to many gun owners.
"Every month or so I take my guns out to the range and shoot," says iReporter Christopher L. Kirkman, who owns a Heckler and Koch MR556A1. "It's thrilling, exciting and a great way to vent."
Austin Nikel and his brother used a shotgun to shoot clay targets during this outing in Wyoming in 2009. Other enthusiasts of military style rifles often use them to hunt deer and other game. But some states have banned the AR-15 and its .223 caliber for deer hunting.
In some home-protection situations, fans say, military-style rifles are generally more accurate than handguns. Rifles are generally easier to learn how to shoot, say military-style rifle owners.
Military style rifles are important to many gun collectors. iReporter Nathan Lee's firearms include a black AR-15 military-style rifle -- seen here second from the top. IReporter Hrothgar-01 said AR-15s are as much a part of the nation's history "as the muskets carried by pioneers" and "the rifles toted by doughboys in the trenches."
Gun rights activists celebrate a 2008 U.S. Supreme Court decision on whether the Constitution's Second Amendment right to "keep and bear arms" is fundamentally an individual or collective right. IReporter INGunowner's reasons for owning his AK-47 include his "fascination with the Second Amendment, which I view as a backstop protector of freedom."
Voices of military-style gun owners
'Some people play golf ... I shoot'
Hunting
Protection
Collectable
'Fascinated by the Second Amendment'
STORY HIGHLIGHTS
NEW: Massachusetts politicians predict the bid to lure Smith & Wesson to Mississippi will fail
The gun industry in Connecticut is being "demonized," says Mississippi's House speaker
Gunmakers in "anti-Second Amendment states" won't be criticized in his state, he adds
A U.S. senator from Connecticut calls the pitch "preposterous"
(CNN) -- Mississippi House Speaker Philip Gunn has invited gunmakers such as Colt to relocate to his state from others including Connecticut, where firearms have been a controversial issue since a school shooting there last December left 20 students and six adults dead.
The gun industry in Connecticut is being attacked and "demonized" because of national politics, Gunn said in a letter this week to Colt's Manufacturing Company CEO Dennis Veilleux.
He also invited gunmaker Magpul Industries Corp. of Colorado to relocate to Mississippi.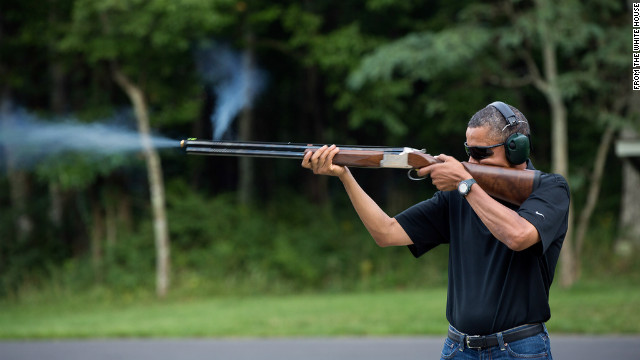 To back up President Barack Obama's statement that he goes skeet shooting regularly, which some Republicans questioned, the White House released this photo of Obama firing a gun at Camp David in August. See more commanders in chief taking advantage of their right to bear arms.
George W. Bush hunts for doves in Hockley, Texas, in September 1994.
George H.W. Bush and oil heir William Farish check out a quail hunt at Lazy F Ranch in Texas in January 1989.
Ronald Reagan watches as his wife, Nancy, aims a rifle at their ranch in Malibu, California, in 1954.
Dwight D. Eisenhower totes a gun on a quail hunting trip at the plantation of his first secretary of the Treasury, George Humphrey, in Georgia in January 1961.
Harry S. Truman holds a bird on a hunting trip in Missouri in January 1930.
Franklin D. Roosevelt fires at the Marine Corps rifle range in Maryland in 1917.
President Calvin Coolidge fires a gun as his wife, Grace Goodhue, photographs him circa 1925.
Theodore Roosevelt wields a Winchester rifle in this portrait taken in an artificial forest setting, circa 1900.
Grover Cleveland hunts for ducks in January 1880.
Benjamin Harrison poses with a gun in this portrait, circa 1880s.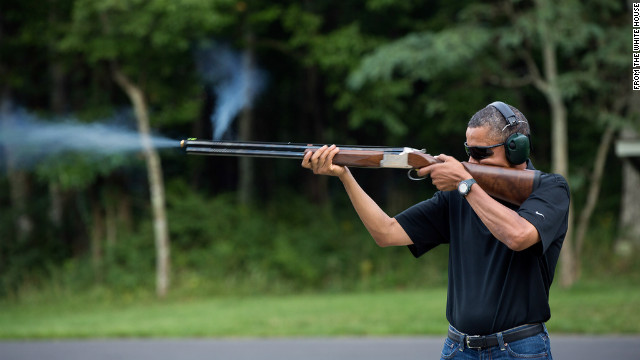 Photos: Arming the commander in chief
Gunn, a Republican, said firearm manufacturers are "under attack in anti-Second Amendment states."
"In our state, you will not be criticized for providing goods to the law-abiding citizens who enjoy hunting, shooting or who just want the peace of mind that comes with the constitutional right to protect their families," Gunn wrote to Colt on Thursday.
"We welcome you with open arms!" he said.
In an interview with CNN affiliate WLBT, Gunn said having gunmakers move their operations to Mississippi is a "natural match," saying the industry "meshes well" in a state with citizens who "love to hunt, ... love to shoot, (and) people enjoy the peace of mind that comes from knowing they have the right to defend themselves."
U.S. Sen. Richard Blumenthal, a Connecticut Democrat, said Gunn sent letters to three gunmakers in his state and called Gunn's proposal "preposterous."
Connecticut residents support the Second Amendment and responsible gun ownership, "far from demonizing firearms products made here," Blumenthal said in a statement.
"This preposterous pitch to companies with long, successful histories in our state shows the need for national standards and statutes to reduce gun violence," the senator said. "Competition among states for less protective laws is a race to the bottom that should be avoided. The poison of illegal gun trafficking respects no state boundaries and threatens to cause more horrific tragedies like Newtown and the 1,900 gun violence deaths that have occurred since then."
Newtown is the name of the Connecticut town where last December's mass shooting occurred, at Sandy Hook Elementary School.
Representatives for Colt and Magpul couldn't be reached immediately for comment Friday.
William "Mo" Cowan, interim U.S. Senator from Massachusetts, called Gunn's attempt "gimmicky" and predicted it wouldn't work to draw Smith & Wesson from its base in Springfield, according to CNN affiliate WGGB.
That sentiment was echoed by Springfield's mayor, who said his city's and Massachusetts' skilled and educated workforce measured up favorably against those in Mississippi and other states.
"Smith & Wesson is not going anywhere," Mayor Dominic Sarno told WGGB, adding he still stands by his support for "sensible gun control." "They've been a vital and good corporate citizen here in the city of Springfield."