STORY HIGHLIGHTS
Hard-line Islamist groups like the Nusra Front are becoming more popular in Syria
They're fighting the Syrian regime while providing social services for Syrian civilians
Some attribute their rise to Western indifference and a Free Syrian Army that's lacking
The United States blacklisted the Nusra Front in December, labeled it terrorist
Istanbul (CNN) -- A year ago, Ibrahim Qobani was an idealistic 19-year-old revolutionary who sang about freedom.
Always dressed in a scarf and fingerless gloves woven with the colors of the Syrian rebel flag, Qobani worked with a team of pro-democracy activists in Syria's northern Idlib province. He would sing from the rooftops during boisterous anti-government protests, complete with humorous animations that begged the international community to help stop Syrian government atrocities.
READ: Syrian official: 'We have already won'
But today, Qobani appears much different in a series of YouTube videos.
Gone is the scarf with colors of the rebel flag. Instead of leading the chants, the young man stands in the crowd smiling as one man sings, "We destroyed America with a civilian plane, turned the World Trade Center into a pile of dirt. If you call me a terrorist, I say it's an honor."
In another video, Qobani stands cheering with a crowd of bearded men as a little boy sings, "Our commander is Bin Laden. He showed the Americans the strength of our faith." A man gives the boy a knife, which he proceeds to slice through the air as he sings, "Our police is Nusra. Just wait Alawites. We will come to slaughter you."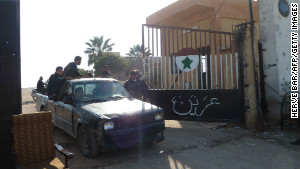 U.S. calls Syrian rebel group terrorists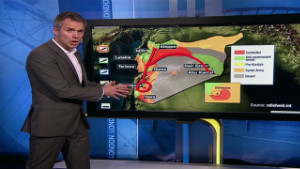 Who controls what in Syria?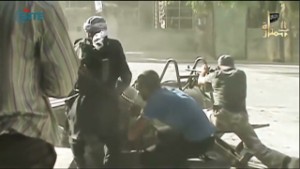 Report ties Syrian rebels to al Qaeda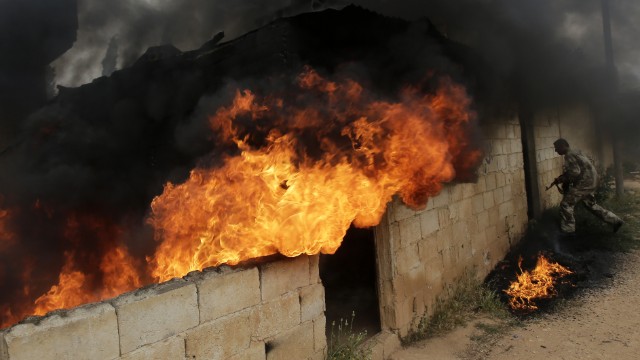 Syrian army soldiers take control of the village of Western Dumayna north of the rebel-held city of Qusayr on Monday, May 13. Syrian troops captured three villages in Homs province, allowing them to cut supply lines to rebels inside Qusayr town, a military officer told AFP. Tensions in Syria first flared in March 2011 during the onset of the Arab Spring, eventually escalating into a civil war that still rages. This gallery contains the most compelling images taken since the start of the conflict.
Syrian troops move into Dumayna on May 13.
Rebel fighters fire at government forces in the northern Syrian city of Aleppo on Sunday, May 12.
Smoke rises from an explosion in a Syrian village near the Israeli border on Tuesday, May 7.
Multiple explosions hit a Syrian village near the Israeli border on May 6.
A photo released by the Syrian Arab News Agency shows destruction from what is said was bomb attack in the Al-Hama area of Damascus on Sunday, May 5. According to the Syrian government, Israel launched an attack on a research center in the Damascus suburbs early Sunday.
People run for cover after what activists said was shelling by forces loyal to Syria's President Bashar al-Assad in Syria's Raqqa province, on May 3.
People walk past a damaged building and multiple destroyed cars at the site of an explosion in Damascus where at least 13 were killed on April 30.
Cleaning takes place following another explosion in an upscale Damascus neightborhood on Monday, April 29. Syrian Prime Minister Wael al-Halqi survived the bombing targeting his motorcade.
A smoke cloud rises from shelling on the the al-Turkman mountains in Syria's Latakia province on Thursday, April 25.
Searchers use a flashlight as they look for survivors among the rubble created by what activists say was a missile attack from the Syrian regime, in Raqqa province, Syria, on April 25.
A handout photograph from Syria's national news agency SANA shows damage and debris from a mortar attack in the suburb of Jarmana near Damascus, Syria, on Wednesday, April 24. The attack killed seven and wounded more than 25, according to activists and state media. No group claimed responsibility for the mortar fire, which SANA said hit a municipality office and a school building.
A Kurdish fighter from the "Popular Protection Units" (YPG) takes position inside a building in the majority-Kurdish Sheikh Maqsood area of Aleppo, on Apri. 21.
People walk past destroyed houses in the northern Syrian town of Azaz on Sunday, April 21.
Free Syrian Army fighters take positions prior to an offensive against government forces in the Khan al-Assal area, near Aleppo on Saturday, April 20.
Men inspect damage at a house destroyed in an airstrike in Aleppo on April 15.
Syrian and Kurdish rebel fighters walk in the Sheikh Maqsud district of Aleppo on April 14.
A Syrian boy holds an AK-47 assault rifle in the streets of Aleppo on Sunday, April 14.
A female rebel monitors the movement of Syrian government forces in Aleppo's Sheikh Maqsud neighborhood on April 11.
A rebel runs to avoid sniper fire from Syrian government forces in Aleppo on Thursday, April 11.
Syrian rebels observe the movement of Syrian government forces around Al-Kendi hospital in Aleppo on Wednesday, April 10.
Rescue teams and security forces check out the scene of a deadly car bomb explosion in Damascus on April 8.
The fighting has taken a toll on buildings in Aleppo's Saladin district, seen here on April 8.
A Syrian rebel runs for cover in Deir ez-Zor on April 2.
A rebel checks for snipers across the street toward the Citadel in Aleppo, Syria, on Saturday, March 30, in this photo taken by iReporter Lee Harper.
A Free Syrian fighter mourns the death of a friend in Aleppo on March 30, in this photo taken by iReporter Lee Harper.
A Syrian opposition fighter runs for cover from Syrian army snipers in Aleppo on Wednesday, March 27.
A Syrian girl covers her face to protect herself from fumes as a street covered with uncollected garbage is fumigated in Aleppo on Sunday, March 24.
A Syrian man and his family drive past damaged buildings in Maarat al-Numan, on Wednesday, March 20.
Syrians carry the body of a Syrian army soldier during a funeral ceremony in Idlib province on Tuesday, March 19.
Syrian rebels take position in Aleppo, the largest city in the country, on March 11.
Syrian men search for their relatives amongst the bodies of civilians executed and dumped in the Quweiq River on March 11.
A Free Syrian Army fighter looks back as smoke rises during fighting between rebel fighters and forces loyal to Syria's President Bashar al-Assad on the outskirts of Aleppo on Saturday, March 2.
Residents read Shaam News newspapers published by the Free Syrian Army in Aleppo on March 2.
A member of the Free Syrian Army reacts to the death of a comrade who was killed in fighting, at Bustan al Qasr cemetery in Aleppo on Friday, March 1.
A rebel fighter throws a home-made grenade at Syrian government forces in Aleppo on February 16.
A member of the Free Syrian Army stands with his weapon as he looks at a rainbow in Aleppo on February 16.
A Syrian woman looks through a bus window in Aleppo on February 14.
Free Syrian Army fighters walk through a dust-filled stairwell in Damascus on February 7.
A Syrian rebel gestures at comrades from inside a broken armored personnel carrier in Al-Yaqubia on February 6.
A rebel fighter throws a hand grenade inside a Syrian Army base in Damascus on February 3.
People stand in the dust of a building destroyed in an airstrike in Aleppo, Syria on February 3.
Free Syrian Army fighters run as they enter a Syrian Army base during heavy fighting in the Arabeen neighborhood of Damascus on February 3.
An unexploded mortar shell fired by the Syrian Army sits lodged in the ground in Damascus on January 25.
Fighters from Fateh al Sham unit of the Free Syrian Army fire on Syrian Army soldiers at a check point in Damascus on January 20.
A Free Syrian Army fighter walks between buildings damaged during Syrian Air Force strikes in Damascus on January 19.
A Syrian rebel fighter tries to locate a government jet fighter in Aleppo on January 18.
Syrian rebels launch a missile near the Abu Baker brigade in Albab on January 16.
A Syrian boy walks near rubbish next to tents at a refugee camp near the northern city of Azaz on the Syria-Turkey border, on January 8.
Syrians look for survivors amid the rubble of a building targeted by a missile in Aleppo on January 7.
A father reacts after hearing of a shelling by forces loyal to Syria's President Bashar al-Assad in Aleppo on January 3.
A patient smokes a cigarette at Dar Al-Ajaza psychiatric hospital in Aleppo on December 18, 2012. The psychiatric ward, housing around 60 patients, has lacked the means to function properly since fighting broke out there in July.
Syrians mourn a fallen rebel fighter at a rebel base in the al-Fardos area of Aleppo on December 8.
Members of Liwa (Brigade) Salahadin, a Kurdish military unit fighting alongside rebel fighters, monitor the area in the besieged district of Karmel al-Jabl in Aleppo on December 6.
A member of Liwa Salahadin aims at a regime fighter in the besieged district of Karmel al-Jabl in Aleppo on December 6.
Two young boys sit underneath a washline in a refugee camp on the border between Syria and Turkey near Azaz on December 5.
The bodies of three children, who were allegedly killed in a mortar shell attack that landed close to a bakery in Aleppo, on December 2, are laid out for identification by family members at a makeshift hospital at an undisclosed location of the city.
Smoke rises in the Hanano and Bustan al-Basha districts in Aleppo on December 1 as fighting continues through the night.
Damaged houses in Aleppo are seen after an airstrike on November 29.
A Syrian rebel mourns the death of a comrade in Maraat al-Numan on November 20.
Syrians protesters stand on Assad's portrait during an anti-regime demonstration in Aleppo on November 16.
A Syrian rebel takes cover during fighting against Syrian government forces in Aleppo on November 15.
Syrian opposition fighter Bazel Araj, 19, sleeps next to his pistol in Aleppo on November 11.
A rebel fighter fires at a Syrian government position in Aleppo on November 6.
A Syrian rebel leaps over debris left in the street while running across a "sniper alley" near the Salahudeen district in Aleppo on November 4.
Rebels hold their position in the midst of a battle on November 3 in Aleppo.
A man cries while being treated in a local hospital in a rebel-controlled area of Aleppo on October 31.
A man is treated for wounds after a government jet attacked the Karm al-Aser neighborhood in eastern Aleppo on October 31.
A Syrian rebel interrogates a handcuffed and blindfolded man suspected of being a pro-regime militiaman in Aleppo on October 26.
Smoke rises from a fuel station following a mortar attack as Syrian women walk on a rainy day in the Arqub neighborhood of Aleppo on October 25.
A Syrian rebel fires at an army position in the Karm al-Jabal district of Aleppo on October 22.
A wounded Syrian boy sits on the back of a truck carrying victims and wounded people to a hospital following an attack by regime forces in Aleppo on October 21.
A man lies on the ground after being shot by a sniper for a second time as he waits to be rescued by members of the Al-Baraa Bin Malek Battalion, part of the Free Syria Army's Al-Fatah brigade, in Aleppo on October 20.
Syrian army soldiers run for cover during clashes with rebel fighters at Karam al-Jabal neighborhood of Aleppo on October 20.
Smoke rises after a Syrian Air Force fighter jet fired missiles at the suburbs of the northern province of Idlib on October 16.
A Syrian opposition fighter stands near a post in Aleppo on October 11.
A Syrian man mourns the death of his father, who was killed during a government attack in Aleppo on October 10.
A rebel fighter is carried by his friends and laid on a gurney to be treated for gunshot wounds sustained during heavy battles with government forces in Aleppo on October 1.
Syrian rebels help a wounded comrade to an Aleppo hospital after he was injured in a Syrian army strike on September 18.
Free Syria Army fighters are reflected in a mirror they use to see a Syrian Army post only 50 meters away in Aleppo on September 16.
A Syrian man carrying grocery bags tries to dodge sniper fire as he runs through an alley near a checkpoint manned by the Free Syria Army in Aleppo on September 14.
A woman walks past a destroyed building in Aleppo on September 13.
Free Syrian Army fighters battle during street fighting against Syrian army soldiers in Aleppo on September 8.
A Syrian man wounded by shelling sits on a chair outside a closed shop in Aleppo on September 4.
A woman sits in her wheelchair next to her house, damaged by a Syrian air raid, near Homs on August 26.
Members of the Free Syrian Army clash with Syrian army soliders in Aleppo's Saif al-Dawla district on August 22.
A man mourns in front of a field hospital on August 21 in Aleppo.
Wounded civilians wait in a field hospital after an air strike on August 21 in Aleppo.
People pray during the funeral of a Free Syrian Army fighter, Amar Ali Amero, on August 21.
A man cries near the graves of his two children killed during a recent Syrian airstrike in Azaz on August 20.
A Syrian woman holds her dead baby as she screams upon seeing her husband's body being covered following an airstrike by regime forces on the town of Azaz on August 15.
A Syrian rebel runs in a street of Selehattin during an attack on the municipal building on July 23.
Syrian rebels hunt for snipers after attacking the municipality building in the city center of Selehattin on July 23.
Members of the Free Syrian Army's Mugaweer (commandos) Brigade pay their respects in a cemetery on May 12 in Qusayr.
Syrian rebels take position near Qusayr on May 10.
A Free Syrian Army member takes cover in underground caves in Sarmin on April 9.
Rebels prepare to engage government tanks that advanced into Saraquib on April 9.
Men say prayers during a ceremony in Binnish on April 9.
A young boy plays with a toy gun in Binnish on April 9.
A Free Syrian Army rebel mounts his horse in the Al-Shatouria village near the Turkish border in northwestern Syria on March 16, a year after the uprising began.
Syrian refugees walk across a field before crossing into Turkey on March 14.
A rebel takes position in Al-Qsair on January 27.
A protester in Homs throws a tear gas bomb back towards security forces, on December 27, 2011.
A man stands under a giant Syrian flag outside the Umayyad Mosque in Damascus on December 24, 2011.
A member of the Free Syrian Army looks out over a valley in the village of Ain al-Baida on December 15, 2011.
Members of the Free Syrian Army stand in an valley near the village of Ain al-Baida, close to the Turkish border, on December 15, 2011.
Displaced Syrian refugees walk through an orchard adjacent to Syria's northern border with Turkey on June 14, 2011, near Khirbet al-Jouz.
A Syrian man holds up a portrait of President Bashar al-Assad during a rally to show support for the president in Damascus on April 30, 2011.
Syrians rally to show their support for President Bashar al-Assad in Damascus on April 30, 2011.
A screen grab from YouTube shows thick smoke rising above as Syrian anti-government protesters demonstrate in Moaret Al-Noman on April 29, 2011.
A screen grab from YouTube shows Syrian anti-government protesters run for cover from tear gas fired by security forces in Damascus on April 29, 2011, during the "Day of Rage" demonstrations called by activists to put pressure on al-Assad.
Syrians wave their national flag and hold portraits of al-Assad during a rally to show their support for their leader in Damascus on March 29, 2011.
A woman sits by the hospital bed of a man allegedly injured when an armed group seized rooftops in Latakia on March 27, 2011, and opened fire at passers-by, citizens and security forces personnel according to official sources.
Syrian protesters chant slogans in support of al-Assad during a rally in Damascus on March 25, 2011.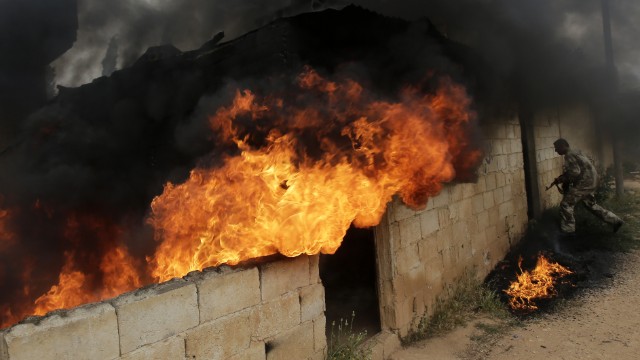 Syrian civil war in photos
It was a chilling warning to the minority religious sect of Syrian President Bashar al-Assad, who has stacked the top ranks of his security forces with fellow Alawites.
Qobani declined several requests to speak with CNN. Several of his friends, however, confirmed that he is now a member of Jabhat al-Nusra, or the Nusra Front, the most famous of the hard-line Islamist rebel groups now fighting against the Syrian regime.
Qobani's ideological evolution is symbolic of a broader shift that many Syrians say they're seeing nearly two years after the anti-government uprising began.
"There is an increasing militarization and now increased radicalization of the revolution," said Rafif Jouejati. She is the English spokeswoman for the Local Coordination Committees in Syria, one of the first groups to organize peaceful anti-government protests in the spring of 2011.
"Jabhat al-Nusra continues to make gains," Jouejati said. "They continue to increase in popularity, particularly as they begin to implement social services."
In the last year, the Nusra Front has grown from a shadowy group claiming responsibility for deadly car bombs to what Syrians describe as a highly disciplined fighting force that continues to attract recruits from the more secular Free Syrian Army rebels.
Nusra Front fighters are said to be leading the ongoing siege of the Khweiris military airbase in Aleppo province. They are also credited with helping lead the capture of the Taftanaz helicopter airbase in Idlib province last month.
Opinion: Terrorist group fills power vacuum among Syria rebels
The high-profile Islamist victories on the battlefield have been accompanied by another trend. Gradually, black Islamist banners have replaced the distinctive green, black, white and red flags of the Syrian rebels at weekly anti-government protests.
"After two years of killings and butchering and the entire world standing by and watching us, now we depend on God only. So we started raising the banner of Shahada, the black banner of war," explained a Syrian activist who has spent much of the last two years organizing anti-government protests in Idlib province.
The Shahada refers to the Islamic creed "There is no god but God, Mohammed is the messenger of God." It is one of the most important pillars of Islam. It is also invoked for martyrdom on the battlefield.
After two years of killings and butchering and the entire world standing by and watching us, now we depend on God only.
Syrian activist
The rapid rise of hard-line Sunni Muslim groups like the Nusra Front -- some of which have seen their ranks swelled by foreign jihadi fighters -- is a trend that makes Jouejati and other more secular revolutionaries deeply uncomfortable.
It is also making Washington uneasy. In December, the U.S. government blacklisted the Nusra Front, labeling it a terrorist organization.
"We blacklisted the Nusra Front because of its intimate links with al Qaeda in Iraq ... which is responsible for the killing of thousands of Iraqis and hundreds of Americans," said Robert Ford, the U.S. ambassador to Syria, in an interview with CNN last month. "We know what al Qaeda in Iraq did and is still doing, and we don't want it to start doing that in Syria."
But some Syrian opposition leaders blame Western inaction for the recent growth of the Islamist groups.
"The U.S. and the European Union didn't help us, and that created an increase in Islamic radicalism here," said Marwan Gayed in an interview in Aleppo last month. Gayed was a judge who defected from the Syrian government and helped launch the United Courts Council, an opposition-run court that is trying to institute law and order in rebel-controlled parts of Aleppo.
Like many in the opposition, Gayed has viewed Islamist groups like Nusra as uneasy partners in the campaign to overthrow the al-Assad regime.
"They are our brothers in the revolution. They bleed for it. But we differ on how to build the state," explained Gayed, who now serves as the chief prosecutor for the United Courts Council. "We call for a civil, democratic nation. They call for an Islamic state."
U.S. branding of al-Nusra may have unintended consequences
Members of the Nusra Front declined to meet face to face with CNN journalists. Instead, Salem Sabbagh, the spokesman for the Nusra Front in Aleppo, answered several questions submitted in print.
He wrote that the main object of the group in Syria was "to establish an Islamic state that can be based on the principles of the shura (consultations) where righteousness and justice will prevail based on applying God's laws."
"We already started carrying out God's law in some of the liberated areas," Sabbagh added. "And we noted a great reception among the people when it comes to these religious courts, especially when they discovered that these courts were not as some portrayed and tried to distort their reality that such a court system will enslave them and that their heads will be severed and that their only salvation is when they choose a secular Western-oriented system that can rule among them."
Competition between the United Courts Council and courts backed by the Nusra Front exploded this month. On Tuesday, the council accused Nusra Front fighters of raiding one of its courthouses in Aleppo.
"Jabhat Al-Nusra stormed the Second Circuit United Judicial Council and seized the building of the Council and attacked scholars and judges who were there and they beat them and insulted them and then they kidnapped them to Jabhat al-Nusra's headquarters," said the council in a written statement also signed by a group calling itself the Free Aleppo Lawyers.
Rebel court fills void amid Syrian war
It is not the first time tensions have flared between the Nusra Front and other revolutionaries.
One of Aleppo's most famous anti-government activists, a man known as Abu Maryam, told CNN he was briefly detained and flogged by Islamist fighters last week.
After his release, Abu Maryam posted a photo on Facebook of his bruised back.
"They accused me of protesting against the caliphate," Abu Maryam said in a brief interview with CNN.
Asked whether he thought the Nusra Front was taking over Syria's uprising, Abu Maryam said, "Yes, of course, that's true, but it's all because of the mistakes of the Free Syrian Army."
Nearly two years into the uprising, the rebel Free Syrian Army continues to be dogged by accusations of corruption.
In recent weeks, activists have mounted an online campaign accusing Ahmed Afash, a prominent commander based in Aleppo, of banditry and kidnapping. Afash has denied the charges.
But last week, a detachment of Afash's fighters raided the offices of the Aleppo Media Center. They briefly detained several Syrian journalists who had published reports that Afash's brigade had killed an innocent civilian.
Meanwhile, Islamist groups like the Nusra Front have been applauded for distributing food and fuel to hungry, freezing Syrians.
The Nusra Front also launched a cheap public service in rebel-controlled parts of Aleppo.
"Not only do they do the fighting, but they also perform a lot of civil duties such as cleaning roads, manning bakeries, installing and repairing city infrastructure like electricity," said the activist from Idlib province, who asked not to be named. "Some of the Nusra Front members are now playing even the role of street cleaners because of garbage in the city that has increased the rat population."
Even Syrians who criticize the Nusra Front concede the Islamists have offered hope to some members of a society traumatized by a brutal conflict that has claimed more than 70,000 lives and left millions of people homeless.
As Islamists within the uprising continue to attract support, leaders of the Free Syrian Army have been left fuming, blaming a lack of Western engagement for the ideological shift in the uprising.
"We see the Islamist factions gaining more ground, recruiting some of our own people," said Louai Miqdad, a spokesman for the Free Syrian Army.
"The world is handing Syria over to the unknown, to the radicals, to the Islamists."