Mel B. joins 'America's Got Talent' as a judge
updated 12:32 PM EST, Thu February 21, 2013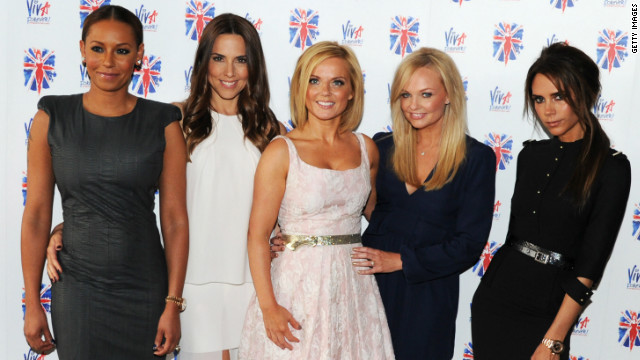 Between their performance
at the closing ceremony for the 2012 Summer Olympics
and
their musical, "Viva Forever,"
The Spice Girls have staged something of a comeback. Here, the group attends the press launch of the musical in June 2012. But what else have they been up to since their heyday in the '90s?
Solo careers and families weren't on group members' minds backstage at the 1997 BRIT Awards.
The artist formerly known as Posh Spice scored big by marrying hunky soccer player David Beckham, with whom she has four young children. She has also made a name for herself in the fashion industry and stayed visible in Hollywood with appeareances on shows like "Project Runway" and "American Idol."
Baby Bunton now has babies of her own. The mother of two is engaged to former British singer-turned professional chef Jade Jones and, like Beckham, has entered the world of fashion design. She recently debuted her second line of children's clothing.
Halliwell is the mother of one daughter and has popped up ocassionally as a guest judge on the British version of "The X Factor." She also reportedly designed a line of swimwear last year.
Brown has also remained in the limelight despite keeping busy with three children (one of whom was fathered by actor Eddie Murphy) with acting roles. In 2007, she came in second place on "Dancing With the Stars," and is set to be the new judge on "America's Got Talent."
Chisholm has continued to make music, releasing several albums over the years. Her latest, "Stages," was released in September and included a duet with former bandmate Bunton. Chisholm has one daughter.
Spice Girls: Where are they now?
Remember when: Spice Girls at 1997 BRIT Awards
Victoria Beckham (Posh Spice)
Emma Bunton (Baby Spice)
Geri Halliwell (Ginger Spice)
Melanie Brown (Mel B./Scary Spice)
Melanie Chisholm (Mel C./Sporty Spice)
STORY HIGHLIGHTS
Report: Spice Girl Mel B. is joining "America's Got Talent" as a judge
The singer/TV personality is experienced with reality shows
"AGT" is said to be considering hiring a fourth judge
(CNN) -- With Sharon Osbourne gone, "America's Got Talent" has tapped Spice Girl Mel B. to fill the empty seat.
Entertainment Weekly reports that the singer and TV personality, whose full name is Melanie Brown, will join fellow judges Howard Stern and Howie Mandel on the NBC reality competition when it returns this summer.
Osbourne announced she was leaving "AGT" last year following claims that NBC discriminated against her son, Jack.
Brown, aka Scary Spice, is a veteran of reality competitions. She competed on "Dancing With the Stars" in the United States, served as a judge on the Australian version of "The X Factor" and was a guest judge on the UK's "X Factor" and "Britain's Next Top Model."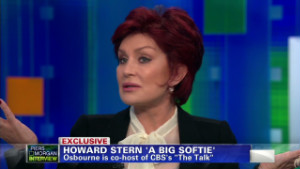 Osbourne: Howard Stern a 'big softie'
"I've known Melanie since she did 'Dancing with the Stars,' and I've known her as a performer in The Spice Girls before that," Paul Telegdy, NBC's president of alternative and late night programming, said in a statement to EW.
"To know her is to know a very frank, strong, enduring entertainer. Someone who has a very strong point of view. We needed somebody who was qualified for the job. She's an amazing singer, dancer and a huge personality. The contestants will get a lot of constructive feedback from her and I can't wait to see her chemistry with Howard and Howie."
Mel B. might not be the only new face on the series this summer -- EW adds that the show is considering hiring a fourth judge as well.