Bulgaria's government resigns amid protests
updated 7:42 PM EST, Wed February 20, 2013
STORY HIGHLIGHTS
NEW: Prime Minister Boyko Borisov's government has resigned from office
NEW: Parliament is expected to vote on whether to accept the resignation Thursday
Bulgaria has been roiled by public protests for more than a week
(CNN) -- Bulgarian Prime Minister Boyko Borisov tendered his government's resignation Wednesday after eight days of nationwide protests over high energy bills, his office said.
CNN iReport: Protests in Shumen, Bulgaria
The protests against soaring electricity bills have morphed into wider discontent over austerity and the way the country is being run, the official Bulgarian News Agency reported.
Parliament will vote Thursday on whether to accept the Cabinet's resignation, the government said.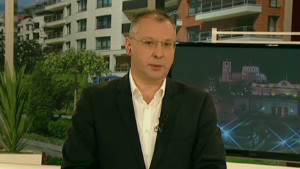 Fmr. PM: Bulgarians can't stand it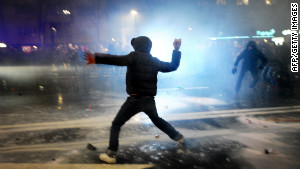 People power upends Bulgarian government
If it is accepted, the president will announce an election date.
"We will perform our functions until the election of a new Cabinet and we will do everything possible to ensure continuity," Borisov said in the formal resignation letter read to parliament, according to the Bulgarian News Agency.
The government has done its best to respond to the protesters' demands, the news agency quoted Borisov as saying.
Borisov, who has been prime minister since 2009, earlier told lawmakers his GERB party would not be part of a caretaker government.
Bulgaria, a country of just over 7 million people, held its first free multiparty elections since the Second World War in 1990, according to the CIA World Factbook.
CNN's Christine Theodorou and Laura Smith-Spark contributed to this report.

Part of complete coverage on
updated 7:48 AM EDT, Mon May 20, 2013

No solutions to the violence and total confusion is no longer just news, but a terrifying daily reality. Has Nigeria descended into civil war?
updated 4:17 AM EDT, Mon May 20, 2013

On the eve of the French Open, attention turns to the illness that has struck down several players. Why is it hitting tennis so hard?
updated 10:09 AM EDT, Mon May 20, 2013

Daycare, hour-long lunch breaks, free medicine? Not all of Bangladesh's factories are sweatshops, but many fear the crisis will hit them hard.
updated 9:15 AM EDT, Mon May 20, 2013

Chinese Premier is meeting India's leaders just weeks after raising the stakes in one of Asia's least understood and longest running disputes.
updated 7:15 AM EDT, Mon May 20, 2013

Despite unemployment being close to 12%, Italians are snubbing traditional jobs no longer viewed as attractive -- like pizza-making.
updated 7:06 AM EDT, Mon May 20, 2013

The woman behind the Chelsea Flower Show talks with CNN about the preparations and the 100th anniversary of the iconic horticultural gathering.
updated 7:38 PM EDT, Sun May 19, 2013

CNN's Dan Rivers reports on the influx of companies into Myanmar after the country opened up to foreign business.
updated 3:14 PM EDT, Thu May 16, 2013

Boxing legend Manny Pacquiao is using his hero status to fight human trafficking in the Philippines, pushing for an anti-trafficking law.
updated 7:48 AM EDT, Mon May 20, 2013

On Wednesday, NASA officials announced a serious problem with the Kepler satellite, the world's most successful planet-finding machine.
updated 9:54 AM EDT, Fri May 17, 2013

Anthony Bourdain discovers a American style, fast-food chicken restaurant that opened in Libya after the revolution -- and became a hit instantly.
updated 8:42 AM EDT, Mon May 20, 2013

As we mark 140 years since blue jeans were invented, we want to see the best and worst ways you've worn denim through the years.