Bulgaria's government resigns amid protests
updated 7:42 PM EST, Wed February 20, 2013
STORY HIGHLIGHTS
NEW: Prime Minister Boyko Borisov's government has resigned from office
NEW: Parliament is expected to vote on whether to accept the resignation Thursday
Bulgaria has been roiled by public protests for more than a week
(CNN) -- Bulgarian Prime Minister Boyko Borisov tendered his government's resignation Wednesday after eight days of nationwide protests over high energy bills, his office said.
CNN iReport: Protests in Shumen, Bulgaria
The protests against soaring electricity bills have morphed into wider discontent over austerity and the way the country is being run, the official Bulgarian News Agency reported.
Parliament will vote Thursday on whether to accept the Cabinet's resignation, the government said.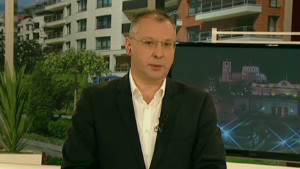 Fmr. PM: Bulgarians can't stand it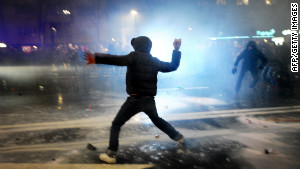 People power upends Bulgarian government
If it is accepted, the president will announce an election date.
"We will perform our functions until the election of a new Cabinet and we will do everything possible to ensure continuity," Borisov said in the formal resignation letter read to parliament, according to the Bulgarian News Agency.
The government has done its best to respond to the protesters' demands, the news agency quoted Borisov as saying.
Borisov, who has been prime minister since 2009, earlier told lawmakers his GERB party would not be part of a caretaker government.
Bulgaria, a country of just over 7 million people, held its first free multiparty elections since the Second World War in 1990, according to the CIA World Factbook.
CNN's Christine Theodorou and Laura Smith-Spark contributed to this report.

Part of complete coverage on
updated 6:17 PM EDT, Tue May 21, 2013

The image of the Gaza boy and his father under a hail of Israeli bullets became a powerful symbol. Now Israel insists its military is not to blame.
updated 8:47 AM EDT, Wed May 22, 2013

The tornado that ripped through Oklahoma saw teachers rise to be surrogate parents, protectors and heroes, according to LZ Granderson.
updated 1:14 PM EDT, Tue May 21, 2013

Did you know that hurricanes can also produce tornadoes? Read facts you didn't know about destructive twisters.
updated 9:01 AM EDT, Wed May 22, 2013

The petite frame of 19-year-old Zoe Smith should fool nobody -- she's a weightlifting warrior who has fought stereotypes and broken a British record.
updated 12:41 AM EDT, Wed May 22, 2013

Prime Minister Shinzo Abe calls women "Japan's most underutilized resource," yet traditions have been hard to overcome.
updated 10:55 AM EDT, Wed May 22, 2013

According to the United Nations' mission in Iraq, 712 Iraqis were violently killed in April 2013. This is both normal and extraordinary.
updated 7:21 AM EDT, Wed May 22, 2013

Myanmar's Muslims have generally coexisted with the Buddhist majority. But ethnic fault lines are exposed as it emerges from military rule.
updated 8:09 AM EDT, Wed May 22, 2013

Actresses Carey Mulligan, Isla Fisher and Elizabeth Debicki tell CNN who gave them inspiration for their characters.
updated 1:21 AM EDT, Wed May 22, 2013

A quarter century after his death, American pop artist Andy Warhol has popped up in China again after his first and only trip to the country in 1982.
updated 10:39 AM EDT, Wed May 22, 2013

Revolutionary "bionic exoskeletons," like the metal suit worn by comic book hero Tony Stark, may be closer than you think.
updated 3:51 PM EDT, Tue May 21, 2013

Photos: From Sharon Stone to Matt Damon, browse through the best from the Cannes red carpet this year.

Damnit we have work to do ... but not before we have another go at this annoyingly difficult web-based game.