Cameron marks 1919 Amritsar massacre by British troops in India
updated 9:53 AM EST, Wed February 20, 2013
STORY HIGHLIGHTS
David Cameron visits a memorial to a 1919 massacre in the Indian city of Amritsar
Cameron: "We must never forget what happened here"
British prime minister stops short of a formal apology for the colonial-era massacre
Hundreds of people were killed when British troops opened fire on unarmed protesters
New Delhi (CNN) -- UK Prime Minister David Cameron visited the site of the infamous 1919 Amritsar massacre by British troops in India on Wednesday -- but those hoping he might apologize for the atrocity were disappointed.
Cameron, the first serving British prime minister to visit Amritsar, a Sikh holy city in the northwestern state of Punjab, laid a wreath at a memorial to the hundreds killed in the massacre.
Writing in a book of condolences at the Jallianwala Bagh memorial, he described the massacre as "a deeply shameful event in British history." He added, "We must never forget what happened here."
However, he did not give a formal apology for the atrocity, which occurred while India was part of the British Empire.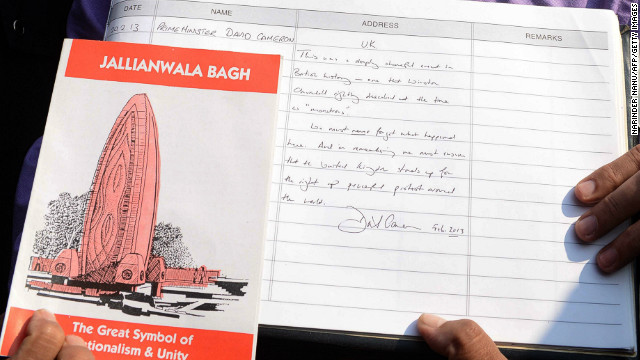 Cameron's remarks in the visitor book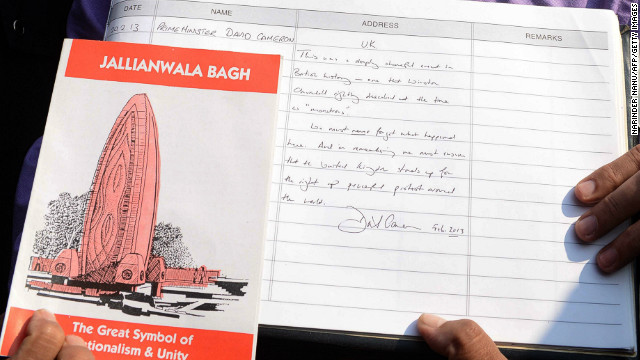 Cameron's remarks in the visitor book
A spokesman for Cameron said the British state had always described the massacre as monstrous, but that "we need to be careful about going around apologizing for things that happened 40 years before the prime minister was born."
Cameron's trip to India is focused on promoting closer trade and business links.
Queen Elizabeth II and her husband, Prince Philip, previously visited Amritsar in 1997.
In 1920, then-cabinet minister Winston Churchill condemned the massacre as "an episode which appears to me to be without precedent or parallel in the modern history of the British Empire ... It is an extraordinary event, a monstrous event, an event which stands in singular and sinister isolation."
The atrocity occurred when a British Army general ordered troops to open fire to disperse a crowd of unarmed protesters who had gathered in Jallianwala Bagh, Amritsar.
A report by a British-led committee in the wake of the massacre put the number killed at close to 400, with three to four times as many people injured. Indian observers put the number killed at more than 1,000.

Part of complete coverage on
updated 3:14 PM EDT, Thu May 16, 2013

Boxing legend Manny Pacquiao is using his hero status to fight human trafficking in the Philippines, pushing for an anti-trafficking law.
updated 6:25 PM EDT, Thu May 16, 2013

The U.N. says 70% of rapes committed in Somalia are carried out by men in military uniform. CNN's Nima Elbagir reports.
updated 8:38 AM EDT, Fri May 17, 2013

Christiane Amanpour writes an open letter to girls of the world, saying it is time to end the discrimination against girls in education.
updated 3:12 PM EDT, Fri May 17, 2013

Fans gasped when David Beckham wore a sarong. Then there was the nail polish and tattoos. But his masculinity was never in doubt.
updated 10:54 AM EDT, Fri May 17, 2013

Albinos in Tanzania have been attacked and killed because some people believe their body parts bring good luck. But one albino is fighting back.
updated 8:50 AM EDT, Fri May 17, 2013

Terrible results for Dell mean the future seems anything but bright for the PC industry despite a flurry of attempted innovations.
updated 12:00 PM EDT, Fri May 17, 2013

Mario Balotelli has delivered his verdict on his time in the English Premier League -- the AC Milan striker couldn't be happier to have left England.
updated 7:04 AM EDT, Fri May 17, 2013

If you thought Preakness was the poor sister to Kentucky Derby, think again. CNN brings you top five facts from the prestigious horse race.
updated 7:45 PM EDT, Wed May 15, 2013

Natasha Kampusch was held for eight years in an Austrian man's basement. She talks about her road to recovery, exclusively to CNN.
updated 5:36 PM EDT, Wed May 15, 2013

From her hospital bed, Reshma tells CNN about the 17 days she spent trapped under nine stories of rubble in Bangladesh.
updated 6:12 PM EDT, Thu May 16, 2013

A room full of partygoers in San Francisco were given power over a cocktail-making robot controlled by their smartphones.
updated 11:57 AM EDT, Thu May 16, 2013

The cast of "Star Trek Into Darkness" take a break from fighting space villains to answer questions from CNN iReporters.
updated 7:48 AM EDT, Thu May 16, 2013

CNN brings you images capturing moments to remember. Look ahead to the future and chronicle our changing world.