How it will feel to wear Google Glass
STORY HIGHLIGHTS
Google has posted more information about how its Glass product works
Google Glass is a Web-connected wearable headset that can shoot photos or video
Commanding the headset is as easy as uttering the words "OK, Glass"
Google also launched a contest seeking creative uses for Google Glass
(CNN) -- What would it be like to wear Google Glass? Google answered that very question Wednesday morning, posting a lot more information about Project Glass, including the user interface, through a series of photos and videos.
You can see the UI and some of the features of Glass here, although the images don't quite capture the exact experience. The headset doesn't actually have lenses in front of your eyes, just a small screen (viewable via a mirrored glass block) above and to the right of the wearer's right eye.
As such, the point-of-view images that show a large action window in the center of the field of view are a little misleading.
Still, the photos, posted on Google's Project Glass website, show more about how Glass works than any photo of the hardware could convey.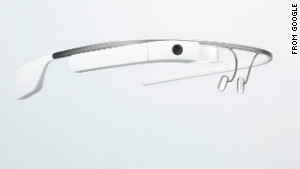 Google Glass won't likely be available to consumers until 2014.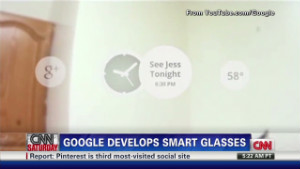 2012: Google develops 'smart glasses'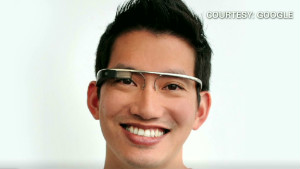 2012: Google's augmented reality glasses
This video shows even more: Commanding the headset is as easy as uttering the words "OK, Glass," a clever use of real-world speech to engage the device's listening mode.
SEE ALSO: How Google Glass Could Change Advertising
Once engaged, Glass is capable of taking photos, recording videos, looking up answers on Google, showing reminders (such as for a flight) and sharing whatever you're looking at — either via messaging or through a Google+ Hangout.
As Google co-founder Sergey Brin himself revealed previously, Glass will also have an automatic picture-taking mode, snapping pics at a preset intervals (such as every 5 seconds).
Google also launched a contest with its own hashtag (#ifihadglass), challenging anyone to come up with creative uses for Google Glass that can be explained in 50 words or fewer. Winners will get the chance to buy their own, along with developers, when they become available. The price: $1,500, plus tax.
Are you impressed with how Google Glass works? Let us know in the comments.
© 2013 MASHABLE.com. All rights reserved.

updated 1:09 PM EST, Thu February 28, 2013

Mobile World Congress offered up robotic balls, GPS walking sticks and more than its fair share of unexpected uses for digital technology.
updated 6:34 AM EST, Thu February 28, 2013

With many smartphone users groaning about battery performance, scientists are racing to design phones that never need to be charged.
updated 8:44 AM EST, Wed February 27, 2013

3D screens, flamenco dancers and endless batteries: all the latest innovations being unveiled at Mobile World Congress in Barcelona.
updated 5:34 AM EST, Wed February 27, 2013

Yahoo's decision to curtail remote working has stirred dismay at a time when many companies are striving to enable telecommuting.
updated 11:30 AM EST, Tue February 26, 2013

The industry has repeatedly promised a "mobile advertising tipping point," but mobile advertising is yet to come of age.
updated 3:04 PM EST, Tue February 26, 2013

Didn't we tell you that the lines between smartphones and tablets are blurred? Case in point: the Asus Fonepad, a 7-inch tablet that's also a phone.
updated 12:25 PM EST, Tue February 26, 2013

In the not-too-distant future, you'll receive a full diagnosis and cure from your smartphone before you have even realized you're unwell.
updated 1:02 PM EST, Mon February 25, 2013

The next generation is just a few weeks away for the world's hottest smartphone without a piece of fruit on it.
updated 11:32 AM EST, Mon February 25, 2013

CNN's Kristie Lu Stout explores Barcelona, Spain -- home of the Mobile World Congress 2013 -- using only her smartphone.
updated 7:41 AM EST, Fri February 22, 2013

As CNN heads to Mobile World Congress 2013, we're asking readers what features they want to see on the phones of the future.
updated 11:32 AM EST, Thu February 28, 2013

Is it time to start carrying two mobile phones? At least one manufacturer is hoping more people might soon be relying on multiple mobiles.
updated 7:19 PM EST, Mon February 25, 2013

In the future we will have screens not just in the palm of our hands, but all around us, according to Google's Director of Android User Experience.
updated 9:23 AM EST, Tue February 26, 2013

Wearing spectacles that record our every move could be the end of privacy as we know it, says internet commentator Andrew Keen.