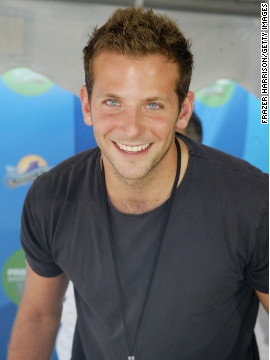 Soon after guest starring on a 1999 episode of HBO's "Sex and the City," Bradley Cooper appeared in films such as 2001's "Wet Hot American Summer," 2005's "Wedding Crashers" and 2006's "Failure to Launch." "Alias" fans might recognize him as Will Tippin, one of Sydney Bristow's (Jennifer Garner) best friends on the ABC series.
Cooper hit A-list status after starring in 2009's "The Hangover." The actor, 38, pictured here at the 2010 Golden Globe Awards, earned the title of People's Sexiest Man Alive in 2011.
Cooper's role as Pat in "Silver Linings Playbook" earned him his first Oscar nomination. He'll soon appear in "The Hangover Part III" and "Serena," along with his "Playbook" co-star Jennifer Lawrence.
Joaquin Phoenix, who used to go by the name Leaf, has been acting for more than 30 years. Phoenix, pictured here at an event in New York City in 2000, gained critical acclaim for his role as Commodus in "Gladiator" that same year. He received an Oscar nod for best supporting actor, but lost the statue to Benicio del Toro ("Traffic").
"I'm Still Here"
phase attending a screening of "Two Lovers" in 2009, earned his second Academy Award nomination for his portrayal of Johnny Cash in 2005's "Walk the Line."
The actor, 38, shown here in his
Phoenix is nominated for best actor once again for his role in Paul Thomas Anderson's "The Master."
Denzel Washington's latest role as Whip Whitaker in "Flight" earned the two-time Academy Award winner his sixth Oscar nod to date. Washington, pictured with his wife Paulette in 1999, has been acting since the mid-1970s.
Washington is shown here at the 2004 premiere of "The Manchurian Candidate." He's best known for films such as "Malcolm X," "American Gangster," "Training Day" and "Man on Fire."
The 58-year-old Washington will next appear in Baltasar Kormakur's drama "2 Guns."
"Lincoln" marks Daniel Day-Lewis' fifth Academy Award nomination. The actor, who has won the Oscar for best actor twice before ("My Left Foot" in 1989 and "There Will Be Blood" in 2007) is pictured here at the 2003 Golden Globe Awards.
Day-Lewis, 55, is known for his method acting. Shown here at the 2008 Academy Awards, the actor has starred in film such as "The Last of the Mohicans," "The Crucible" and "Gangs of New York."
Prior to his role in "Lincoln," Day-Lewis appeared as Guido Contini in Rob Marshall's "Nine," which hit theaters in 2009.
Hugh Jackman is known for playing Wolverine in the "X-Men" franchise. The actor, pictured here at the 1999 Noosa Flim Festival, has played the comic book character in movies spanning 13 years, beginning with 2000's "X-Men."
Jackman, 44, shown here at the "Australia" premiere in 2008, has also appeared in films such as "Kate & Leopold," "The Prestige" and "Real Steel."
The actor earned his first Oscar nod thanks to his role as Jean Valjean in "Les Misérables."
Bradley Cooper, 2002
Bradley Cooper, 2010
Bradley Cooper, 2013
Joaquin Phoenix, 2000
Joaquin Phoenix, 2009
Joaquin Phoenix, 2013
Denzel Washington, 1999
Denzel Washington, 2004
Denzel Washington, 2013
Daniel Day-Lewis, 2003
Daniel Day-Lewis, 2008
Daniel Day-Lewis, 2013
Hugh Jackman, 1999
Hugh Jackman, 2008
Hugh Jackman, 2013