Judge blocks release of Ken Burns footage
updated 5:59 AM EST, Thu February 21, 2013
STORY HIGHLIGHTS
U.S. magistrate judge rules city had not shown enough reason to trump press freedoms
City asked for the footage to use to defend itself against a federal lawsuit
"The Central Park five" were convicted of raping 28-year-old woman in 1989
The men have since been exonerated and have filed the lawsuit
New York (CNN) -- A federal judge has blocked New York City from acquiring footage produced by documentary filmmaker Ken Burns about a 1989 rape case concerning five wrongfully convicted men.
U.S. Magistrate Judge Ronald L. Ellis ruled Tuesday that the city had not shown enough reason to trump press freedoms when it requested interviews and unreleased footage from the Burns' film "The Central Park Five."
The men have since been exonerated.
The city had asked for the footage as part of an attempt to defend itself against a decade-long, multimillion-dollar federal lawsuit the men have since filed in the racially charged case.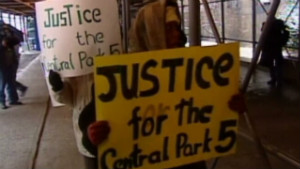 Documentarian Ken Burns fights New York
Lawyers for New York City filed a subpoena demanding that Burns and his production company, Florentine Films, give them the unpublished interviews and unreleased footage not used in the documentary, which premiered at the Cannes Film Festival in 2012.
"While journalistic privilege under the law is very important, we firmly believe it did not apply here. It is our view that we should be able to view the complete interviews, not just those portions that the filmmakers chose to include," city attorney Celeste Koeleveld said.
Burns, his daughter, Sarah Burns, her husband David McMahon, who co-wrote and produced the film, along with their production company, fought the subpoena primarily on the ground that the city's argument was not strong enough to trump reporter's privilege codified in the New York Shield Law, which protects journalists and their sources.
In a statement, Burns said, "David McMahon, Sarah Burns and I are grateful for this important decision; we feel the judge made exactly the right ruling. We are also mindful that this ruling goes far beyond our current situation; this adds a layer of important protection to journalists and filmmakers everywhere."
On April 19, 1989, a 28-year-old white Wall Street investment banker was jogging through Central Park when she was brutally assaulted, raped and left for dead. That same night a group of black and Latino boys had been in the park, throwing rocks at cars.
In the ensuing months, the investigation lead to the arrest of five of the boys -- Yusef Salaam, Antron McCray, Raymond Santana, Kharey Wise and Kevin Richardson -- who were later charged and convicted.
In 2002, three of the convicted young men had finished their prison terms, one was on parole and the fifth was in jail on an unrelated offense when Matias Reyes, a serial rapist and murderer, confessed to the crime and said he had acted alone.
DNA analysis later determined that Reyes did rape the jogger and that hair evidence used in the boys' trials did not match.

Part of complete coverage on
updated 4:33 PM EDT, Wed May 22, 2013

Details are still emerging of the London attack, but in recent years previous Islamist plots have targeted British soldiers on home soil.
updated 6:17 PM EDT, Tue May 21, 2013

The image of the Gaza boy and his father under a hail of Israeli bullets became a powerful symbol. Now Israel insists its military is not to blame.
updated 2:31 PM EDT, Wed May 22, 2013

The tornado that ripped through Oklahoma saw teachers rise to be surrogate parents, protectors and heroes, according to LZ Granderson.
updated 1:14 PM EDT, Tue May 21, 2013

Did you know that hurricanes can also produce tornadoes? Read facts you didn't know about destructive twisters.
updated 9:01 AM EDT, Wed May 22, 2013

The petite frame of 19-year-old Zoe Smith should fool nobody -- she's a weightlifting warrior who has fought stereotypes and broken a British record.
updated 12:41 AM EDT, Wed May 22, 2013

Prime Minister Shinzo Abe calls women "Japan's most underutilized resource," yet traditions have been hard to overcome.
updated 10:55 AM EDT, Wed May 22, 2013

According to the United Nations' mission in Iraq, 712 Iraqis were violently killed in April 2013. This is both normal and extraordinary.
updated 7:21 AM EDT, Wed May 22, 2013

Myanmar's Muslims have generally coexisted with the Buddhist majority. But ethnic fault lines are exposed as it emerges from military rule.
updated 8:09 AM EDT, Wed May 22, 2013

Actresses Carey Mulligan, Isla Fisher and Elizabeth Debicki tell CNN who gave them inspiration for their characters.
updated 1:21 AM EDT, Wed May 22, 2013

A quarter century after his death, American pop artist Andy Warhol has popped up in China again after his first and only trip to the country in 1982.
updated 10:39 AM EDT, Wed May 22, 2013

Revolutionary "bionic exoskeletons," like the metal suit worn by comic book hero Tony Stark, may be closer than you think.
updated 3:51 PM EDT, Tue May 21, 2013

Photos: From Sharon Stone to Matt Damon, browse through the best from the Cannes red carpet this year.

Damnit we have work to do ... but not before we have another go at this annoyingly difficult web-based game.