Centrist party leader joins new Israeli coalition
updated 7:34 PM EST, Tue February 19, 2013
STORY HIGHLIGHTS
Tzipi Livni is a former justice minister
Her centrist party, Hatnua, is the first to join the future coalition
Livni will play a role in welcoming U.S. President Barack Obama to Israel
Jerusalem (CNN) -- A former foreign minister joined Prime Minister Benjamin Netanyahu's future governing coalition and has been tapped to lead peace talks with the Palestinians.
Tzipi Livni and her centrist Hatnua party will be part of a government headed by Likud-Beitenu, the political movement headed by the prime minister. Livni, a former opposition leader, foreign minister and justice minister, will again serve in the justice minister post.
Hatnua, which means "movement," is the first party to join a Netanyahu's coalition.
There has been a lot of political jockeying among a range of movements since last month's national elections. Among those are centrists, rightists, and ultra-Orthodox groups.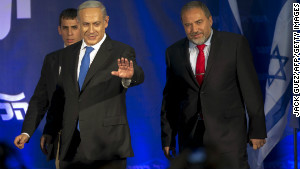 Netanyahu's mixed victory in Israel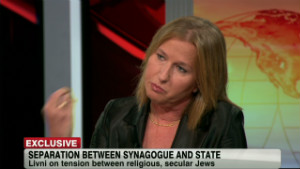 'Intl. community impotent on Syria'
Netanyahu, who was chosen to pick a government after his party won the most votes in the election, wants to build a broad coalition -- one that easily surpasses the 60-seat majority in the 120-member Knesset, Israel's parliament.
"The threats coming from Iran, Syria and the Hezbollah have not stopped for a moment and in order to give an answer to these threats we need to form a wide and stable government," Netanyahu said.
Livni, who campaigned on the importance of the peace process, thanked Netanyahu.
"The obligation to the diplomatic process and the confidence that has been bestowed on us led to this partnership, a partnership that came about after we had talks and I received the appropriate powers to be the negotiator of the State of Israel to get to the end of the conflict with the Palestinians on the basis of the two-state solution," she said.
Pundits are saying that Livni will play an important role in welcoming U.S. President Barack Obama in his upcoming visit to the region.
CNN's Mike Schwartz reported from Jerusalem. CNN's Joe Sterling reported from Atlanta

Part of complete coverage on
updated 4:33 PM EDT, Wed May 22, 2013

Details are still emerging of the London attack, but in recent years previous Islamist plots have targeted British soldiers on home soil.
updated 6:17 PM EDT, Tue May 21, 2013

The image of the Gaza boy and his father under a hail of Israeli bullets became a powerful symbol. Now Israel insists its military is not to blame.
updated 2:31 PM EDT, Wed May 22, 2013

The tornado that ripped through Oklahoma saw teachers rise to be surrogate parents, protectors and heroes, according to LZ Granderson.
updated 1:14 PM EDT, Tue May 21, 2013

Did you know that hurricanes can also produce tornadoes? Read facts you didn't know about destructive twisters.
updated 9:01 AM EDT, Wed May 22, 2013

The petite frame of 19-year-old Zoe Smith should fool nobody -- she's a weightlifting warrior who has fought stereotypes and broken a British record.
updated 12:41 AM EDT, Wed May 22, 2013

Prime Minister Shinzo Abe calls women "Japan's most underutilized resource," yet traditions have been hard to overcome.
updated 10:55 AM EDT, Wed May 22, 2013

According to the United Nations' mission in Iraq, 712 Iraqis were violently killed in April 2013. This is both normal and extraordinary.
updated 7:21 AM EDT, Wed May 22, 2013

Myanmar's Muslims have generally coexisted with the Buddhist majority. But ethnic fault lines are exposed as it emerges from military rule.
updated 8:09 AM EDT, Wed May 22, 2013

Actresses Carey Mulligan, Isla Fisher and Elizabeth Debicki tell CNN who gave them inspiration for their characters.
updated 10:21 PM EDT, Wed May 22, 2013

A quarter century after his death, American pop artist Andy Warhol has popped up in China again after his first and only trip to the country in 1982.
updated 10:39 AM EDT, Wed May 22, 2013

Revolutionary "bionic exoskeletons," like the metal suit worn by comic book hero Tony Stark, may be closer than you think.
updated 3:51 PM EDT, Tue May 21, 2013

Photos: From Sharon Stone to Matt Damon, browse through the best from the Cannes red carpet this year.

Damnit we have work to do ... but not before we have another go at this annoyingly difficult web-based game.