Tunisia's prime minister steps down
updated 7:22 PM EST, Tue February 19, 2013
STORY HIGHLIGHTS
The resignation comes two weeks after an assassination rocked the nation
People decry the climate fostered by Jebali's party
The killing brought Tunisians into the streets
(CNN) -- Tunisian Prime Minister Hamadi Jebali resigned Tuesday, Tunisian state TV said, the latest development in a nation wracked by political unrest.
He submitted his resignation after the failure of his initiative to form a technocratic government, state TV reported. Jebali told CNN last week he'd step down if the effort was not approved.
He said during a Monday press conference that he was meeting with President Moncef Marzouki to "discuss with him all the possibilities," later adding that he might consider being appointed again under certain circumstances. Jebali did not elaborate.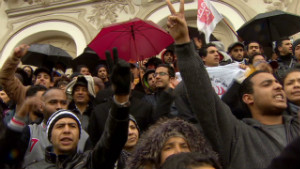 Grief, anger spill into Tunisian streets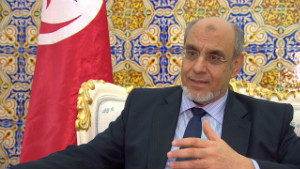 Tunisian PM: We aren't in a dictatorship
It's possible that his ruling Muslim Brotherhood-linked Ennahda party will reappoint him to form another government or choose another politician to do the task.
The move comes amid many turbulent days following the February 6 assassination of Chokri Belaid, a prominent secular politician in the North African country.
No one has claimed responsibility for his murder, but Belaid's widow and others blamed the climate fostered by the Ennahda party.
Thousands of Tunisians demonstrated in the streets of the capital, outraged over the assassination, and called on Jebali to resign.
The killing of Belaid was the country's first high-profile political assassination since Tunisia's "Jasmine Revolution" that toppled President Zine el Abidine Ben Ali two years ago and spawned the Arab Spring.
Journalist Houda Zaghdoudi in Tunis contributed to this report.

Part of complete coverage on
updated 3:14 PM EDT, Thu May 16, 2013

Boxing legend Manny Pacquiao is using his hero status to fight human trafficking in the Philippines, pushing for an anti-trafficking law.
updated 6:25 PM EDT, Thu May 16, 2013

The U.N. says 70% of rapes committed in Somalia are carried out by men in military uniform. CNN's Nima Elbagir reports.
updated 8:38 AM EDT, Fri May 17, 2013

Christiane Amanpour writes an open letter to girls of the world, saying it is time to end the discrimination against girls in education.
updated 3:12 PM EDT, Fri May 17, 2013

Fans gasped when David Beckham wore a sarong. Then there was the nail polish and tattoos. But his masculinity was never in doubt.
updated 10:54 AM EDT, Fri May 17, 2013

Albinos in Tanzania have been attacked and killed because some people believe their body parts bring good luck. But one albino is fighting back.
updated 8:50 AM EDT, Fri May 17, 2013

Terrible results for Dell mean the future seems anything but bright for the PC industry despite a flurry of attempted innovations.
updated 12:00 PM EDT, Fri May 17, 2013

Mario Balotelli has delivered his verdict on his time in the English Premier League -- the AC Milan striker couldn't be happier to have left England.
updated 7:04 AM EDT, Fri May 17, 2013

If you thought Preakness was the poor sister to Kentucky Derby, think again. CNN brings you top five facts from the prestigious horse race.
updated 7:45 PM EDT, Wed May 15, 2013

Natasha Kampusch was held for eight years in an Austrian man's basement. She talks about her road to recovery, exclusively to CNN.
updated 5:36 PM EDT, Wed May 15, 2013

From her hospital bed, Reshma tells CNN about the 17 days she spent trapped under nine stories of rubble in Bangladesh.
updated 6:12 PM EDT, Thu May 16, 2013

A room full of partygoers in San Francisco were given power over a cocktail-making robot controlled by their smartphones.
updated 11:57 AM EDT, Thu May 16, 2013

The cast of "Star Trek Into Darkness" take a break from fighting space villains to answer questions from CNN iReporters.
updated 7:48 AM EDT, Thu May 16, 2013

CNN brings you images capturing moments to remember. Look ahead to the future and chronicle our changing world.