Azarenka out of Dubai Open
updated 3:37 PM EST, Tue February 19, 2013
STORY HIGHLIGHTS
Victoria Azarenka has withdrawn from the Dubai Open with injury
The Qatar Open winner has been suffering with a heel problem
Serena Williams the overwhelming favorite to win $2 million tournament
(CNN) -- Victoria Azarenka has been forced to withdraw from the Dubai Open for the second successive year after suffering an injured heel.
Azarenka, who surrendered the World No.1 spot Monday to Serena Williams, was hoping to build on her title win at the Qatar Open where she defeated the U.S. star.
The Belorussian would have regained the No.1 ranking had she won the tournament, but Williams is set to remain at the summit until the Indian Wells tournament next month.
Read: Azarenka ends time at the top on a high
"I'm very disappointed, but I have to listen to my body," Azarenka told reporters.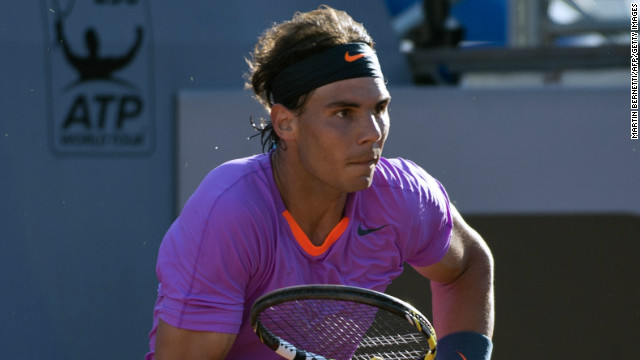 Eleven-time grand slam winner Rafael Nadal made a winning return to singles action on Wednesday, beating Argentine Federico Delbonis.
Nadal made his comeback after seven months away from the ATP World Tour with a doubles win on Tuesday.
Nadal teamed up with his friend Juan Monaco to win their doubles match against Czech Republic's Frantisek Cermank and Lukas Dlouhy in a Chilean claycourt event.
Nadal has had problems with his knees for much of his career. His latest absence was caused by an injury to the left one, which required surgery.
He told reporters before the tournament that he expects it will take him several weeks to regain match fitness.
Nadal arrives at La Moneda presidential palace in Santiago on February 1.
He was received by Chilean president Sebastian Pinera ahead of his debut appearance at the Vina del Mar Open.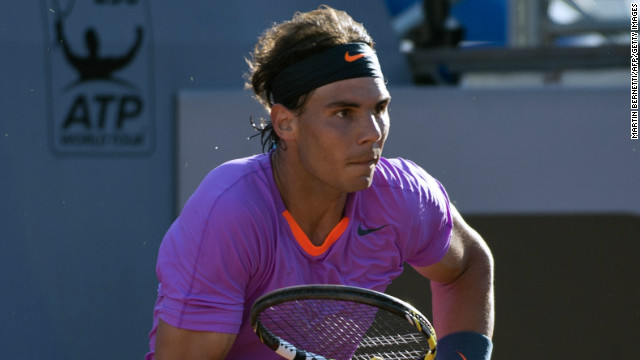 Rafael Nadal returns in Chile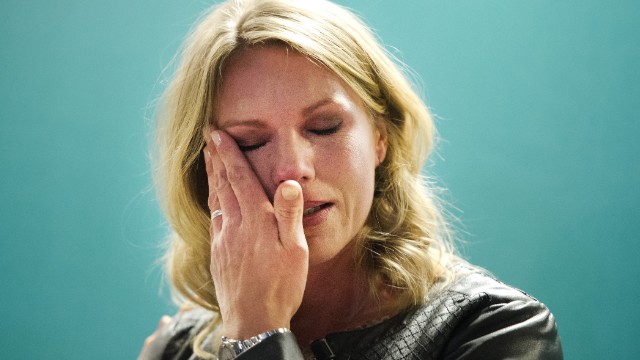 Esther Vergeer wipes away a tear after announcing her retirement from wheelchair tennis at a press conference in Rotterdam, where she is a director of an able-bodied men's tournament.
Vergeer with the Dutch tournament's defending champion Roger Federer at the opening ceremony on February 11, marking its 40th anniversary
Vergeer retired undefeated in the past 10 years, having won 470 consecutive matches.
She won four successive gold medals in the Paralympics singles tournament, 21 grand slams and 13 world titles.
However, she fell short of the record 555 successive wins set between 1981-86 by Pakistani squash legend Jahangir Khan, pictured left in an exhibition against his former rival Jansher Khan in 2005.
Australian squash player Heather McKay suffered only two defeats in her career before going undefeated from 1962-1981, but there are no exact records of her match statistics.
Martina Navratilova holds the Open-era able-bodied tennis record of 74 consecutive wins, set in 1984.
Argentina's Guillermo Vilas holds the men's record of 46 successive wins, set in 1977 when he won seven tournaments in a row as he reached No. 2 in the world rankings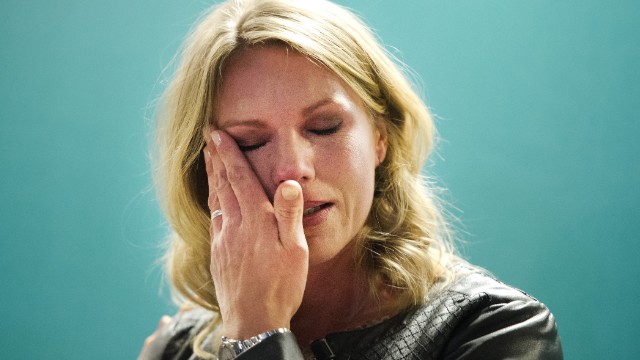 Wheelchair tennis ace retires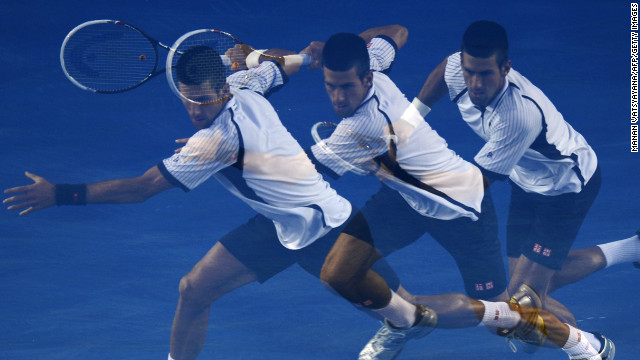 Novak Djokovic has become the world's top tennis player since overhauling his diet in 2010. "I observed him playing in the Australian Open," says the Serbian's former nutritionist Dr. Igor Cetojevic. "The commentator repeatedly referred to 'his asthma' and the problems he had breathing."
However, Cetojevic said the problem was Djokovic's intolerance to gluten -- which is found in grains such as wheat and their byproducts -- so he had to eliminate it from his diet and add more fruit, rice, vegetables and fish protein. The Serbian has now won a record three successive Australian Open titles.
This image, provided by Australian naturopathic physician Hamish Everard, shows what blood looks like before going on a gluten-free diet. The cells are clumped closely together.
This image, taken after the subject went on a gluten-free diet, shows the blood cells are able to flow more freely -- allowing better transportation of oxygen around the body.
"After eliminating grains from the patients' diet, all of their symptoms began to resolve within only a few days," says Everard. "Not only did their gastrointestinal symptoms disappear, but so too did other metabolic symptoms such as chronic and general fatigue, diabetes (high and low blood sugar), high cholesterol, decrease in inflammatory markers, soft tissue injuries, joint pain and stiffness, improved cognition (concentration), less anxiety, decreased depression, increase in bone density in osteoporosis patients, eczema, psoriasis and a decrease in acidity levels."
Experts say many health problems stem from changes in food production. "The hybridization of the native European wheat with a shorter, hardier strain from South America in the 1940s produced the particular gluten protein that triggers the sensitivity in people's digestive system," says Cetojevic. "For thousands of years people ate and digested wheat without adverse effects, but we haven't yet adapted to the new protein in the hybrid variety that is now widely grown and marketed for its convenience and higher yield. People are better off eating the older strains such as spelt and kamut."
Pasta is another staple food for many athletes. "Educating people on long-term dietary habits often depends upon how bad they felt before," says Everard. "The worse you were, the more willing you are to make the change. Athletes are disciplined and often do whatever is required of them to improve physically, mentally and emotionally for their sport. I try to teach the 80/20 principle: 80% good 20% bad. Once the underlying causes of gluten intolerance has been corrected, most patients can consume it again in some form or another."
People who are gluten intolerant suffer damage to their intestinal microvilli. "We have seen a definite link in gluten intolerant patients as far as a decrease in beneficial stomach bacteria, an increase in acidity and a decrease in both gastric digestive enzymes and pancreatic enzymes," says Everard.
Probiotics are used to repair the chronic inflammation caused by leaky gut. "We monitored our patients and found that when they did extensive exercise 82% showed symptoms of gut discomfort, reduced tolerance to the heat or a decrease in immune function," says Everard. "Probiotics (good bacteria) protect the gut and decrease this leaky gut/intestinal permeability, therefore improving athletes' performance, stamina, immunity, electrolyte balance and digestion of proteins (especially gluten and dairy)."
Like his childhood friend Djokovic, U.S. Open champion Andy Murray has also gone gluten-free. This cake he received for his 25th birthday, even if made without wheat, could still be problematic for his diet as an elite performer due to any processed sugars and dairy in the ingredients. "Hamish's protocols basically remove sugar and the gluten from your diet, sometimes the dairy, to help cleanse and restore the hormonal system and the digestive system," says tennis coach Pete McCraw. "It's the gut flora that the sugar plays havoc with, it changes the bacteria levels in the stomach, which for some athletes, means they digest food inefficiently."
Cetojevic believes the trend towards gluten-free diets is growing. "In 2011 I saw that most of the players' lounges on the tennis circuit offered gluten-free options, which was not the case in 2010," he says. "I observed that some of the top players have slimmed down and are faster on the court."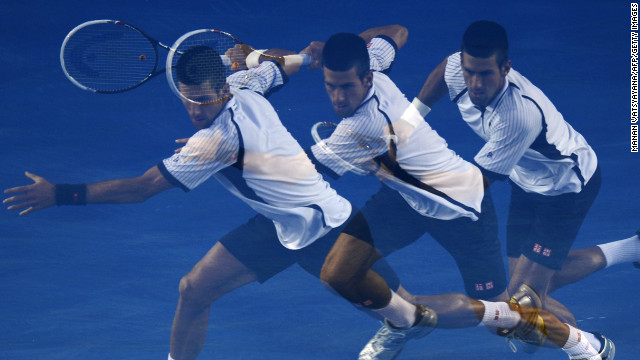 How to supercharge your body
"The injury happened last week when I played a lot of tennis, so going on to a new tournament is just too much. The heel kept getting worse, and I needed to re-evaluate.
"Sometimes the schedule is just too difficult. Unfortunately you can't know when you plan it in November what will happen in February.
"I didn't want to continue taking painkillers because sometimes it's better to feel the pain. so that you can control the injury. Otherwise it can cause something which is much worse.
"This is just a warning that I have to take care of myself."
Azarenka, who has a 14-0 record this year, revealed that the physical demands of the schedule has become a growing concern since she won the Australian Open last month.
"I never realised before just how much it takes out of you," she said. "Physically and mentally it just drains you out - and then you realise."
Read: Serena back on top of the world
Meanwhile, Williams, who is the oldest woman to ever hold top spot in the rankings, is the big favorite for the $2 million tournament.
And the 31-year-old says she's feeling in rude health going into the competition.
She told reporters: "I was really, really, really, really sick last week and physically I just wasn't at my best, considering I couldn't train, and I didn't practice.
"I practised only one or two days before playing because I had the ankle problems.
"But I didn't want to not show up and not play. So at least if I could show up and play my way into shape I would be able to compete and that's what I did.
"I feel so much better this week already. I feel like a completely different athlete, and a completely different person, compared with last week."