Williams gears up for F1 season
updated 3:01 PM EST, Tue February 19, 2013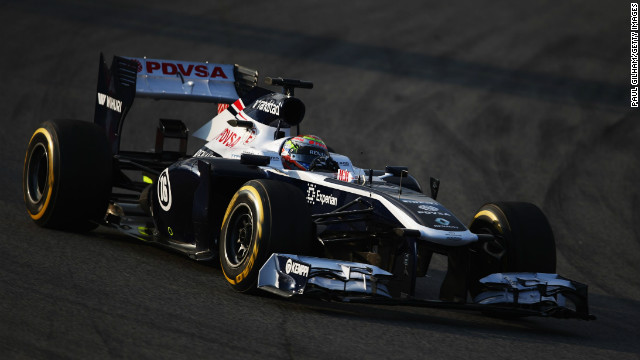 Pastor Maldonado took the new Williams for a spin at Barcelona on February 19 following the launch at Circuit de Catalunya.
The new Infiniti Red Bull Racing RB9 was launched at the Austrian-owned Formula One team's English headquarters in Milton Keynes on February 3.
Mark Webber, left, and triple world champion Sebastian Vettel pose with the Red Bull they will be driving this year.
Title rivals Ferrari launched the new F138 which they hope will power Fernando Alonso to glory in 2013.
British team McLaren unveiled its car on January 31. New driver Sergio Perez (right) poses with 2009 world champion Jenson Button and the new MP4-28.
Former McLaren star Lewis Hamilton, left, and new teammate Nico Rosberg pose with the new Mercedes W04 on February 4.
Sauber's new C32 was launched in Switzerland on February 2. It will be driven by Perez's replacement Esteban Gutierrez and Nico Hulkenberg, who left Force India in 2012.
Force India's Paul Di Resta with the new VJM06 which was launched on February 1 at Silverstone. His new teammate had yet to be named.
Charles Pic and Dutch rookie Giedo van der Garde launched Caterham's new CT03 car on the first day of preseason testing at Circuito de Jerez on February 5.
Romain Grosjean was third-fastest on the opening day in Jerez for Lotus, which was the first team to launch its new car -- the E21 -- on January 28.
F1 teams unveil 2013 cars
F1 teams unveil 2013 cars
F1 teams unveil 2013 cars
F1 teams unveil 2013 cars
F1 teams unveil 2013 cars
F1 teams unveil 2013 cars
F1 teams unveil 2013 cars
F1 teams unveil 2013 cars
F1 teams unveil 2013 cars
F1 teams unveil 2013 cars
STORY HIGHLIGHTS
Williams unveiled new FW35 at Barcelona Tuesday
Pastor Maldonado took the new car for a spin around Circuit de Catalunya
Williams confident new car will help team compete at the front end of the grid
Mercedes star Nico Rosberg the fastest man on the track on first day of testing
(CNN) -- Williams unveiled its new car for the 2013 season on the first day of testing at Barcelona Tuesday with renewed ambition following a complete transformation of last season's vehicle.
The Renault-powered FW35 "is an evolution of the FW34 of 2012, it's better and more refined, with more than 80 percent new parts," Williams' technical director Mike Coughlan told reporters.
Venezuela's Pastor Maldonado gave the team its first win in seven-and-a-half years when he triumphed at last season's Spanish Grand Prix.
Maldonado, who is entering his third season with Williams, will be joined in the paddock by 23-year-old Finn Valtteri Bottas, who replaced Bruno Senna.
Read: Raikkonen on a roll at Jerez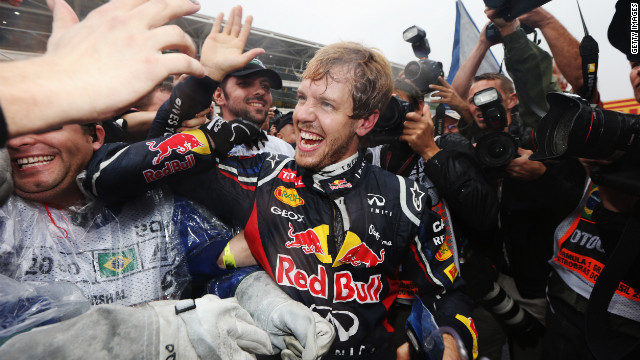 Sebastian Vettel celebrates with his team and admirers after a pulsating race at Interlagos in Brazil. But where does the Red Bull driver rank in the pantheon of F1's virtuosos?
On Sunday, Vettel fought off feisty toreador Fernando Alonso to capture the drivers' title in a dizzying denouement and join an elite band of Formula One world champions.
It is mark of Vettel's greatness that he had come to from behind at Interlagos after a nightmare start on the opening lap when he was hit on the fourth turn and suffered damage to his car. It left Vettel at the back of the grid but by the 24th lap the Red Bull racer had clawed his way back to fifth place.
"Even if he appears to have a car that makes it possible for him, nevertheless he has to do it," said seven-time world champon Michael Schumahcer of Vettel's achievements.
"He's going for it 200% and it's a very tough job," added Schumacher of Vettel's talent. "He managed to pull it out and that is the extra effort that comes from him and to do this so consistently is very special."
The 2012 season demonstrated that if you want to get ahead in F1 make sure you have a good engineer in your team. Arguably there is no better engineer in the sport than Adiran Newey.
"Schumacher had five consecutive titles but that was in a period when Ferrari had influence on tyre development," said former McLaren GP winner John Watson.
"The interesting part is that this championship has been so hard-fought and it didn't really come together until the last races,"said 1978 champion Mario Andretti. "This season has been one of the best in memory. Vettel is one of the rare talents that don't come along very often."
"Vettel is making the most of the best design in F1," added Andretti.who is one of only two American drivers to have won the Formula One title. Here Andretti (R) is seen talking to Stirling Moss, during the championship winning season in 1978.
When Schumacher won his first world title with Benetton in 1994 it was also one of F1's darkest periods. The German won the San Marino Grand Prix in 1994 where both Simtek racer Roland Ratzenberger and three-time world champion Ayrton Senna lost their lives.
Vettel celebrates with Formule One supremo Bernie Ecclestone following his title win in Brazil.
Vettel is now chasing after Frenchman Alain Prost , who won four drivers' titles.
"Fangio is my hero," said former McLaren GP winner Watson. "Why I respect him is that he won five world championships in an era when motor racing was fundamentally a slaughter."
Vettel aims to join Prost next year -- then five-time winner Fangio and Schumacher's magnificent seven are all that are ahead of him in his quest for total greatness.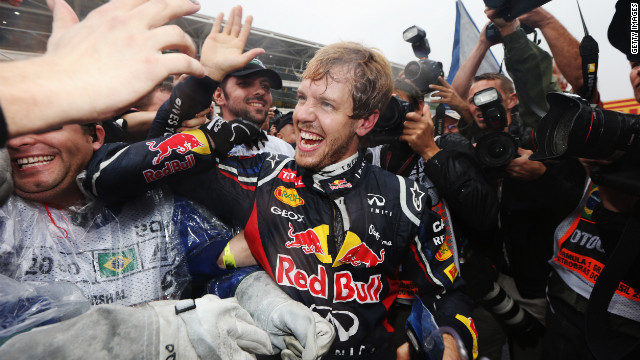 How good is Sebastian Vettel?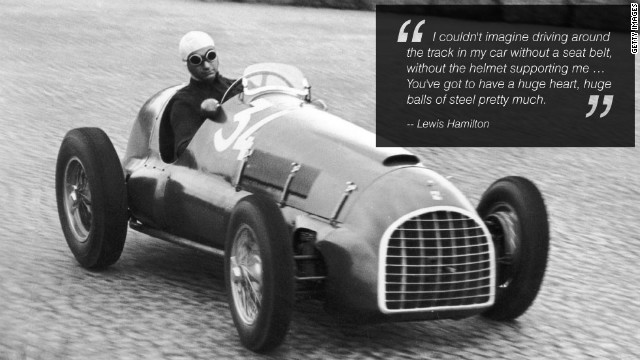 Click here to return to the story.
Click here to return to the story.
Click here to return to the story.
Click here to return to the story.
Click here to return to the story.
Click here to return to the story.
Click here to return to the story.
Click here to return to the story.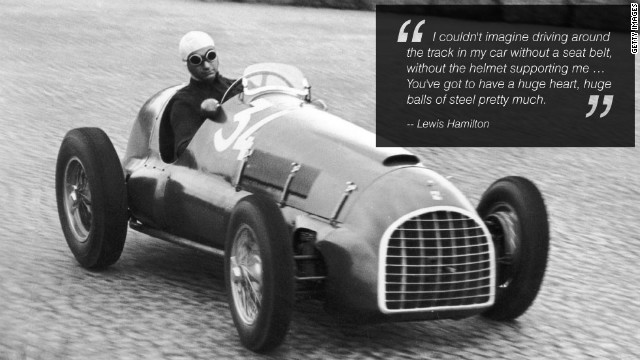 Senna vs. Fangio: Who is the greatest?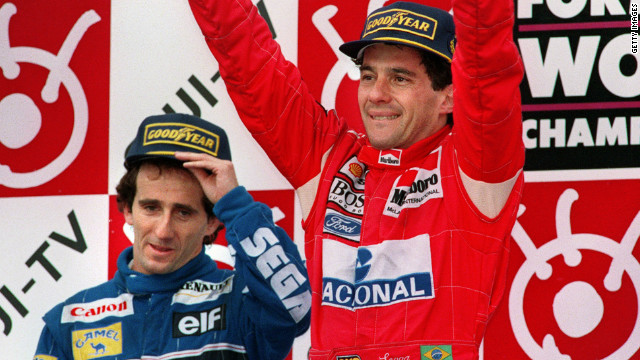 Ayrton Senna and Alain Prost were long-time rivals before they became teammates at McLaren.
Prost and Senna (No.1) clash at the Japanese Grand Prix at Suzuka in 1989. Prost clinched the title after the Brazilian was controversially disqualified after winning the race.
As they both battled for world titles at McLaren, Prost and Senna's relationship came under great strain.
Stand off: Senna and Prost walk away after the early crash at Suzuka in the final race of the 1990 season which left the Brazilian as world champion.
Prost's time with McLaren proved the most fruitful of his career as he captured three world titles.
Prost earned the nickname 'The Professor' for his thoughtful and studied approach to Formula One racing.
Prost competing in wet conditions at the Monaco Grand Prix which he won four times during his glittering career.
Prost and Senna formed a united team in 1988 as the latter won the championship for McLaren.
The medical team at Imola tend to the stricken Senna after his fateful crash in the San Marino Grand Prix in 1994.
Prost joined a pantheon of Formula One greats at Senna's funeral in Sao Paulo in 1994.
In the latter part of career Prost had to battle with the youthful exuberance of future seven-time champion Michael Schumacher.
Prost is a keen cyclist and is pictured here at the end of the 2009 L'Etape du Tour. The race enables 8,500 amateur cyclists to attempt a mountain stage of the Tour de France each year. The 2009 event was staged between Montelimar and Mout Ventoux, with Prost finishing 258th.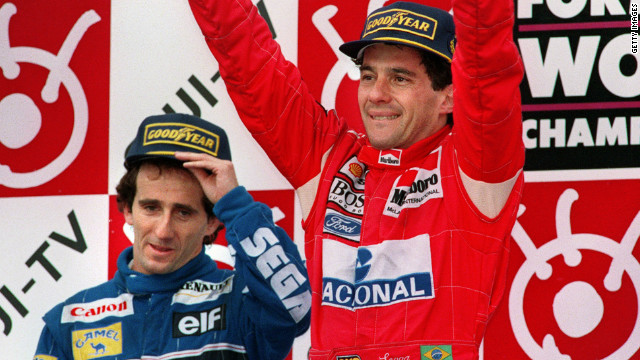 United in rivalry: Prost and Senna
Team owner Frank Williams is confident that his team will be ready to compete at the front of the grid when the season starts in Australia on March 17.
Williams told reporters: "A talented group of people with lots of imagination worked hard to produce the FW35.
"We believe it represents a step forward to last year's car which was already very competitive."
Meanwhile, Mercedes' Nico Rosberg clocked the fastest time of the day at 1 minute 22.616 seconds.
The German edged out Lotus's Kimi Raikkonen with Ferrari's Fernando Alonso finishing third fastest.
Alonso, who is chasing a third world title, recorded a fastest time of 1 minute 22.952 seconds.
Triple world champion Sebastian Vettel finished three tenths of a second slower than Rosberg after leading the time charts following the morning session.
Read: Vettel revs up for glory
Rosberg told the Mercedes website: "We had a mixed day today with some laps lost this morning. However we were able to work through a good program this afternoon and, of course, it's always nice to be quickest at the end of the day.
"In general, I feel happy and comfortable in the car and it feels better than the last time we were here at this track. There is still some work to be done on tire degradation and our program this afternoon was helpful in understanding that."