STORY HIGHLIGHTS
Some 50 families had to be protected during the manhunt for Christopher Dorner
One couple talks about being named in Dorner's manifesto and how they coped
The police chief will conduct a review of Dorner's claims
(CNN) -- When former Los Angeles police officer Christopher Dorner went on a vengeful killing spree this month, one couple found themselves under the protection of the same officers with whom they serve.
Phil and Emada Tingirides, a captain and sergeant in the LAPD, respectively, experienced moments of fear that stretched into days of uncertainty after Dorner killed four people and wounded three others as part of a vendetta against his former comrades.
Phil Tingirides was on the disciplinary board that terminated Dorner's employment with the police department in 2008, and was considered a primary target of Dorner's because his name appeared on a manifesto written by the renegade cop.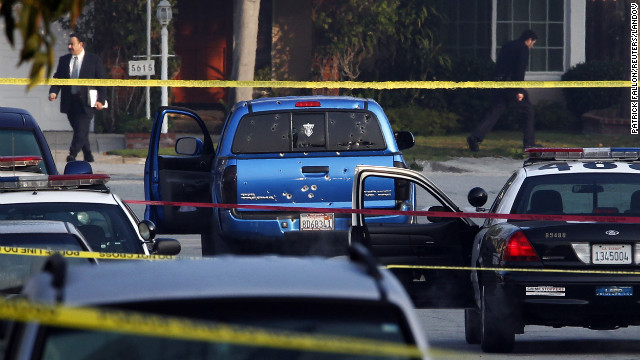 Detectives investigate the scene where officers fired on a vehicle they believed was Christopher Dorner's on February 7, in Torrance, California. Two people in the truck were wounded.
An employee of Southern California Edison surveys the damage at the burned-out cabin where the remains of multiple-murder suspect and former Los Angeles Police Department officer Christopher Dorner were found on Friday, February 15, in Big Bear, California.
A statue of an angel stands on a wood column in front of the burned cabin on February 15.
An evidence flag placed by San Bernardino County Sheriff's crime scene investigators sits on pile of rubble in the burned cabin on February 15.
Cindy Bachman, public information officer for the San Bernardino Sheriff's Department, updates the media after a standoff and a shootout with Dorner on Tuesday, February 12.
Police search cars at a blockade as they come down off the mountain during a manhunt for Dorner on February 12.
Cindy Bachman, information officers for the San Bernardino County Sheriff's Department, speaks to reporters at a roadblock near Big Bear Lake, California, on Tuesday, February 12. Christopher Jordan Dorner has been the subject of a massive manhunt and is accused of killing one police officer and wounding two others, as well as killing the daughter of his police union representative and her fiance on Sunday.
Authorities take positions during the manhunt for former LAPD officer Christopher Jordan Dorner near the town of Angelus Oaks, California, on Tuesday.
San Bernardino County Sheriff SWAT team members return to the command post at Bear Mountain in Big Bear Lake, California, on Friday, February 8, after heavy snow hindered the manhunt for ex-LAPD cop Christopher Jordan Dorner.
Officers keep watch outside of the Twin Towers Jail in response to an unconfirmed sighting of Dorner in Los Angeles.
Officers investigate the burned out truck of Christopher Jordan Dorner that was discovered at the base of Bear Mountain Ski Resort in Big Bear Lake, California, on Thursday, February 7.
Department of Homeland Security officers search vehicles at the San Ysidro Port of Entry in San Diego on February 7 as they search for former LAPD officer Christopher Dorner.
Los Angeles Police Chief Charlie Beck speaks at a press conference about the manhunt for Dorner as photos of the suspect stand in the background on February 7.
An illuminated sign at San Diego State University along Interstate 8 displays information about Dorner's last known vehicle on February 7.
San Diego Harbor Police officers near Naval Base Point Loma armed with high-powered firearms walk along a street on February 7 in San Diego.
Investigators inspect a bullet-ridden squad car where a police officer was shot on Magnolia Avenue in Corona, California on February 7.
Police stand guard near a LAPD car where a police officer was shot on Magnolia Avenue as officers across the state remain on high alert.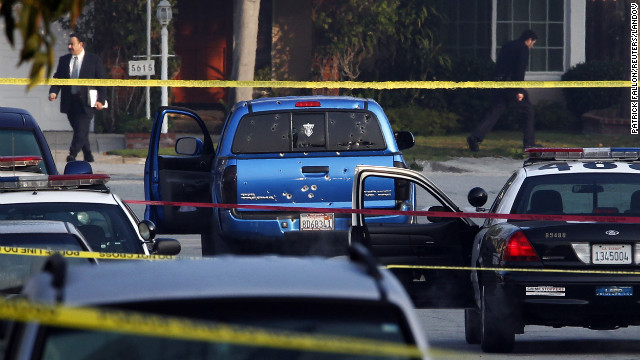 Ex-cop at center of California manhunt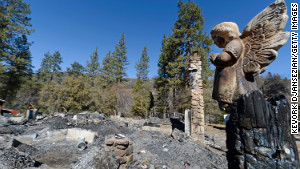 Dorner manhunt comes to an end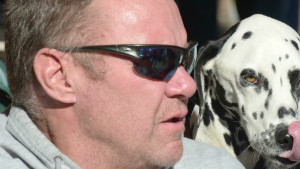 Dorner carjacking victim speaks out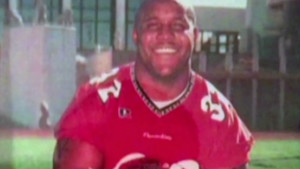 Dorner saw world in 'black and white'
Opinion: In rampages, it's about revenge
In the document, which announced his planned rampage, Dorner said nothing had changed in the LAPD since its scandals of the 1990s, the Rodney King beating and the Rampart police corruption case.
The Tingirides were among some 50 families that were placed under police protection because they were named as targets of Dorner's rage.
Phil Tingirides had never met Dorner before his disciplinary hearing years ago, and never spoke to him afterward. What a surprise for him, then, to be dragged into an unfolding nightmare this month.
"Never, ever did I think someone would go to this extent in their rage over the discipline that was handed down to them," he said at a news conference Tuesday.
The call informing him that he was a potential target came on a Wednesday afternoon. The first thing he did was call his wife and children and get them all back to his house.
"We hear threats all the time, but rarely so specifically, and that someone has already carried out in the most cowardly way," he said.
The couple has six kids in a blended family, ranging from 10 to 24 years in age. The biggest challenge was protecting the young ones from what they heard on television and social media about the manhunt for Dorner, Emada Tingirides said.
"We shut the TV off after the first day," she said.
Under police protection in their own home, the parents tried to explain to the younger children what was going on, all while seeing "their fear growing," Phil Tingirides said.
The parents never broke down in front of their kids, Emada Tingirides said, but the couple would sometimes sneak into the garage and cry.
With television news ruled out, the family spent their time watching other channels and playing board games. Quality time, it turns out.
"We found that it brought our family closer together," Phil Tingirides said.
The manhunt ended last week when Dorner was cornered and died in the San Bernardino Mountains, about 100 miles east of the city he had once sworn to protect and serve.
The 33-year-old former Navy officer holed up in a cabin after a shootout with law enforcement that left a sheriff's deputy dead and another wounded, McMahon said.
The cabin caught fire when police shot tear gas canisters into it.
On Tuesday, Los Angeles Police Chief Charlie Beck said the department would review Dorner's firing and all the claims made in his manifesto.
The chief says the review is an act of transparency, to reassure the public that the department polices itself.
Beck also said a process is underway to determine how much reward money may be paid out, and to whom.
Authorities to decide fate of Dorner reward money