STORY HIGHLIGHTS
Chavez arrives in early morning hours, vice president says
Venezuelan president returns after more than two months in Cuba
The leader has been undergoing treatment after cancer surgery
He hasn't appeared in public since his latest departure for Cuba in December
(CNN) -- In a posting on the Venezuelan president's official Twitter account, Hugo Chavez said Monday that he had returned to Venezuela from Cuba, where was treated for cancer.
"We have arrived again in the Venezuelan homeland," it read. "Thank God! Thank you dear people! Here we will continue the treatment."
It added: "Thanks to Fidel, to Raul, to all of Cuba!! Thanks to Venezuela for so much love!!!"
Vice President Nicolas Maduro said Chavez arrived in Caracas at 2:30 a.m.
Venezuelans have seen and heard little of their leader in recent months. Monday's Twitter posts were the first since November 1.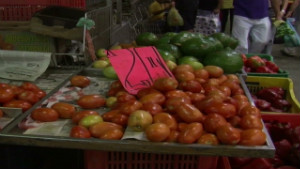 Venezuela struggles with food shortages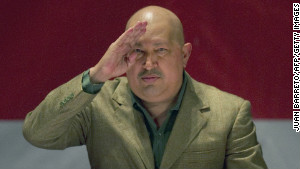 Chavez illness affects China relations
The announcement was preceded by a glimpse of the ailing president on Friday, when the government released a series of photographs that showed a smiling Chavez -- his face bloated -- lying on a blue pillow, flanked by his two daughters.
Since Chavez underwent cancer surgery on December 11, government accounts about his health have been vague.
After previous procedures, Chavez called state television to offer upbeat, if vague, reports on his condition. There have been no such calls in recent weeks.
Venezuelan Information Minister Ernesto Villegas said doctors had inserted a tracheal tube, which had temporarily made it difficult for the president to speak.
"Two months after a complicated post-surgery period, the patient remains conscious, fully intellectually aware, in thorough communication with his governing team and on top of the fundamental duties of his post," Villegas said.
A respiratory infection has been controlled, but the president still has some "insufficiency" in his breathing, Villegas said.
The photos were taken Thursday evening at the Cuban hospital where Chavez was treated, the minister said.
In Cuba, Chavez has found a medical system that has greatly benefited from the Castro brothers' focus on health care since the 1959 revolution.
He has also found support from Raul and Fidel Castro, the current and former president respectively, who share Chavez's Socialist views and are indebted to the Venezuelan leader for oil subsidies that have proved crucial to the island's economy.
Finally, the Venezuelan leader has found a government-controlled news media that has revealed few details about his health. For example, authorities have not revealed what kind of cancer Chavez has.
Before Chavez returned, his critics accused him of having left the country without a leader, while his supporters said that he was running the country from Havana.
Opinion: Isn't it time to respect Venezuela's democracy?
This week, in a decision officials said was made by Chavez from Havana, the country devalued its currency, stirring concern among some Venezuelans that the move could portend a spike in the cost of imported goods.
Speaking to the Telesur network, Venezuela's minister of science, technology and innovation, Jorge Arreaza, said Chavez was able to communicate even if he has difficulty speaking.
"He writes, he can be understood," Arreaza said. "It's not the voice he is known for, but he can communicate."
Chavez's voice difficulties are "reversible," he said.
His precarious health prevented Chavez from returning to Caracas for his inauguration on January 10.
While political opponents said that postponing the inauguration was unconstitutional, Venezuela's Supreme Court sided with Chavez's party, which argued that he did not need to be present at the swearing-in for his next term to begin.
Instead of holding a traditional inauguration ceremony, throngs of supporters in Caracas swore an oath of loyalty in Chavez's absence. Many waved flags and carried photos of the president.
CNN's Patrick Oppmann and Catherine E. Shoichet contributed to this report.