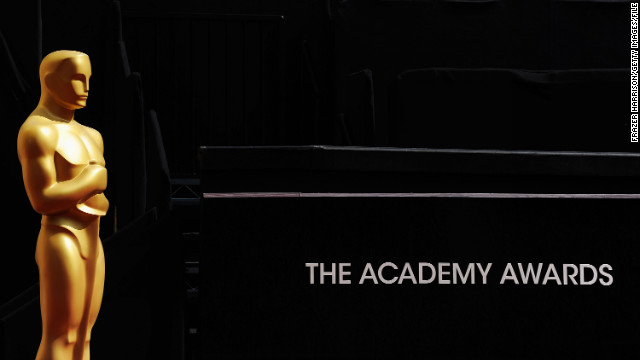 With just a few days left before awards season officially comes to a close, the Oscars race is closer than ever. We put the top categories to the test to determine who should be honored with an Academy Award, versus the films that will walk away with a statue this Sunday. Want to weigh in yourself?
Cast your own vote in CNN's Oscar ballot
.
What a difference a few awards shows make! In the weeks since the Golden Globes, the Oscar outlook has shifted dramatically. The tight competition between "Lincoln" and "Zero Dark Thirty" has made way for "Argo" to come from behind as the movie most likely to win Best Picture (even if Ben Affleck was snubbed with no nomination for himself as Best Director). "The thing about this movie, we're solving a really horrible problem creatively using our imagination instead of bullets," said co-star Tate Donovan (who plays the leader of the "houseguests").
That is opposed to "Zero Dark Thirty," under fire for its depiction of torture. "Argo," a lesser-known CIA story, has had less scrutiny for its version of the truth and benefits from a pro-Hollywood stance. Still, the much more gripping "Zero Dark Thirty" is the superior exercise and should win. Other contenders include "Amour," "Beasts of the Southern Wild," "Django Unchained," "Les Miserables," "Life of Pi" and "Silver Linings Playbook."
When the Best Director category nominations were announced, it was all about the snubs: No Ben Affleck! No Kathryn Bigelow! No Tom Hooper! No Quentin Tarantino! Instead, we got Michael Haneke for "Amour," first-time director Benh Zeitlin for "Beasts of the Southern Wild," Ang Lee for "Life of Pi," Steven Spielberg for "Lincoln" and David O. Russell for "Silver Linings Playbook." Now that the tide has turned in favor of "Argo" for Best Picture, this is Steven Spielberg's category to lose ...
... perhaps to "Silver Linings Playbook," the first film in 31 years to be nominated in all four acting categories (the last one was "Reds" in 1981). That achievement should be recognized by honoring its director and his work with his cast. "The movie's your child, all the actors are your children, and you want to stay invested for them," Russell said. "All the rest ultimately doesn't matter."
Best Original Screenplay is a tough category to predict this year. Quentin Tarantino's "Django Unchained" is a strong contender, given his Golden Globe trophy, but that was an upset. This might be the category that allows "Zero Dark Thirty" to be honored in lieu of Best Picture, in recognition of Mark Boal's extensive original reporting for the film (even if what he dug up remains in dispute regarding the use of torture). "If anyone's asking, we stand by the film," Boal said. "The film allows us to look back at the past in a way that gives us a clear-sighted appraisal of the future." In his favor: Boal won Sunday night at the Writers Guild Awards.
Adapting a screenplay is not necessarily easier than writing something new, especially when it comes to making a taut thriller out of a memoir (Chris Terrio's "Argo"), a fantasy from a play (Zeitlin and Lucy Alibar's "Beasts of the Southern Wild," from Alibar's earlier work), a fable from a work of magical realism (David Magee's "Life of Pi," from Yann Martel's novel), a procedural from a dense history (Tony Kushner's "Lincoln," from Doris Kearns Goodwin's biography) and a dramedy from a first-person novel (David O. Russell's "Silver Linings Playbook," from Matthew Quick's book). Kushner is the likely winner, with Russell close behind.
But it would be nice if the modest "Beasts" could take it home. "I truthfully had no expectation for this movie other than to make it, and even then, I wasn't sure even that would happen," Alibar said. "I'm still high on my movie getting made, and I'm not expecting anything."
Daniel Day-Lewis could make history with his third Best Actor Oscar win with "Lincoln," and the other actors in his category don't stand a chance of breaking his streak. To think Day-Lewis originally turned down the part a few times! "If you didn't know what a f***ing idiot I was before, you know now," the actor joked at the New York Film Critics Circle Awards, as he had to be convinced to play the 16th president. In any other year, this would be a tight race, considering Bradley Cooper's amazing portrayal of a man battling bipolar disorder in "Silver Linings Playbook," Hugh Jackman's musical performance in "Les Miserables," Joaquin Phoenix's role as an unbalanced veteran in "The Master" and Denzel Washington's alcoholic pilot in "Flight."
If -- and it's a big if -- Day-Lewis doesn't take home Oscar, it should go to Phoenix, who is just as Method and devoted to his craft as the man playing Lincoln. In any other year, he would.
The race for Best Actress seems a foregone conclusion, with Jennifer Lawrence as the favorite to win for "Silver Linings Playbook." "Amour's" Emmanuelle Riva (86 on Oscar night) and "Beasts' " Quvenzhane Wallis (6 when she shot the film) are the oldest and youngest nominees ever in this category, and Riva -- who won at the BAFTAs -- might be the upset. Still, Lawrence will and should win. "My first scene was screaming and crying a million different versions of the same speech," she said. "It was really intense. I've never worked this way before, where the director is shouting at you, 'No, say this!' But there's never a moment where you're dead behind the eyes."
The award for Best Actor in a Supporting Role is much harder to predict. All five nominees are Oscar winners, the first time that's happened in an acting category. And there's no clear-cut favorite: Tommy Lee Jones, who was the former front-runner, won for "Lincoln" at the SAG Awards; Christoph Waltz won for "Django Unchained" at the Golden Globes and BAFTAs; and Philip Seymour Hoffman won for "The Master" at the Critics Choice Awards. Alan Arkin, however, hasn't won anything for "Argo," and neither has Robert De Niro for "Silver Linings Playbook." Yet De Niro, who hasn't had an Oscar nod since "Cape Fear" in 1991, remains a strong possibility.
It's impossible to say who will win, only who should: Waltz. His "Django" bounty hunter, despite being a foreigner, proves more witty and articulate than anyone else in the film -- and the other films.
Anne Hathaway is widely considered a lock for Best Actress in a Supporting Role, even though her competition includes Amy Adams for "The Master," Sally Field for "Lincoln," Helen Hunt for "The Sessions" and Jacki Weaver for "Silver Linings Playbook." Hathaway has been sweeping the Golden Globes, SAG, Critics' Choice and BAFTA Awards, but she's not entirely unbeatable: She did not win the other critics' group awards (which honored Field and Adams instead). And Hathaway is nervous. "I mean, getting up in front of the entire world, trying not to look like a fool?" she said. "Nothing outside the ordinary!"
Who will win vs. who should win
Best Picture: Who will win
Best Picture: Who should win
Best Director: Who will win
Best Director: Who should win
Original Screenplay: Who will and should win
Adapted Screenplay: Who will win
Adapted Screenplay: Who should win
Best Actor: Who will win
Best Actor: Who should win
Best Actress: Who will and should win
Best Supporting Actor: Who will win
Best Supporting Actor: Who should win
Best Supporting Actress: Who will win
Best Supporting Actress: Who should win