Alec Baldwin, photographer trade accusations after encounter
updated 8:51 PM EST, Tue February 19, 2013
STORY HIGHLIGHTS
New York Post photographer says Baldwin called him a racial epithet
Baldwin's representative says the claim is "absolutely false"
Both Baldwin and the photographer file harassment reports with police
(CNN) -- Alec Baldwin and a photographer for the New York Post are trading accusations and harassment claims after an encounter between the actor and the photographer.
In an article published Monday, the newspaper said Baldwin allegedly called the photographer, who is black, a racial epithet and hurled other insults after the photographer and a reporter approached the actor Sunday while he was walking his dogs.
A spokesman for Baldwin denied the report. "The accusations are completely false," Baldwin representative Matthew Hiltzik told CNN Monday.
"That's one of the most outrageous things I've heard in my life," Baldwin said in a statement, referring to the accusation that he used a racial epithet.
The New York Police Department's Hate Crime Unit is now involved due to the alleged nature of Baldwin's "rant," according to Deputy Commissioner Paul Browne on Tuesday.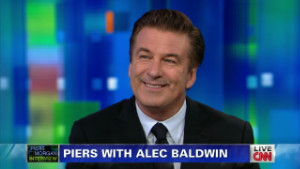 Baldwin: Wish I could flush paparazzi
The newspaper, describing the incident as a "confrontation," also said Baldwin, star of NBC's recently wrapped "30 Rock," grabbed the female Post reporter who was with the photographer by the arm and allegedly said, "I want you to choke to death."
There were no eyewitnesses other than the parties involved, and the reports are still under investigation, according to Browne.
The photographer -- identified by the newspaper as G.N. Miller, "a decorated retired detective with the NYPD's Organized Crime Control Bureau and a staff photographer for The Post" -- and Baldwin both filed police reports for harassment on Sunday. The reports are still under investigation, police Detective Marc Nell said Monday.
Hiltzik specified that the actor's harassment report was filed against the photographer as an individual and not against the newspaper.
The newspaper, meanwhile, quoted Miller as saying that Baldwin "was saying some serious racist stuff."
CNN affiliate WABC-TV asked Baldwin to set the record straight on Monday. The actor responded, "Why would I bother doing that with you?"
CNN's Rande Iaboni and Deborah Feyerick contributed to this report.

Part of complete coverage on
updated 3:14 PM EDT, Thu May 16, 2013

Boxing legend Manny Pacquiao is using his hero status to fight human trafficking in the Philippines, pushing for an anti-trafficking law.
updated 6:25 PM EDT, Thu May 16, 2013

The U.N. says 70% of rapes committed in Somalia are carried out by men in military uniform. CNN's Nima Elbagir reports.
updated 8:38 AM EDT, Fri May 17, 2013

Christiane Amanpour writes an open letter to girls of the world, saying it is time to end the discrimination against girls in education.
updated 3:12 PM EDT, Fri May 17, 2013

Fans gasped when David Beckham wore a sarong. Then there was the nail polish and tattoos. But his masculinity was never in doubt.
updated 10:54 AM EDT, Fri May 17, 2013

Albinos in Tanzania have been attacked and killed because some people believe their body parts bring good luck. But one albino is fighting back.
updated 8:50 AM EDT, Fri May 17, 2013

Terrible results for Dell mean the future seems anything but bright for the PC industry despite a flurry of attempted innovations.
updated 12:00 PM EDT, Fri May 17, 2013

Mario Balotelli has delivered his verdict on his time in the English Premier League -- the AC Milan striker couldn't be happier to have left England.
updated 7:04 AM EDT, Fri May 17, 2013

If you thought Preakness was the poor sister to Kentucky Derby, think again. CNN brings you top five facts from the prestigious horse race.
updated 7:45 PM EDT, Wed May 15, 2013

Natasha Kampusch was held for eight years in an Austrian man's basement. She talks about her road to recovery, exclusively to CNN.
updated 5:36 PM EDT, Wed May 15, 2013

From her hospital bed, Reshma tells CNN about the 17 days she spent trapped under nine stories of rubble in Bangladesh.
updated 6:12 PM EDT, Thu May 16, 2013

A room full of partygoers in San Francisco were given power over a cocktail-making robot controlled by their smartphones.
updated 11:57 AM EDT, Thu May 16, 2013

The cast of "Star Trek Into Darkness" take a break from fighting space villains to answer questions from CNN iReporters.
updated 7:48 AM EDT, Thu May 16, 2013

CNN brings you images capturing moments to remember. Look ahead to the future and chronicle our changing world.