Bombs target Shiite neighborhoods, claim 21lives in Iraq
updated 10:14 AM EST, Sun February 17, 2013
STORY HIGHLIGHTS
At least 125 others are wounded in six car bombings and three roadside bombs
Police: The blasts mainly targeted Shiite neighborhoods
Overall violence in Iraq has dropped in recent years
But recent violence spurs fears of renewed sectarian warfare
Baghdad (CNN) -- A spate of bombs exploded in Baghdad on Sunday, killing at least 21 people and wounding 125 others, police said.
The blasts -- six car bombs and three roadside explosions -- mainly targeted outdoor markets in Shiite neighborhoods, Baghdad police said.
Overall violence has dropped significantly in Iraq since the peak of sectarian violence, between 2005 and 2007. Yet such attacks continue as the 10-year anniversary of the U.S-led invasion of Iraq nears next month.
The U.S. Embassy in Baghdad condemned the attacks.
Recent attacks in Shiite areas have spread fear among Iraqis that sectarian warfare may ravage the country again.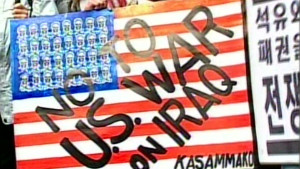 A look back at Iraq anti-war protests
Sunnis demand that the Shiite-led government stop what they call second-class treatment of Iraq's Sunni community.
Sunnis largely boycotted Iraq's 2005 elections, leading to the emergence of a Shiite-led government. The move left the once-ruling minority disaffected.
Last month, at least 177 Iraqi civilians, soldiers and police officers were killed in attacks, according to figures compiled by Iraq's interior, defense and health ministries.
The casualties were predominantly civilians, according to the ministries.
The total does not include those killed in Iraq's semi-autonomous Kurdish region, which keeps its own death toll.
Security has deteriorated since last December, when Sunni demonstrators in provinces such as Anbar and Mosul called for an end to what they considered second-class treatment.
The protests were triggered when Iraqi security forces arrested several bodyguards of Finance Minister Rafie al-Essawi, a Sunni.

Part of complete coverage on
updated 11:45 AM EDT, Fri May 24, 2013

When the former teacher Ingrid Loyau-Kennett saw the bloodied man wielding a knife, she tried to engage him in a conversation to distract him.
updated 6:53 AM EDT, Fri May 24, 2013

A man dressed up as a woman to expose sexual harassment in Egypt -- and says he can't imagine how women put up with the daily abuse.
updated 6:29 AM EDT, Fri May 24, 2013

The breakdown of the education system, growing youth unemployment and insecurity swelled Boko Haram, 'Funmi Olonisakin writes.
updated 8:51 AM EDT, Fri May 24, 2013

"It's always the one we feared, the lone wolf that can come from nowhere and not be on our radar," said ex-London police chief John Yates.
updated 2:13 AM EDT, Fri May 24, 2013

Christiane Amanpour and Nic Robertson give their insight on the brutal murder of a man in broad daylight. What's behind the horrific attack?
updated 6:54 AM EDT, Fri May 24, 2013

In India, a child goes missing every eight minutes. What is behind this devastating statistic felt most by the parents left searching?

Learn about one woman's tireless battle against sex slavery in the Philippines, with Manny Pacquiao in her corner. Watch the full version here.
updated 6:43 AM EDT, Thu May 23, 2013

Ai Weiwei, the controversial Chinese artist-activist, has released a music single and video inspired by his harrowing detention by the government.
updated 7:56 AM EDT, Fri May 24, 2013

Meet Ugandan Ruganzu Bruno who uses recycled materials to create functional pieces of art, raising environmental awareness through his art.
updated 8:27 AM EDT, Fri May 24, 2013

The Germans are coming, this time in the form of the first all-German Champions League football final -- and this time, London cannot wait.
updated 7:06 AM EDT, Thu May 23, 2013

Bayern Munich's super fan Boris Becker takes a tour of London ahead of the 2013 Champions League final. What are his favorite spots?
updated 10:15 AM EDT, Thu May 23, 2013

Imagine if you could paint a working light switch directly onto your wall, without any need for sockets, cables or wiring. Well, now you can.