Bombs target Shiite neighborhoods, claim 21lives in Iraq
updated 10:14 AM EST, Sun February 17, 2013
STORY HIGHLIGHTS
At least 125 others are wounded in six car bombings and three roadside bombs
Police: The blasts mainly targeted Shiite neighborhoods
Overall violence in Iraq has dropped in recent years
But recent violence spurs fears of renewed sectarian warfare
Baghdad (CNN) -- A spate of bombs exploded in Baghdad on Sunday, killing at least 21 people and wounding 125 others, police said.
The blasts -- six car bombs and three roadside explosions -- mainly targeted outdoor markets in Shiite neighborhoods, Baghdad police said.
Overall violence has dropped significantly in Iraq since the peak of sectarian violence, between 2005 and 2007. Yet such attacks continue as the 10-year anniversary of the U.S-led invasion of Iraq nears next month.
The U.S. Embassy in Baghdad condemned the attacks.
Recent attacks in Shiite areas have spread fear among Iraqis that sectarian warfare may ravage the country again.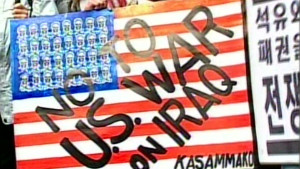 A look back at Iraq anti-war protests
Sunnis demand that the Shiite-led government stop what they call second-class treatment of Iraq's Sunni community.
Sunnis largely boycotted Iraq's 2005 elections, leading to the emergence of a Shiite-led government. The move left the once-ruling minority disaffected.
Last month, at least 177 Iraqi civilians, soldiers and police officers were killed in attacks, according to figures compiled by Iraq's interior, defense and health ministries.
The casualties were predominantly civilians, according to the ministries.
The total does not include those killed in Iraq's semi-autonomous Kurdish region, which keeps its own death toll.
Security has deteriorated since last December, when Sunni demonstrators in provinces such as Anbar and Mosul called for an end to what they considered second-class treatment.
The protests were triggered when Iraqi security forces arrested several bodyguards of Finance Minister Rafie al-Essawi, a Sunni.

Part of complete coverage on
updated 3:14 PM EDT, Thu May 16, 2013

Boxing legend Manny Pacquiao is using his hero status to fight human trafficking in the Philippines, pushing for an anti-trafficking law.
updated 6:25 PM EDT, Thu May 16, 2013

The U.N. says 70% of rapes committed in Somalia are carried out by men in military uniform. CNN's Nima Elbagir reports.
updated 8:38 AM EDT, Fri May 17, 2013

Christiane Amanpour writes an open letter to girls of the world, saying it is time to end the discrimination against girls in education.
updated 3:12 PM EDT, Fri May 17, 2013

Fans gasped when David Beckham wore a sarong. Then there was the nail polish and tattoos. But his masculinity was never in doubt.
updated 10:54 AM EDT, Fri May 17, 2013

Albinos in Tanzania have been attacked and killed because some people believe their body parts bring good luck. But one albino is fighting back.
updated 8:50 AM EDT, Fri May 17, 2013

Terrible results for Dell mean the future seems anything but bright for the PC industry despite a flurry of attempted innovations.
updated 12:00 PM EDT, Fri May 17, 2013

Mario Balotelli has delivered his verdict on his time in the English Premier League -- the AC Milan striker couldn't be happier to have left England.
updated 7:04 AM EDT, Fri May 17, 2013

If you thought Preakness was the poor sister to Kentucky Derby, think again. CNN brings you top five facts from the prestigious horse race.
updated 7:45 PM EDT, Wed May 15, 2013

Natasha Kampusch was held for eight years in an Austrian man's basement. She talks about her road to recovery, exclusively to CNN.
updated 5:36 PM EDT, Wed May 15, 2013

From her hospital bed, Reshma tells CNN about the 17 days she spent trapped under nine stories of rubble in Bangladesh.
updated 6:12 PM EDT, Thu May 16, 2013

A room full of partygoers in San Francisco were given power over a cocktail-making robot controlled by their smartphones.
updated 11:57 AM EDT, Thu May 16, 2013

The cast of "Star Trek Into Darkness" take a break from fighting space villains to answer questions from CNN iReporters.
updated 7:48 AM EDT, Thu May 16, 2013

CNN brings you images capturing moments to remember. Look ahead to the future and chronicle our changing world.