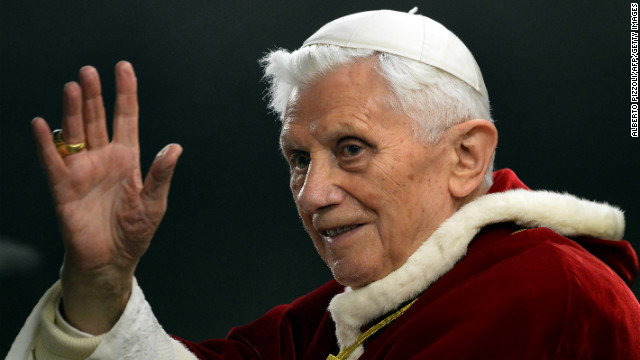 Pope Benedict XVI waves in St. Peter's Square in the Vatican in December 2012. Benedict, 85, announced on Monday, February 11, that he will resign at the end of February "because of advanced age." The last pope to resign was Gregory XII in 1415.
Joseph Ratzinger, who became the 265th pope in 2005, poses for a photo while a German air force assistant in 1943.
Cardinal Joseph Ratzinger, right, poses for a picture in Vatican City in June 1977 with fellow cardinals, from left, Cardinal Gappi, Cardinal Tomazek, Cardinal Gantin and Cardinal Benelli. Ratzinger was named cardinal-priest of Santa Maria Consolatrice al Tiburtino by Pope Paul VI in June 1977.
Ratzinger, who was serving as cardinal-priest of Santa Maria Consolatrice al Tiburtino, visits Madrid in 1989.
Ratzinger fills in for Pope John Paul II during the Easter Vigil service in Saint Peter's Basilica in March 2005.
Newly elected as pope, Benedict XVI gestures to the crowd in St. Peter's Square in Vatican City on April 19, 2005.
Benedict meets Prince Albert II of Monaco at the pope's private library in Vatican City in December 2005.
Benedict kisses the altar before addressing the crowds at Jasna Gora Monastery in Czestochowa, Poland, in May 2006.
Benedict waves from under an umbrella as he arrives to lead his weekly general audience in Saint Peter's Square at the Vatican in October 2007.
Benedict speaks at the United Nations General Assembly in New York in April 2008.
Benedict celebrates a Mass at the end of a synod of Catholic bishops in October 2008 at St. Peter's Basilica at the Vatican.
Benedict attends a screening of a movie about his predecessor, Pope John Paul II, on October 16, 2008, in Vatican City during celebrations of the 30th anniversary of John Paul's election as pontiff.
Benedict kneels as he prays in front of Pope John XXIII's tomb in St. Peter's Basilica at the Vatican on October 28, 2008, to commemorate the 50th anniversary of John's election to the papacy.
Benedict talks with bishops in Saint Peter's Square at the Vatican after his weekly general address in November 2009.
Benedict blesses pilgrims as he arrives in St. Peter's Square in his popemobile in March 2010 to meet with young people from Rome and the Lazio region in preparation for World Youth Day.
The pope salutes from his popemobile in St. Peter's Square in March 2010.
Benedict prepares to celebrate Mass at San Giovanni della Croce parish in Rome in March 2010.
Benedict prays on Good Friday in April 2010 at the Roman Colosseum.
Benedict celebrates an open-air Mass in the Terreiro do Paco in Lisbon, Portugal, in May 2010.
Benedict prepares to celebrate a Mass for 70,000 people in September 2011 in Berlin.
Benedict waves to the crowd gathered at the Colosseum in Rome during the Way of the Cross procession on Good Friday in April 2012.
A gust of wind blows Benedict's collar into his face in September 2012 during his weekly address in Saint Peter's Square.
Benedict speaks with Nikolaus Schneider, praeses of the Evangelical Church in the Rhineland, before a Mass at the Augustinian monastery in Erfurt, Germany, in September 2011.
Benedict waves to pilgrims as he arrives at St. Peter's Square for his weekly address in October 2012.
Benedict looks at a chess game with Ivory Coast President Alassane Ouattara during a private audience in November 2012 at the Vatican.
Benedict arrives to lead the Vesper prayer with members of Rome's universities in December 2012 at St. Peter's Basilica.
Benedict clicks on a tablet to send his first tweet from his account @pontifex at the Vatican in December 2012.
Benedict celebrates Mass during a visit to San Patrizio al Colle Prenestino parish on the outskirts of Rome in December 2012.
Benedict blesses members of the ecumenical Christian community of Taize, a group based in Taize, France, in St. Peter's Square in December 2012.
Benedict, accompanied by Grand Master Matthew Festing of the Sovereign Military Order of Malta, right, shakes hands with a woman after the Mass in St. Peter's Basilica to mark the 900th anniversary of the Order of the Knights of Malta on February 9, 2013, at the Vatican.
Pope Benedict XVI
Pope Benedict XVI
Pope Benedict XVI
Pope Benedict XVI
Pope Benedict XVI
Pope Benedict XVI
Pope Benedict XVI
Pope Benedict XVI
Pope Benedict XVI
Pope Benedict XVI
Pope Benedict XVI
Pope Benedict XVI
Pope Benedict XVI
Pope Benedict XVI
Pope Benedict XVI
Pope Benedict XVI
Pope Benedict XVI
Pope Benedict XVI
Pope Benedict XVI
Pope Benedict XVI
Pope Benedict XVI
Pope Benedict XVI
Pope Benedict XVI
Pope Benedict XVI
Pope Benedict XVI
Pope Benedict XVI
Pope Benedict XVI
Pope Benedict XVI
Pope Benedict XVI
Pope Benedict XVI
STORY HIGHLIGHTS
Julie Byrne: Pope Benedict XVI's resignation rightly drew enormous world attention
She says often media focus on the pope as entirety of Catholic Church
While pope commands attention, lay groups have become increasingly important, she says
Byrne: Church is split over many issues; Vatican doctrine is only part of the story
Editor's note: Julie Byrne is Hartman Chair of Catholic Studies at Hofstra University and author of "The Other Catholics," forthcoming from Columbia University Press.
(CNN) -- Pope Benedict XVI's resignation captured the world's attention, and rightly.
It is the first papal resignation in nearly six centuries. The pope leads a church that includes a sixth of the world's population. His gravitas reverberates outside Roman Catholicism: The pope talks and people listen.
Others are fascinated by Vatican spectacle. Benedict speaks Latin and wears gold vestments. His successor's election by conclave, with sequestering and smoke, is high drama.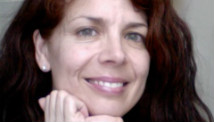 Julie Byrne
But for all the excitement and ceremony, the pope is not the most important thing about Catholicism.
For all his influence, the pope makes up an infinitesimal fraction of the opinions and activities of Catholics.
The most important thing about Catholicism is the 1 billion who claim it as their faith.
In the wake of updating by the Second Vatican Council, Roman bishops emphasized the role of the laity. Lay activism exploded. Many Catholic theologians stressed the whole community of Catholics working together.
Opinion: Why pope will be remembered for generations
The issue is not only what the Church should look like. We should be concerned about media and popular takes on what Catholicism does look like. News coverage of the Church is usually about the hierarchy. Ask average Americans about Catholicism and they likely will mention the pope.
This happened for several reasons.
No other big religious institution is so centralized. The media covers the pope as Catholicism because it is easy to cover the pope as Catholicism. Place a correspondent in Rome or even just use Vatican press releases. There is no highest authority of Hinduism. There is no international imam of Islam.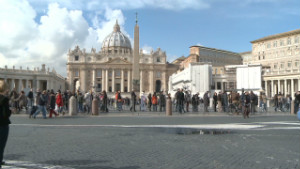 What some Catholics want in next pope
Also, despite the Vatican II council of the 1960s, popes kept expanding their authority. Benedict XVI endorsed that council but read tradition to support papal sovereignty. If popular opinion overwhelmingly associates Catholicism with the papacy, that's partly because effective Vatican theologizing made it so.
Roland Martin: Pope shows true leadership by resigning
Finally, the U.S. has always had an obsession with the pope.
Ironically, this obsession had roots in anti-Catholicism. Americans "used" the pope as a way to sharpen national identity. American democracy was contrasted with papal demagoguery, American piety with papal superstition, American modernity with papal obsolescence.
U.S. Roman Catholics felt pulled between nation and church. Scholars have noted that American faithful were more pope-identified than coreligionists around the world, as if overcompensating to hold the two sides together.
But obsession involves both attraction and loathing. Even ardent anti-Catholics seemed consumed with fascination for the pontiff. The infamous publisher of anti-Catholic comics, Jack Chick depicts decadent popes lofting ominous speech bubbles, precisely capitalizing on the fact that such scenes make gripping graphic art. It's as if the pope — with absolute rule, a throne, pomp and circumstance — taps into a repressed fantasy of crowns and ermine.
Perhaps pop god Prince put it best:
So U can be the President
I'd rather be the Pope
Yeah, U can be the side effect
I'd rather be the dope
Arguably Prince is right; the pope is bigger than the president.
But the pope is not the dope. At least not for purposes of best analyzing Catholicism. While the popes have attempted to maintain the status quo from the top down, three major phenomena are happening in the Church from the ground up -- and the media would be well advised to pay attention.
First, vernacular religion. This refers to religion as it is actually lived, rather than how leaders say it should be lived. A term coined by Leonard Primiano of Cabrini College, vernacular religion highlights that while clerics write creeds and command pulpits, official religion is the tip of the iceberg of religious culture.
Opinion: Why next pope must open up church and usher in Vatican III
This became visible in coverage of bishops' activism against President Obama's health care law provisions for artificial birth control. The bishops held the official position that artificial birth control was morally wrong. Most news accounts added that a majority of U.S. Catholic women used it anyway. This addition was a start, but it needs to go further. According to doctrine, women were "going against" their Church. But in terms of vernacular religion, their everyday Catholicism was simply different from the approved version.
Second, other Catholics. Last year a Religion Dispatches blog headline read, "Will the Catholic Church Split?"
As several noted in the comments, Catholicism has already split. Catholicism is actually not one structurally unified body — and hasn't been since 1054. The Orthodox churches are Catholic, the biggest headed by the Patriarch of Constantinople. The Anglican Communion (including the U.S. Episcopal Church) identifies as both Catholic and Protestant, headed by the Archbishop of Canterbury. The Old Catholic churches of Europe formed in the late 19th century as harbor for Catholics who rejected papal infallibility; they are in communion with Anglicanism.
In the United States at least 200 separate small Catholic churches and clergy associations exist, often with their own bishops. Some are CORPUS, a corps of married priests who celebrate the sacraments; Roman Catholic Womenpriests, who like many others are ordaining women; and the Ecumenical Catholic Communion, which has partnered with the other two groups.
Third, flows. Some people live in several Catholic worlds. In the United States, a Catholic woman might attend a Roman parish, work for Catholic Charities, serve as an independent Catholic priest, officiate weddings for divorced Romans on weekends and do Buddhist meditation every morning, too.
What would it mean to account for vernacular Catholicism? Non-Roman Catholics? Flows between Rome and other institutions?
Understanding one of the world's most populous faiths needs to encompass all of Catholicism -- not just the Roman version.
And certainly not just the pope.
Follow us on Twitter @CNNOpinion
Join us on Facebook/CNNOpinion
The opinions expressed in this commentary are solely those of Julie Byrne.