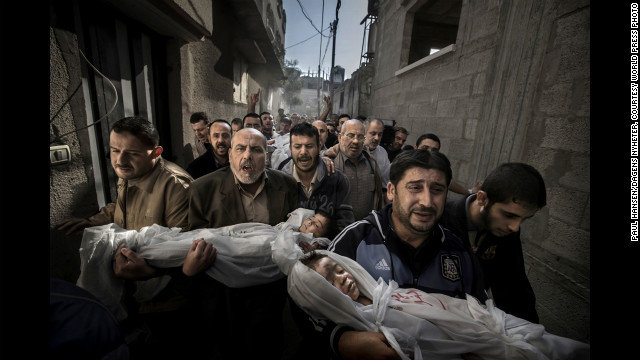 World Press Photo of the Year:
Suhaib Hijazi, 2, and his brother, Muhammad, 3, were killed when an Israeli airstrike struck their Gaza City house, photographer Paul Hansen said. Their father, Fouad, was also killed, Hansen said. In the photo, Fouad's brothers carry the children's bodies to a mosque for burial on November 20, 2012, while the father's body follows behind on a stretcher. The following are a selection of the other World Press Photo winners:
Second prize -- spot news single: Syrian opposition fighters interrogate captured government informants on July 31, 2012, in Aleppo, Syria, in a photograph by Emin Ozmen. The informants were declared guilty and tortured throughout the night, according to Ozmen.
Second prize -- spot news stories: A Free Syrian Army fighter during clashes against government forces in Aleppo, Syria, on October 10, 2012.
First prize -- general news single: A woman identified as Aida cries while recovering from injuries she received when the Syrian army shelled her house on March 10, 2012, in Idlib. Her husband and two children were fatally wounded during the shelling, photographer Rodrigo Abd said.
Third prize -- general news stories: Pine trees uprooted during the 2011 tsunami lie on the beach in Rikuzentakata, Japan, on March 7, 2012.
First prize sports -- sports action single: An Indonesian jockey, his feet in a harness strapped to bulls and clutching their tails, appears joyous at the end of a dangerous run across rice fields as part of the Pacu Jawi bull race on February 12, 2012, in West Sumatra. The bull race is a popular competition between villages at the end of harvest season.
Second prize sports -- sports action stories: Egypt's Alaaeldin Abouelkassem, top, moves against Peter Joppich of Germany during their men's fencing match on July 31, 2012, during the London Olympics.
First prize sports -- sports features stories: Armed guards protect a women's basketball team during play on February 21, 2012, in Mogadishu, Somalia. Young women risk their lives to play basketball in the war-torn country.
First prize -- contemporary issues single: A woman stops to read a book during her shift picking up trash at a dump near slums in Nairobi, Kenya, on April 3, 2012.
First prize -- contemporary issues stories: Phan Thi Thuy Vy and Dang Thi Bich Bay watch TV after studying on June 22, 2012, in Da Nang, Vietnam. The couple have been together for a year, according to photographer Maika Elan, in a country that's been hostile to same-sex relationships in the past.
First prize -- daily life stories: Mirella, 71, takes care of her husband of 43 years, Luigi, who has Alzheimer's disease, in Rome.
Third prize people -- observed portraits single: Kayla with a lookalike doll in front of a portrait of her ancestors in Boston.
Third prize people -- observed portraits stories: After living with his father for 10 years and staying in a youth shelter, Martin, 18, went to live again with his mother in Tilburg, the Netherlands, two years ago. He appears in a February 15, 2011, portrait.
Second prize people -- staged portraits single: Ai Weiwei, the well-known artist and critic of the Chinese government, appears in a February 6, 2012, portrait in Beijing.
First prize people -- staged portraits stories: Makone Soumaoro, 30, who has a goiter, is photographed in Conakry, Guinea, on October 17, 2012. "I don't have pain, but I am worried that my neck swells that much," she told photographer Stephan Vanfleteren. "I hope it it is not a tumor because I am a housewife and my man and three children need me."
First prize -- nature single: Australia's endangered Southern Cassowary eats fruit from a Blue Quandong tree on November 16, 2012.
First prize -- nature stories: Emperor penguins swim in Antarctica's Ross Sea on November 18, 2011.
World Press Photo announces 2012 winners
World Press Photo announces 2012 winners
World Press Photo announces 2012 winners
World Press Photo announces 2012 winners
World Press Photo announces 2012 winners
World Press Photo announces 2012 winners
World Press Photo announces 2012 winners
World Press Photo announces 2012 winners
World Press Photo announces 2012 winners
World Press Photo announces 2012 winners
World Press Photo announces 2012 winners
World Press Photo announces 2012 winners
World Press Photo announces 2012 winners
World Press Photo announces 2012 winners
World Press Photo announces 2012 winners
World Press Photo announces 2012 winners
World Press Photo announces 2012 winners